The past week has been a very busy one. Every single day came with its own brand of drama – from Chester Bennington's death to RKelly's sex cult, and the Lagos Mainland flooding. We have summarized them all. Enjoy and share
Chester Bennington's Death
Chester Bennington, American singer, songwriter and Front man for the rock band Linkin Park died on the 20th of July 2017, aged 41. He was said to have battled depression for a long time, leading to his suicide at his Palos Verdes residence in California. He is survived by his wife, and six children. See 6 things we know about his death HERE.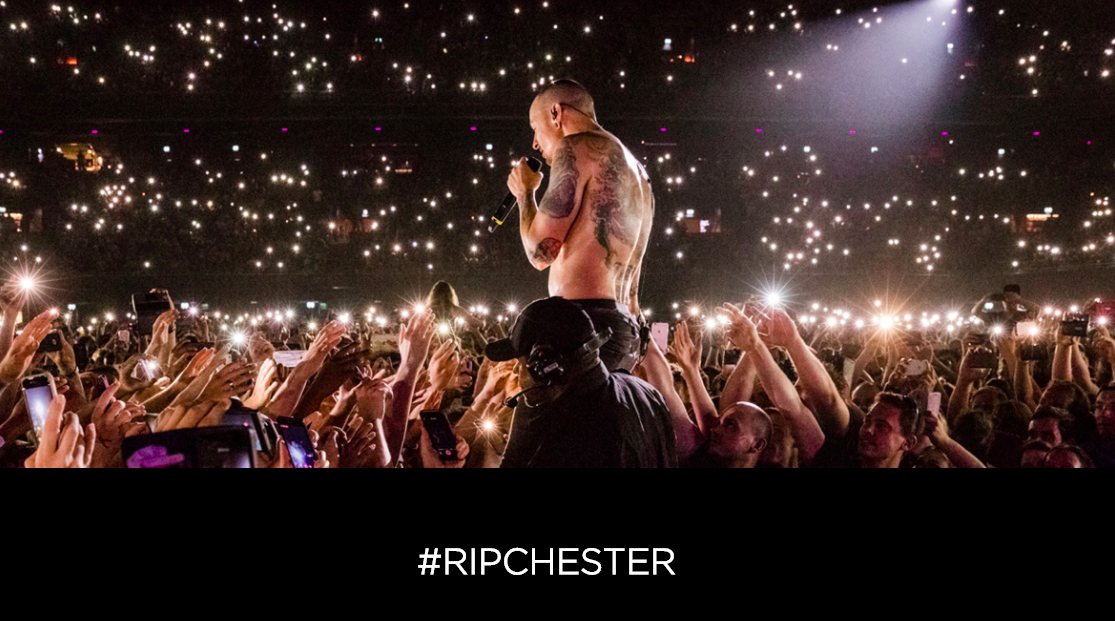 Lagos Local Government Elections
On Saturday, Lagos State conducted her chairmanship elections in all of its 20 recognized local government areas. Even though there was a heavy downpour, it didn't stop the election from taking place.
#POLL: Are You Going Out To Vote Today? #LagosLGElection #LagosLGPolls #LagosLGDecides

— GIDITRAFFIC (@Gidi_Traffic) July 22, 2017
#LagosLGpolls woke up to silence in one of the busiest cities in the world! What came into my mind was rapture. pic.twitter.com/ZfupZtBFiR

— Advocate Abidoye (@IntaDaGrat) July 22, 2017
I like how politicians always join the queue for photo ops, and then jump the line to cast their vote. ??? #LAGOSLGPOLLS pic.twitter.com/jzj1bOVbP0

— Ben Figo (@CallMeBenfigo) July 22, 2017
As at press time, APC had won in 14 Local Governments.
Mainland Floods
The other week it was sorry tales of flooding homes and roads from our friends in Lekki and other parts of the Island. This week, it was the turn of our folks on the mainland to suffer the floods. Major victims of the heavy rains include Surulere, Ikeja and so on. See tweets and reactions.
"@Gbewa1: @Gidi_Traffic The outcome of not keeping our drainage and canal clean. Akobi Crescent, Surulere right now. pic.twitter.com/gNHknB7xUC

— GIDITRAFFIC (@Gidi_Traffic) July 22, 2017
Some people even turned it into an Island – Mainland flood comparison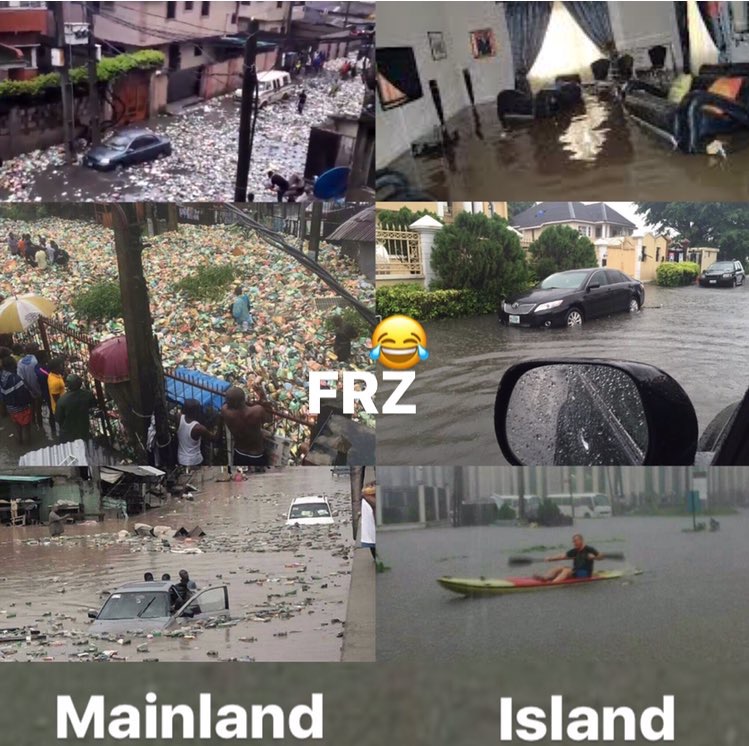 The guys at Vision Scape Group came through for Surulere. They cleared the mess.
Yes we're live at Akobi Cr.RT @JuniorEbong: @prestige_patric @Visi…. https://t.co/eG67c2b72V pic.twitter.com/g97580APrI

— Visionscape Group (@VisionscapeGrp) July 22, 2017
Experiencing the transformation of Akobi crescent from what it looked like today. Thank you @VisionscapeGrp @AkinwunmiAmbode @Gidi_Traffic pic.twitter.com/WzpWgCzbBt

— Christiana (@Empressxtiana) July 22, 2017
Governor Fayose
Gov Ayodele Fayose was all smiles as he attended his son's convocation from the Covenant University Ota last week. Whether you like him or not, you must admit that in a nation where leaders send their children to better Universities abroad, his sending his son to a university in Nigeria is worth emulating. We wish his son and other graduates well.
Governor Fayose at his Son's Graduation Ceremony Today at Covenant University, Ota. This is practicing what you preach, Unlike some people ? pic.twitter.com/O9OHWD3Z3c

— Oluyemi Fasipe ?? (@YemieFASH) July 22, 2017
Buhari's son graduates frm London
Saraki's Son graduates frm London
Okorocha's Son graduates frm London
Fayose's Son graduates from Nigeria. pic.twitter.com/AmzLaGemrW

— AJALA (@UNCLE_AJALA) July 23, 2017
Based on his son's graduation from a NIGERIAN university, Fayose has beaten many Nigerian politicians, ESPECIALLY Buhari, hands down.

— Chxta (@Chxta) July 22, 2017
Football
Carl Ikeme, Nigerian and Wolvehampton football club goalkeeper, has refused to let the Leukemia get to him. He was all-smiles in his social media post, where he has decided to remain hopeful and grateful. We wish him a speedy recovery.
Still Happy Still Grateful ❤️ pic.twitter.com/FOgkPY7bWO

— Carl Ikeme (@Carl_Ikeme) July 22, 2017
In other news Manchester United seems prepared to compete for the EPL title this season as they trounced their noisy neighbors, Man City 2 – 0 in a pre-season match. Goals by Lukaku and Rashford sealed the win for the reds.
On the other hand, Arsenal was completely dominated by Chelsea, as the Blues trounced them three goals to zero in their pre-season friendly. Goals were by Willian and Michy Batshuayi who scored a brace as the champions coasted to victory. As expected, the #WengerOut chants have already re-begun. Sorry gunners.
Kevin Hart cheating, Usher's Herpes and R-Kelly's sex cult
Sensational news about celebrities always spread like wild fire, and last week diminutive comedian – Kevin Hart, Pop/R&B artists – Usher and Rkelly were material for heavy discussion. While Usher is reported to have infected a lady with herpes and paid her off to keep her silent, R-Kelly is being faced with allegations of having a sex cult involving teenage girls. Kevin Hart was also reportedly caught cheating on his pregnant wife with the same woman he cheated on his ex-wife with. What a story line.
This is the video where Kevin Hart is supposedly cheating on his wife. What do y'all think? pic.twitter.com/KmXrPdTRPx

— Maki (@NubianHuman) July 20, 2017
On twitter for 5mins
Usher has herpes
R. Kelly runs a cult
Kevin Hart cheated
OJ is free
Chester Bennington died
Bella Thorne has dad issues pic.twitter.com/paXJQEacFc

— kiara✌ (@misskiara_41) July 21, 2017
IM DEAD, INTERNET STOP IT!!!?????? #kidnapped #RKelly #Usher #usherherpes #rkellycult #letitburn #hideyokids #hideyowife pic.twitter.com/R0bAgOjqkK

— Clarissa Evans (@Razor_Rayne) July 20, 2017
Usher giving out herpes
Kevin Hart caught cheating
RKelly has a sex cult
Mike Vick is a coon
JayZ really did cheat

Cmon Black Kings pic.twitter.com/8EMKx8RBA7

— jay gray (@Duckoffszn) July 19, 2017
Adebayo Faleti goes to rest
Veteran Yoruba artist, Adebayo Faleti is dead. He died on Saturday, 22 July, at the University College Hospital, Ibadan. As we await further details, we extend condolences to his family and colleagues in the Yoruba film industry. He will greatly be missed.
Rest in peace Pa Adebayo Faleti.

Great teacher. Custodian of so much knowledge, wisdom and the Yoruba culture. Legend.

— – jeffrey (@VillageParrot) July 23, 2017
R.I.P to an icon ????. We will miss you ADEBAYO FALETI pic.twitter.com/VL94LyDv18

— Olanrewaju ? (@Corkie72) July 23, 2017
Veteran Poet/Actor Adebayo Faleti is dead.

Yoruba, Nigeria & the world at large just lost another rich heritage.

Rest Easy ?

— Femi Lee (@femscie) July 23, 2017
Chinecherem Cynthia
An Nsukka based young lady, Ali Chinecherem Cynthia emerged the best student at the West African Secondary School Certificate Exams this year. She made A1s in all her papers and this feat got everyone talking. Our editor, Chidi Okereke started a fund-raiser to celebrate her and as at press time, over N200,000 had been pledged. We wish her success in all her future endeavors.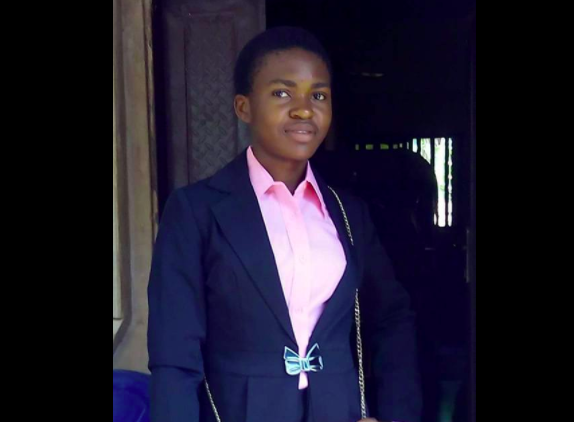 If you're impressed by this result and want to dash her something, holla at me. Let us begin to reward educational excellence too. Blessings pic.twitter.com/Wwi1NEVJqm

— Chidi Okereke (@Chydee) July 23, 2017