We are back with our weekly round of E-Slaps with @Burmese_Tyga, and we will need all hands on deck to smack the cheeks of the errant persons. From Donald Trump to DesolaThief, see all the people who should get it across the face this week.
Enjoy and share.
Donald Trump
For taking a swipe at the sportsmen that make Americans proud, because there's nothing else to be proud of. Good thing Lebron James, Steph Curry, Kobe Bryant and other athletes have taken him to the cleaners. Orange haired oaf!
Going to the White House is considered a great honor for a championship team.Stephen Curry is hesitating,therefore invitation is withdrawn!

— Donald J. Trump (@realDonaldTrump) September 23, 2017
U bum @StephenCurry30 already said he ain't going! So therefore ain't no invite. Going to White House was a great honor until you showed up!

— LeBron James (@KingJames) September 23, 2017
A #POTUS whose name alone creates division and anger. Whose words inspire dissension and hatred can't possibly "Make America Great Again"

— Kobe Bryant (@kobebryant) September 23, 2017
Kylie Jenner and Travis Scott
Nothing much, they just deserve to be slapped for coming together to make a baby and attempting to distract us from important events.
https://twitter.com/jiasebastiann/status/911580647973568512
Robert Mugabe
For thinking he scored cool points for dissing Donald Trump at the UN summit. He should get his country out of the mess it's in and step down.
Buhari
His speech at the UN was ridiculous, especially as he talked about the crises in other countries – especially the ethnic cleansing of Rohingya Muslims in Myanmar – but left out the ones in Nigeria.
Buhari's speech at #UNGA72 is best described as a chronic case of removing the speck in a neighbours eye before removing the plank in yours.

— Osasu Igbinedion Ogwuche (@osasuigbinedion) September 19, 2017
"Buhari's UN speech is watery, unpresidential, uninspiring. He pretty much talked about every other Country except his own"

~Aljazeera

— Oke Umurhohwo (@OkeStalyf) September 19, 2017
After reading Buhari's UN speech,I'm now 100% convinced the man doesn't know what is going on in Nigeria…

— Tomide Akinribido (@MrTomide) September 20, 2017
Mr Eazi
For 3 weeks in a row, man has been on an idiotic streak. This time he inferred he paved the way for African artistes to 'blow' in London. Money can't fix skin, money can't fix brain … slaps to the rescue!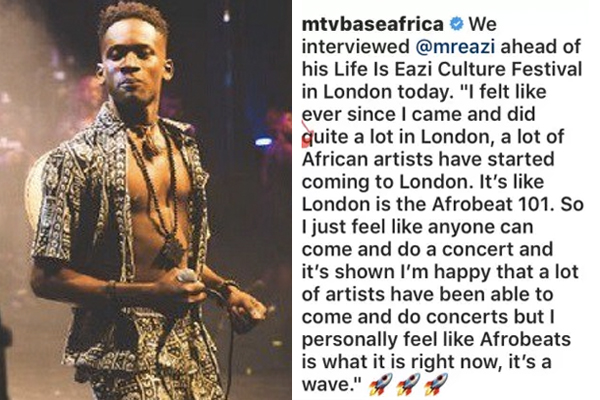 Bow Wow
Shad Moss aka Grown ass Bow Wow deserves to be slapped for making the lamest IG posts this year. Man is genetically infused with major L! Just check this one out:
"If you were his side b**** ??‍♀️and you become his main b***** ??‍♀️you have no business ??going through your mans phone ?and addressing him about other b****** cause at ☝?one time you were the other b**** disrespecting ?his main ? and it was ok now that the shoe ? is on the other foot ?be humble ? ?"
Believers of apocalypse
Everybody that remotely believed the world would end on Saturday. You people do not have sense so you need rebooting slaps.
https://twitter.com/f1rstlayD/status/911964661158940673
[Hilarious: Nigerians confess their sins before the world ends]
DesolaThief
The person who created this account deserves to be slapped multiple times for attacking a Twitter user (@Desola__), threatening to leak her nudes and gaining followers in the process. It was supposed to be bants, but the account dragged Desola's family, and posted pictures of her parents and sibling. That's no longer bants. Even though the account has been suspended, he/she/it deserves serious hot slaps.
https://twitter.com/rouvafe/status/911907188817448960
Kevin Hart
Kevin Hart deserves to be seriously slapped for making a video apologizing to his pregnant wife after he was allegedly caught on tape having sex with another woman. Considering he cheated on his previous wife with his current wife, it is clear he has cheating in his DNA. Maybe some slaps can fix it.

The Voice Nigeria
This year's edition has been completely poor. We don't know whether the organizers, sponsors, judges, contestants or even the voters should be blamed, but the show has been a disappointment. The winner was announced yesterday and while we congratulate him, the whole show deserves to be slapped for poor quality.
#TheVoiceNigeria What a show. Audience mocking judges, Votes mocking the show, and voice quality mocking the brand. Shame all round

— Teekay 'Yombo (@seantoksy) September 24, 2017
#TheVoiceNigeria season 3? no thanks pic.twitter.com/PPSeqBqk7D

— ofuje (@nstuje) September 24, 2017
#TheVoiceNigeria it is time to go beg project fame that we are sorry for not watching last year. We have learnt our lessons. We are loyal!

— OluwayemisiAdesanya (@yemisiadesanya) September 24, 2017
This year's #TheVoiceNigeria is an aberration. A total disgrace to The Voice franchise world wide😬😬…..just had to let that out ☺

— Olanna (@DahkDutch) September 24, 2017
***
Did we miss out any? Suggest in comments box.