As usual we have curated the highlights of the past week. No long thing, read, enjoy, share.
The EFCC Handler Unveiled
The week started with the unveiling of the man behind the hugely popular @OfficialEFCC handle. A lot of people had wondered who is behind the handle, and some had made wild guesses. But nobody could've guessed it was Olufemi Olukayode Adeyemi aka F.Shaw. We have curated 5 events that defined his life HERE. In the meanwhile, see reactions to his unveiling.
You are an excellent communicator; you are special. Good luck for the future and thank you for your service @FshawKingFisher, "The Handler". pic.twitter.com/cm6hljAxCn

— EFCC Nigeria (@officialEFCC) July 24, 2017
The new EFCC handler trying to fit into his new job. pic.twitter.com/vlcHOl4L9V

— Umeh💡 (@UmehWrites) July 25, 2017
That EFCC handler

– Engaged
– Enlightened
– Inspired
– Entertained
– Rebuked
– Joked
– Dispelled rumours
– Communicated
etc..

Fantastic.👌

— Banqie (@AdeBanqie) July 24, 2017
Nigerian Senate
On Wednesday, the Nigerian Senate passed some rather important bills. These include the #NotTooYoungToRun bill, the Presidential Assent bill, Independent candidacy bill and so on. While we await the president's ratification of these bills, see all 33 of them and what some of them mean HERE.
Diezani and her $90bn Loot
Ever since GEJ left power, Diezani has been in the news, for one case of 'looting the nation' to another. Last week, it was alleged that 90 billion dollars was recovered from her. NINETY BILLION DOLLARS!! While we find it incredulous that people actually believe one person could've stolen all that money, this is Nigeria and anything is possible. See 6 reasons why she could've done it HERE and enjoy reactions of our friends on Social Media.
https://twitter.com/d_problemsolver/status/890474437547614208
https://twitter.com/UNCLE_AJALA/status/890684077279514624
If Diezani really looted $90 Billion naira, it's all of Africa that should be coming for her. I don't believe it.

— Eric Okafor (@KneWKeeD) July 27, 2017
https://twitter.com/AinaOmoniyi/status/890640651380965377
Batch 2 Governors visit Buhari
The president of Nigeria is now NYSC camp and last week, batch 2 governors – Abdulaziz Yari (Zamfara) Dave Umahi (Ebonyi), Umar Ganduje (Kano), Kashim Shettima (Borno), Samuel Ortom (Benue), Udom Emmanuel (Akwa Ibom) and Abiola Ajimobi (Oyo) – visited him in Camp London. We are yet to understand why the visit was necessary, so we're just going to assume it is in fulfillment of the 'prophecy', "if Muhammad doesn't go to the mountain, the mountain will come to Muhammadu Buhari."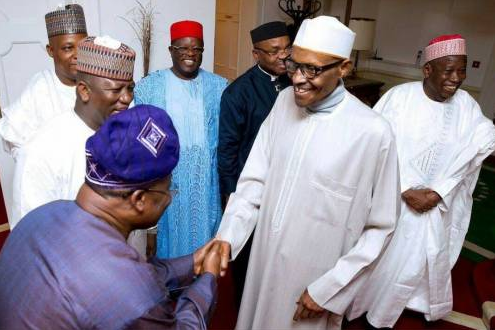 It is well.
Google For Nigeria
Google – the biggest players in the technology industry held an event in Nigeria and it was start studded. Many celebrities were present, including (and surprisingly) the CEO – Sundar Pichai who announced that the giants would be training about 10 million Africans in the next five years.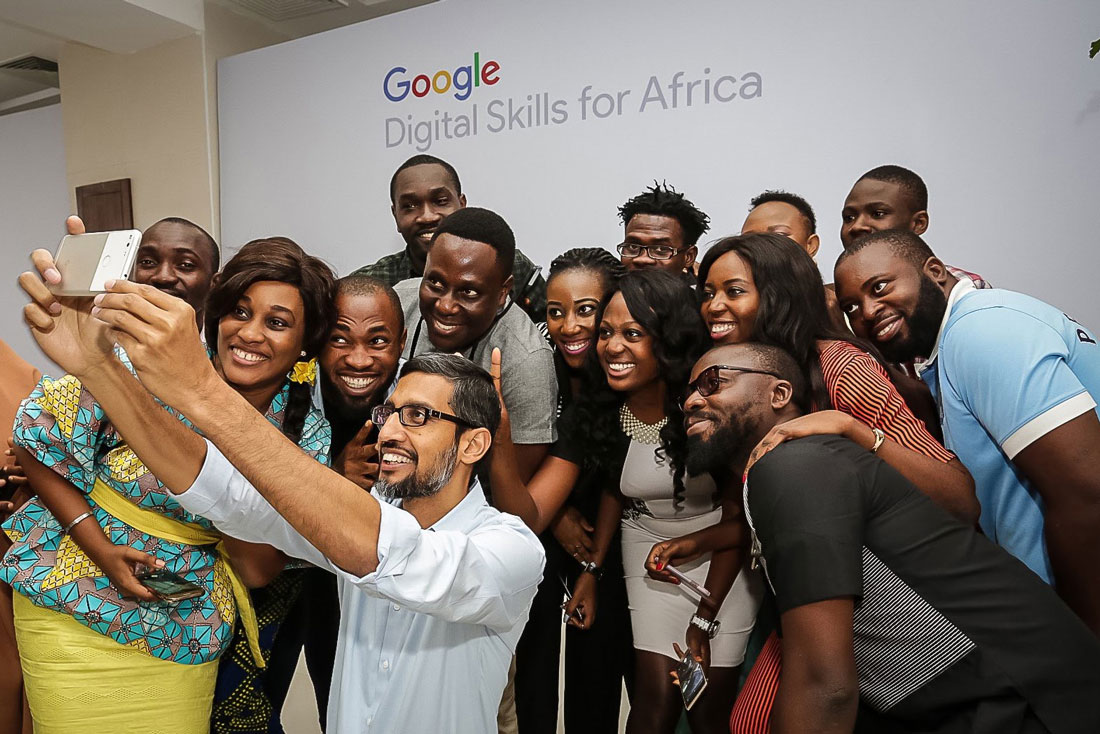 Other announcements included $2.5 million in initial grants to the nonprofit arms of African start-ups Gidi Mobile and Siyavula to provide free access to learning for 400,000 low-income students in South Africa and Nigeria; Lagos now on Street View in Google Maps; Health Cards – in collaboration with UI, and the presentation of a plaque to Mark Angel Comedy – the guys behind the famed Emmanuella series – for reaching 1 million subscribers on YouTube.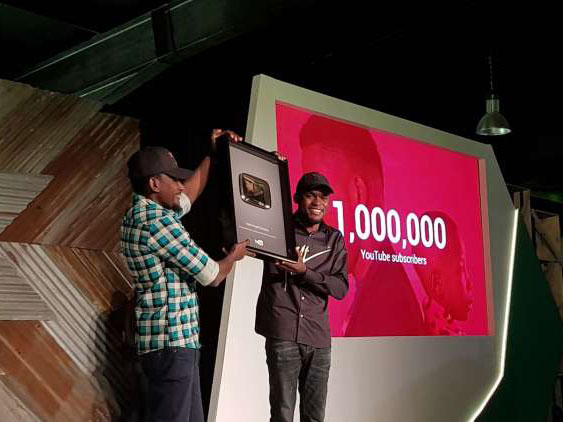 Jeff Bezos vs Bill Gates
When Stock Exchange trading began on Thursday, Amazon CEO, Jeff Bezos displaced Bill Gates and became the richest man in the world. The position was temporary though, as he went back to second place at the end of the day. Bill Gates definitely not letting the throne go just yet. See the top 10 richest men in the world after the slight shake-up, HERE.
https://twitter.com/Shawnife_/status/891297477361532930
When the whole world is congratulating Jeff Bezos for becoming the richest man in the world, but you know the situation is temporary. pic.twitter.com/pCh4OHhPpJ

— Chidi Okereke (@Chydee) July 27, 2017
Nigerian Pastors looking at Bill Gate back at #1 after they'd prepared Bezos themed sermons of 'resilience & never giving up' for Sunday pic.twitter.com/OAdz1miouk

— Bambi, Oh Cheops (@mhagayr) July 29, 2017
Kidnapped Igbonla College Boys Rescued
65 days after the abduction of the Igbonla boys, 'efforts' finally paid as they were rescued and are now back with their loved ones. Details are still sketchy as to how their release was secured – some say parents paid ransom, others say the policemen fought the kidnappers, while even others say it was all due to the efforts of the Governors of Lagos and Ondo state. Whatever it is, the important thing is the kids are back home, safe. Wishing them all the best.
65 days after abduction, Igbonla school boys regains freedom.#RescueEpeNow pic.twitter.com/s7eF0jrjG5

— EiE Nigeria (@EiENigeria) July 28, 2017
Congrats to Lagos State Gov on release of kidnapped boys. He worked very hard with FG agencies, Ondo, Delta govts & Ngr Navy for the result

— Laolu Akande (@akandeoj) July 28, 2017
Boys are kidnapped for 2 months from a GOVT school, parents pay millions in ransom & next thing is to congratulate the governor? Really?😁😁

— Babanla (@biolakazeem) July 29, 2017
Welcome, six Igbonla school boys– 65 days later..!
We want much better protection for Lagos/Nigerian school children.#NotAnotherNigerian pic.twitter.com/bTz864IPna

— Betty Abah #EndPoliceBrutalityInNigeria (@bettyabah) July 28, 2017
Davido – Pere
Whether you love him, hate him or you're indifferent, fact is Davido is a hustler. He proved once again that he is not resting on his oars last week when he released his new single – Pere, featuring Young Thug and Rae Sremmurd. Doesn't matter that the only 'Pere' people are recognizing is the one by MoHits, the important thing is the two Hollywood stars were in the video. (This is not a shade).
And oh, did we mention that Dammy Krane co-wrote the hook with Davido? Yup, he did.
The rising cases of rape
Are the cases really rising, or are people becoming more aware? Whatever it is, there were so many cases of rape against women it had us wondering what was wrong with the world. But beyond the wonder, we want to begin educating people on rape culture, and how we can kill it, ASAP. See what Rape Culture means and 17 everyday examples of occurrences that enable it HERE
All these happened in the last 48 hours. My fellow men, we need to collectively do better. We need to look around us and fight rape culture. pic.twitter.com/ZlugHND91g

— Chidi Okereke (@Chydee) July 29, 2017