Having grossed over $400 million in 4 days – against a $200 million budget – the Black Panther movie has already become a resounding success. It has also started breaking records, as its domestic opening weekend of $201.8 million is the biggest debut for a movie by an African American director, and the fifth-highest opening weekend of all time.
15 things you should know about the Black Panther
The movie is a lot of things to a lot of people, but to many Africans, it is their customs and traditions come to life in the big fictional screen. We have therefore curated some tribes, traditions, customs and cultures that are featured in the fictional world of Wakanda, and the Black Panther movie.
Enjoy, share.
Dora Milaje – Benin Republic
The Dora Milaje is partially based on a women army called the Dahomey Ahosi (Amazons). These fierce women were once considered the most feared women in the world, and they fought for the kingdom of Dahomey – present day Republic of Benin.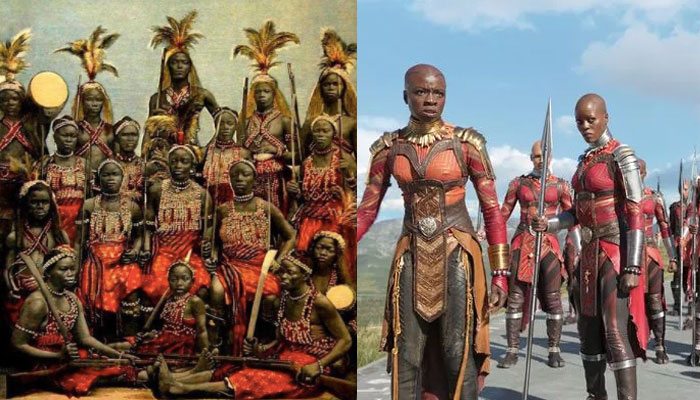 Legend has it that when the French defeated Dahomey – back when it was cool for European countries to colonize any African country they fancied – they took some of the Dahomey Amazons to their tents as spoils of war. At night, when they were spent, the women would wake up and bite their throats off. The French stopped taking Dahomey women
Xhosa – Southern Africa
The language spoken in Wakanda is Xhosa, a language spoken by over 19 million people in Southern Africa.
Hausa Language – Nigeria
The #BringBackOurGirls movement is one of the most popular movements to emerge from Nigeria, and incidents leading to it were loosely reincarnated in Black Panther. In a scene typical of Boko-Haram kidnapping young girls, Lupita speaks Hausa Language to girls kidnapped by the terrorists in Sambisa forest, Borno State.
Lip Plates – Ethiopia
Also known as a lip plug or lip disc, lip plates are a form of body modification where increasingly large discs are inserted into a pierced hole in either the upper or lower lip, thereby stretching it.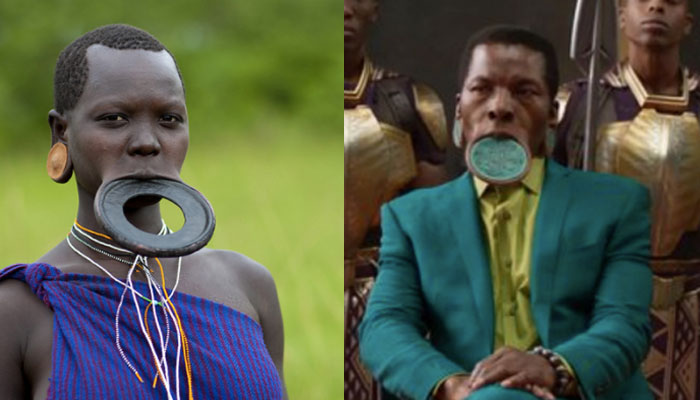 While other tribes in Africa have used them over time, the Mursi and Surma (Suri) women of Ethiopia still use lip plates till today.
Zulu headdress – Southern Africa.
In many of her scenes, Queen Ramonda – played by Angela Bassett – wears a distinct headdress. It's inspired by the reed Zulu flared hats called "Isicolos." It is a hat worn by married women, and was traditionally shaped from grass fronds, with cotton woven through.
Edo Mask – Nigeria
During a heist at a London museum with Ulysses Klaue, Erik Killmonger asked the museum docent about the bronze heads on display. Those bronze heads are from the ancient Benin Kingdom and many ancient samples that were plundered by Europeans in the late 1800s remain on display in Western museums. There have even been campaigns to repatriate some of these artifacts back to their origins.
Igbo Mask – Nigeria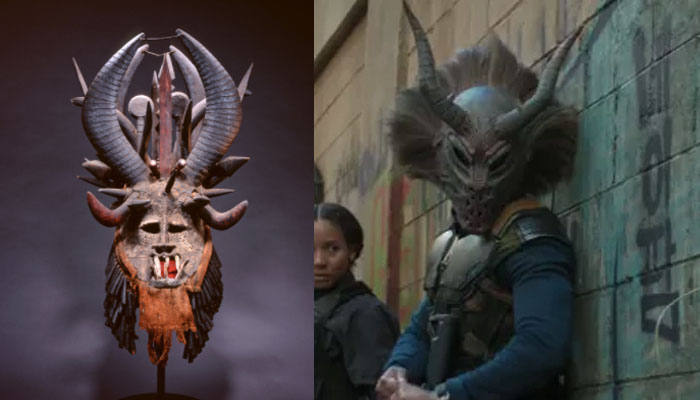 In that same museum scene, Killmonger picked up a mask and wore it. That mask is the Mgbedike, a menacing long-horned mask that originates from Igbo land. Translating to 'time of the mighty', the Mgbedike is used during local rituals
Nsibidi – Nigeria
Those Wakandan texts that appear on the screen in multiple scenes, and are inscribed on the walls of the Black Panther's throne room are actually from Nsibidi, with origins in modern-day Cross River state.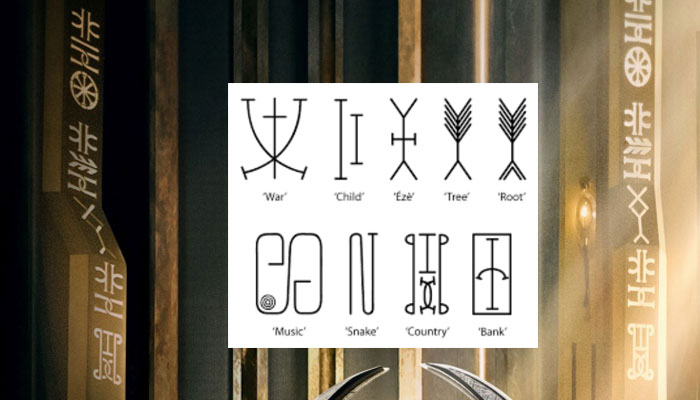 The custodians of the language are the Ekoi – also known as Ejagham – people and they have a population of about 150,000 people. Though almost extinct, because of colonization and English education, the script is still sparingly used till this day.
Agbada – West/North Africa
Yeah, our very own Agbada was worn by Forest Whittaker, who played Zuri, the spiritual leader of Wakanda.
Basotho Blanket – Lesotho
In several scenes, Daniel Kaluuya's character and many others are shown wearing Basotho blankets around their necks. These blankets are originally from the Lesotho people in Southern Africa.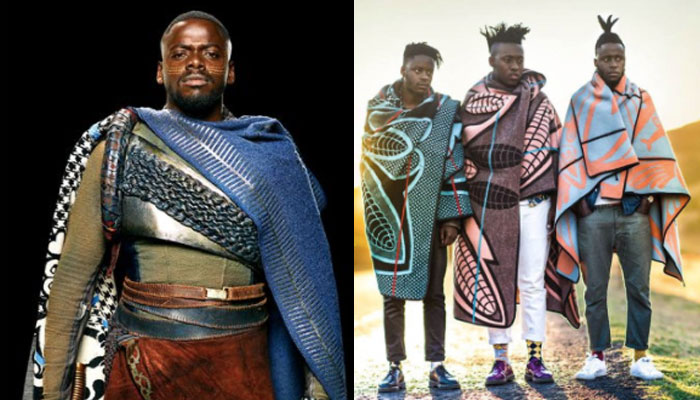 Ndebele Neck Rings – Southern Africa
The neck rings worn by the Dora Milaje and Princess Shuri are originally from Southern Africa, where the South Ndebele people wear golden neck rings as part of their traditional dress, and as a sign of wealth and status. Known as indzila, only married Ndebele women were allowed to wear the rings back in the day. Traditionally, husbands were supposed to provide the rings, once they have built a home for their wives, and the wealthier a husband is, the more rings a woman has.
Kente Scarf – Ghana
In one of the scenes, Chadwick Boseman's King T'Challa is seen wearing a Kente Scarf. The scarf originates from Ghana's Ashanti kingdom and back in the day, it was reserved for royals who wore them on special occasions.
Killmonger's tattoos – Ethiopia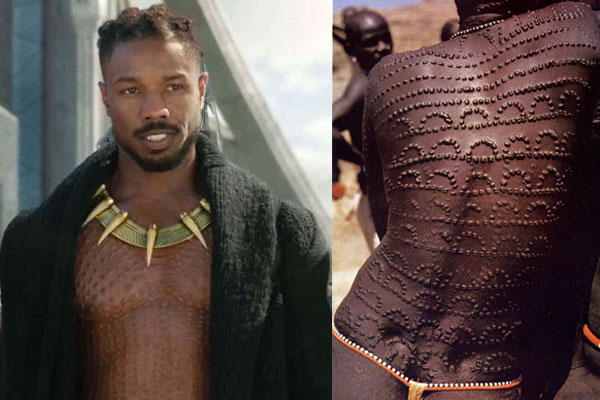 The bumpy markings on Michael B. Jordan's chest and torso are inspired by the scar tattoos on the bodies of the Mursi and Surma people of Ethiopia. While each scar represents each Killmonger kill in the Black Panther movie, the Mursi and Surma people regard the scars as a sign of beauty and strength.