Dana Air is in the news again, and it is not for good reasons. While our aviation industry is generally sub-par – typical with many things Nigerian – Dana Air has shown again and again that it may not be safe to fly them anymore.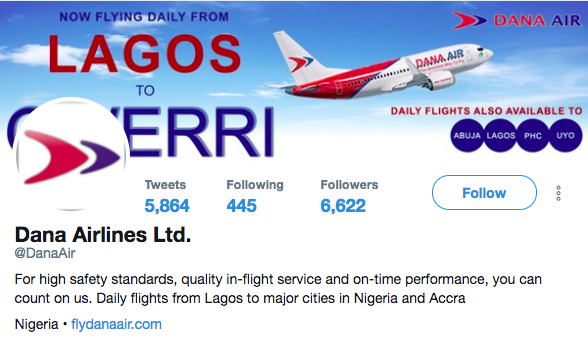 Now, this is not an attempt to de-market Dana Air. Someday we'll talk about other airlines, like Arik Air's horrendous service, that smoke that engulfed the cabin of an Aero Contractors flight in 2017, our Airports that need serious overhauling, and the aviation industry that need divine touch. Today is just Dana's day, because of recent happenings.
So, from people hearing funny noises within airplanes to exit doors falling off; see 3 reasons you may want to think twice before flying Dana.
2012 Crash
On the 3rd of June 2012, a Lagos-bound Dana Air flight from Abuja crashed into a building at a suburb in Lagos. The plane, a McDonnell Douglas MD-83 marked 9J-997 crashed into a two-storey building in Ishaga, killing all 147 passengers, 6 crew-members, and 6 other people on ground.
In its final report, the Accident Investigation Bureau (AIB) said the crash was caused by mechanical failure and pilot error.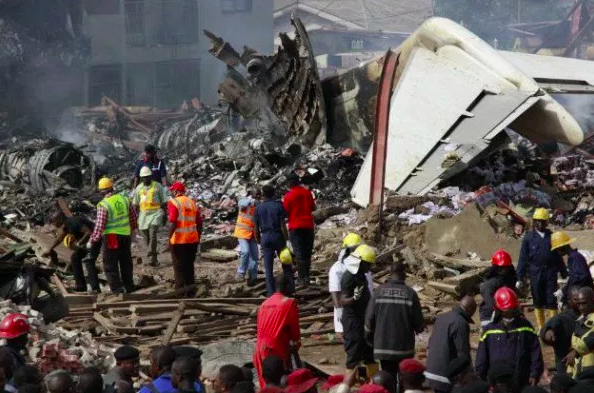 "Engine number one lost power 17 minutes into the flight, and thereafter on final approach, engine number two lost power and failed to respond to throttle movement on demand for increased power to sustain the aircraft in its flight configuration," the report stated.
According to the AIB commissioner, Akin Olateru, the inappropriate omission of the use of the checklist, the crew's inability to appreciate the severity of the power-related problem, and their subsequent failure to land at the nearest suitable airfield contributed to the crash which killed 159 people.
The fall of the Exit door
Imagine being in a flight and the exit door falling off just after the plane lands. Just imagine. Okay, stop imagining, because this actually happened.
Flew Dana. Exit door was unstable throughout the flight. As we touched down it fell off. Scary stuff. pic.twitter.com/eDtTlNi2TZ

— Ola Brown(Orekunrin) (@NaijaFlyingDr) February 7, 2018
People had complained of an alarming sound before the plane took off, but they were largely ignored. After this happened, Dana issued a statement talking about how the door couldn't have fallen off – basically saying those who shared and corroborated the story are lying. Sigh
Runway crash
Yesterday (20th February), a Dana Air plane, which took off from Lagos, crash-landed in Port Harcourt, Rivers State. The plane marked 5N-SRI was said to have overshot the runway and ended up in the bush. According to the Federal Airport Authority of Nigeria (FAAN), the incident is suspected to have been caused by heavy rain, which was accompanied by strong wind and storm in Port Harcourt. But ….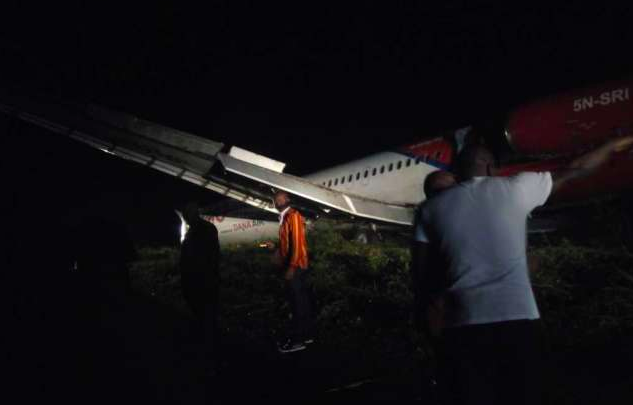 Thankfully, all passengers and crew-members of that flight are safe.
Dear Dana, fix up your life.