As all roads, and eyes, lead to Stamford Bridge for the clash between Chelsea and Barcelona this evening, we take a look at past fixtures between both former UCL champions.
The two teams first met in the semi-finals of the 1966 Fairs Cup (a European football competition played between 1955 and 1971). Both sides won their home legs 2-0, and the fixture was decided in a tie-breaker that Barca won 5-0.

Next time they met was in the 1999/2000 UEFA Champions League. Both teams won their home games 3-1 (regulation period), but in the extra time of the 2nd fixture, Barca scored 2 more goals to win the duel on aggregate.

The next meeting was in 2005, the second round of the 2004/2005 UEFA Champions League. Barca beat Chelsea 2-1 at the Camp Nou, but Chelsea lashed them 4-2 at the Bridge, to win 5-4 on aggregate.
https://www.youtube.com/watch?v=Idnjyvtu8Jg
One year later, Barcelona got their revenge in the same second round of the UCL. They won 2-1at Stamford Bridge and sealed qualification with a 1-1 draw in the second leg.
In the 2006/2007 UCL, they met again in the group stages. The Blues won their home fixture 1-0, and drew 2-2 at the Camp Nou. Nevertheless, both sides progressed to the second round.

Mercifully, both teams skipped a year and met again in the semi-finals of the 2008/2009 UCL. The first leg was at the Camp Nou and it ended goalless. But in the second leg, Chelsea, leading 1-0 were coasting to victory when in the very last minute, Andres Iniesta scored, sending Barcelona to the finals by virtue of the away goals rule.

Few years passed before they met again in 2012. Chelsea won their home semi-final fixture 1-0 and drew the away game 2-2. This sent them to the final where they beat Bayern Munich to win their first ever UCL trophy.
https://www.youtube.com/watch?v=wuoihLmorfY
In summary, they have met 15 times, both teams have won 5, lost 5, and drew 5.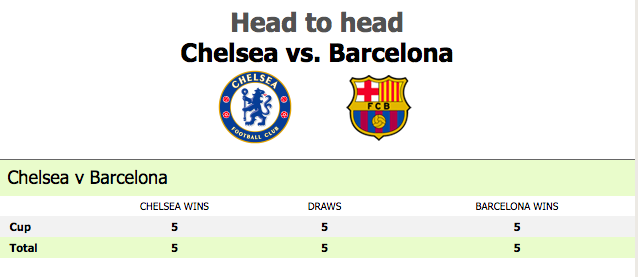 They meet again today, and we ask, who do you think will win? Who do you think will make it to the next round?