Union Bank
When people think of Union Bank, the first image that crosses their mind is an old bank that should serve old people. True, the bank is older than all of us, but to correct the perception that its customers are only people like those on Buhari's list, Union Bank went on a rebranding campaign that saw them change their colors, fonts and logos to something lighter, younger and fresher. They also replaced 'Big Strong Reliable' with 'Simpler Smarter Bank', and rode that wave into 2017.
2017 was a pivotal year for Union Bank. They turned 100, and rolled out the drums, on and offline. They started a campaign themed #TheNext100 – conversations around a Nigeria of the future. The online conversations culminated in one of the biggest events in 2017 – The Next 100: A Call to Action. Amongst the speakers were the Emir of Kano – HRH Sanusi Lamido Sanusi, Former Minister of Environment and UN Deputy Secretary General – Amina J Mohammed, Lawyer and Human Rights activist – Chidi Odinkalu, and a host of others.
"Winning With Women" will be a major theme @UNIONBANK_NG's centenary. Share ur ideas on how with @Fallyhamu & I pic.twitter.com/HesMh58y4V

— Chidi Odinkalu (@ChidiOdinkalu) October 20, 2017
Conversations ranged from Women's rights to Education to Financial Technology and Politics, and issues raised topped online conversations during and after the event.
Union Bank pulled one of the biggest 'coups' on Social Media when they recruited 'The Handler', the very popular ex-manager of the EFCC Social Media Unit.
Ladies and gentlemen, I am pleased to announce that I am joining #TeamUnion @UNIONBANK_NG. pic.twitter.com/J1MEyW3MqX

— F.SHAW (@FshawKingFisher) November 1, 2017
Considering how savvy, witty and brilliant Olufemi Olukayode Adeyemi is, the announcement was praised as a move to further establish Union Bank as one ready to do business with millenials. And the handler has not disappointed yet – dropping one of the sweetest 'don't leave us' replies in 2017.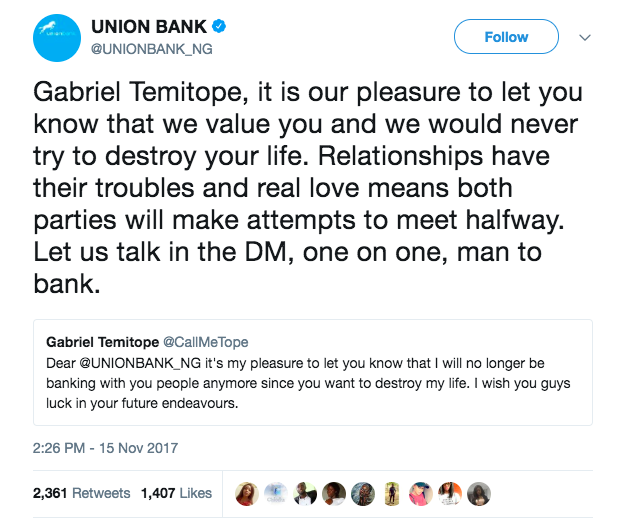 It is therefore no surprise that they picked up awards in marketing and communications before the year ended. Kudos, #TeamUnion.
Another win for #TeamUnion – 'Brand Evolution of the Year' & 'Iconic Brand of the Year' at the Marketing World Awards 2017 ? pic.twitter.com/8Kxeo2z1xO

— UNION BANK (@UNIONBANK_NG) November 5, 2017
Worthy mentions
As stated in introduction, a lot of brands did well on Social Media in 2017. While those listed were exceptional, these ones deserve mentions for certain campaigns they ran.
Guinness
Guinness hasn't changed a lot in terms of their Social Media Strategy. They are still riding the #MadeOfXXX idea hard. But their #BeAFrontRowFan campaign was quite interesting. I mean they brought Thierry Henry to Lagos and basically topped football conversations during the period he was around. Dope.
McVities
The biscuit brand turned 125 in 2017 and they had a massive Consumer Promo led with the hashtag #WhenIam125Years. This hilarious trend had thousands saying what and where they'll be when they turn 125 years old
Imperial Leather