Taxify
Uber is worth about $60 billion and is basically slang for on-demand services these days. They were the preferred means to privately commute from 2014 till late 2016, when Taxify came on board. Recalling the fate of ride-hailing platforms like AfroCab, Oga Taxi, Easy Taxi, etc., many people thought Taxify would not last. But more than 15 months later, they are still going strong, spreading their tentacles and giving Uber a run for their money. This is a combination of people's grievances with Uber, Taxify's reduction of their commission – which brought more drivers in, making Taxify cabs more readily available, and their aggressive Social Media campaigns. These campaigns led to Uber lowering fares by 40%, – leading to a strike by Uber Drivers, more Uber drivers moving to Taxify, and generally a bad year for the pioneers.
Anyway, back to Taxify, and their Social Media forays. They began the year with #TaxifyInLagos, basically amplifying all the positives of their brand, how easy it was to get rides, how polite drivers were, etc. Then on Valentine's Day, they had Korede Bello distribute cupcakes to fans. Realizing food was important to Nigerians, they partnered with Papa Grill and asked users to #RequestChickenWings – some distributed by artistes, Mayorkun and Dremo. Then on October First, they had the #TaxifyLovesNigeria campaign that had people like Emma Oh My God make videos pledging patriotism.
https://www.instagram.com/p/BZomcACA7KH/?tagged=taxifylovesnigeria
Soon enough China's Didi invested in Taxify, and while plenty noise wasn't made around it on Social Media, the aggression to get more people on their platform increased. But it wasn't all uhuru. A lot of people said Taxify drivers were generally rude and uncouth. A Twitter user also accused one of sexually assaulting her. Taxify swung to action, took the accused driver of their app and had him arrested by the police. Not completely certain about this, but something tells me these incidents led to a campaign themed #RideWorthSharing, where users were asked to share selfies with their drivers. It 'showed' that not all drivers were rude, uncouth, and ugly.
The holiday season came and basically every major event – including Davido's 3BG tour, AdekunleGold's ONSWAG, EatDrinkFestival, OLIC, COPA Lagos, Hennesey Artistry, KraksFest, NickFest, etc – collaborated with Taxify to convey riders via specific codes. Great year for Taxify.
Piggy Bank NG
In simple terms, Piggy Bank is a platform that helps people save, by directly debiting money from their banks periodically. They launched in 2016, and after about a year, they had saved up to N21 million.
However, their fortunes changed in 2017 when they won the Village Capital Fintech Accelerator programme. They subsequently launched their Android and iOS apps and a 'stories' platform – one of the biggest feedback/testimonials platforms in Nigeria. This genius move had thousands sharing their experiences using Piggy Bank. It was only a matter of time before Social Media was littered with testimonials of how great the platform was, and as a result, even more people got on it.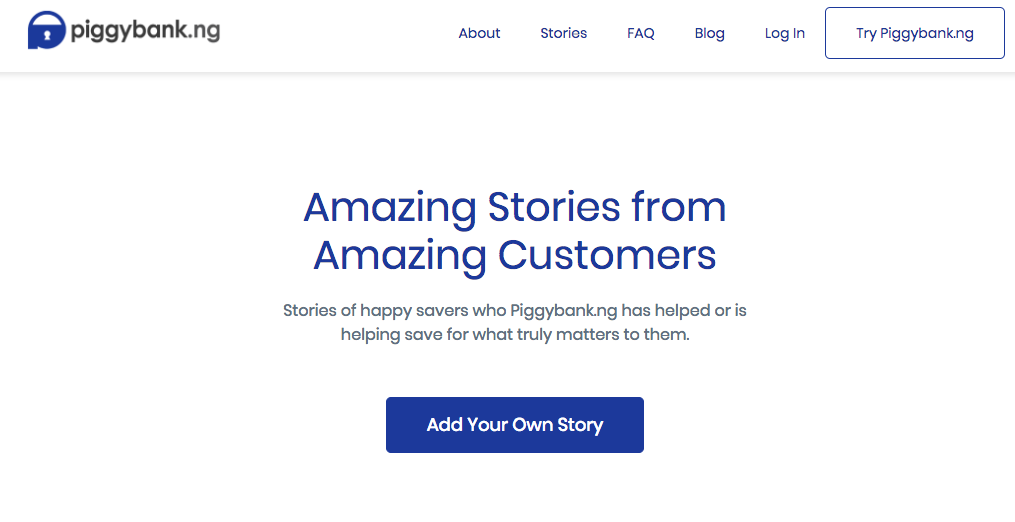 Soon enough, Google came knocking and they were one of the 14 startups from across Africa that had been selected for the Google Pitchdrive tour. In November 2017, they became the first Nigerian startup to be selected for the BlackBox Accelerator Program.
Just a quick reminder… because Piggy cares #70DaysofJanuary pic.twitter.com/LUEzKywLJ1

— PiggyBankNG (@PiggyBankNG) January 10, 2018
They have maintained very witty and highly engaging Social Media platforms and as at the beginning of 2018, they had grown by over 3,000%, compared to 2016. From N21million in 2017, they have now saved up to N1Billion. Massive.
MTN
That MTN is the biggest telecoms establishment in Nigeria is not news. They have the most coverage, offline, and – as far as their Social Media activities go – online as well.
Arsenal has some of the most dedicated football fans in Nigeria; this again is not news. While their overall numbers are up for debate, one can bank on them having up to 25% of the overall Nigerian football fans. That is probably what MTN considered when they decided to partner with Arsenal Football Club to enrich the lives of fans of the game.
Congratulations to every Arsenal fan in Nigeria. MTN just signed a partnership with your team. I envy una die!!! #AreYouGame pic.twitter.com/LYzjlqYLZJ

— Chidi Okereke (@Chydee) February 4, 2017
The campaign was led with the hashtag #AreYouGame, which spun thousands of conversations online and culminated at the iMax Filmhouse, where one big screen was converted to a football viewing center, and people won all-expense paid trips to watch Arsenal games in the UK.
Immediately after announcing the Arsenal partnership, MTN rolled out their #TogetherInLove ad, with (arguably) the best jingle from 2017. The Social Media activities that followed it had people showing one another love. I am surprised they didn't do more with that song, but what do I know? I am just a 'journalist'.
Imagine randomly filling a form online and having Falz the Bahd Guy knock on your door on a Friday evening. That is basically what the #PulseHouseParty was about. It was the ultimate TGIF, and every week during its one month run, thousands applied to host the celebrities that included Falz, Chidinman Ekile, Small Doctor, YCee, Skales, etc. The parties were also streamed on Instagram and Facebook, live, and it soon became a source of TGIF entertainment for a lot of people.
Me, Ycee & Small Doctor surprised a lucky fan yesterday. The #PulseHouseParty can be at yours. Simply fill the form in @MTNNG Insta bio pic.twitter.com/1ZVKratTiN

— #27 (@falzthebahdguy) November 11, 2017
MTN rounded up their year with #MTNSeasonOfSurprises, one of the biggest CSR campaigns Nigeria has ever witnessed. It was basically a campaign to surprise anyone and everyone, by giving them something.
Good people of Nyanya, Abuja are about to collect their gifts! See line full like election day. @MTNNG una wehdone #MTNSeasonofSurprises pic.twitter.com/5lQmoXfDsb

— Bhadmus Hakeem (@Bhadoosky) December 15, 2017
They gave to IDP camps, motherless baby homes, communities, sent cakes and hampers to individuals, paid the fares of hundreds traveling to their hometowns for Christmas, gave gift vouchers to shoppers, gave to the online community and so much more.
The #MTNSeasonOfSurprises catches up with passengers travelling to various places for the holiday at the Jibowu bus park. Joining us was @NeduWazobiafm pic.twitter.com/UUpLx3WigR

— MTN Nigeria (@MTNNG) December 27, 2017
It's a party at the IDP camp in Bakassi #MTNSeasonofSurprises pic.twitter.com/GtQBDwIwEy

— MTN Nigeria (@MTNNG) December 16, 2017
They gave in the east, west, north and south. They gave, gave and gave so hard, it was mindblowing.
Happy shoppers just got a gift card worth 8000naira each at spar,shoprite,ceddi plaza, Abuja #MTNSeasonofSurprises Life's Richer with @mtnng ? pic.twitter.com/DMO8zR5iil

— O ρ є у є м ι (@always_onkeys) December 15, 2017
And they do not seem to be relenting as the campaign that has been on for more than a month now is still running. Rumor has it that they have spent around N2Billion on this campaign. Incredible.