Recall how 2017 began with a recession, very high cost of foreign exchange and unfortunately poor standard of living? That economic downturn affected a lot of organizations in Nigeria, and as a result, the advertising industry. Budget for marketing generally reduced, but – in a twist of fate – budget for Digital Advertising increased for many organizations. More brands were looking for creative and cheaper ways to sell themselves, and Digital offered them that opportunity – especially on Social Media.
Now, amidst that flurry of online activities, what brands stood out? We have done the research, carried out surveys, checked the numbers and compiled this list – in no particular order. Enjoy, and share. And if you do not enjoy it because a brand you have interests in did not feature, please let us know, or work harder in 2018.
(See the 12 most exceptional brands on Social Media in 2016)
Pepsi
As far as Social Media is concerned, 2017 may have just been Pepsi's best year yet. No non-alcoholic beverage brand came close to them in the last year, on and off social media, and it was incredible.
Their year began with #PepsiCorporateElite: #TheWeekendTakeOver, which was – as the name implies – a complete take over of one fine weekend in April. Prior to that, invites were given out on Social Media, where fans were asked to participate in small contests. When the weekend finally came, it shut down Lagos. The biggest Nigerian superstars, Jagged Edge and Jidenna were on hand to thrill fans in the two-day event that held at Eko Hotel. Weeks later, attendees were still talking about it.
Now this is how to take over a weekend! Who was there at the #PepsiCorporateElite? Remember these moments? #TheWeekendTakeover pic.twitter.com/8mCBSqd5TN

— Pepsi Nigeria (@Pepsi_Naija) April 18, 2017
While Pepsi Global battled backlash from an insensitive ad with Kendall Jenner, Pepsi Nigeria continued their run with #PepsiChampionFan, a campaign to bring lovers of the UEFA Champions League together for the final between Real Madrid and Juventus. The campaign was so good that they won the Ad Dynamo Creative Award in Africa prize for June.
Congrats to @Pepsi_Naija for winning the June #CreativeAward 🏆 in Africa for their #PepsiChampionFan Campaign 👏 pic.twitter.com/s0vD5hFX0d

— Ad Dynamo (@addynamo) July 6, 2017
Recall when FOREX rate was really high and many brands had to increase the price of their products? 50cl bottles of Pepsi started selling for N120. But recognizing an opportunity to be the most demanded (in the face of Coca Cola selling for N150 and introducing a 35cl Solo bottle for N100) soft drink, Pepsi reverted to N100 and led the campaign with one of the biggest brand slogans in 2017 – #NoShakingCarryGo. It was huge. They 'bought out' the Lekki toll for a few hours and all vehicles passed freely. They also paid people's bus fares and refreshed thousands with bottles of Pepsi.
It's D-Day! Free Toll between 5pm – 6pm, @ Lekki Toll Gate! It's the #NoShakinCarryGo hour going down today! pic.twitter.com/JhkdTq5py3

— Pepsi Nigeria (@Pepsi_Naija) August 11, 2017
Capitalizing on the success of the #NoShakingCarryGo hashtag, they sponsored the One Africa Music Fest with the variation – #NoShakinCarryGoToDubai. This had people singing, dancing, rapping, etc., to a custom beat and sharing on Social Media for a chance to go to Dubai for the music fest. It quickly went viral and after thousands of entries had been whittled down to 100, 10 were finally selected at a live draw at Hard Rock Café, Lagos.
Wanted to both jump on the @MI_Abaga #FixUpYourLife & the @Pepsi_Naija #NoShakinCarryGo2Dubai challenge

My village people said freestyle😂😂😂 pic.twitter.com/7CJd4ys0NN

— Tunji Andrews (@TunjiAndrews) October 24, 2017
Pepsi rounded up a massive year with #NoShakinCarryGoDisemba – a campaign that had them involved in almost all the major events that happened in December. From Copa Lagos to On The Beach to Rhythm Unplugged to Wizkid and Davido's concerts, Pepsi was a headline sponsor, and their brand was everywhere, online and offline. Mad year.
Access Bank
In the last 4 years, Access Bank has been one of the most active banks online, and they did not relent in 2017. Their outstanding performance on Social Media began with #IGetStamina, a campaign to promote the Lagos City Marathon, an event they were headline sponsors of. The #iGetStamina campaign which had people showing their energy levels in preparation for the 43km marathon had over 100,000 people register for the marathon. It soon evolved to #RunLagos and #AccessLagosCityMarathon, the official hashtag of the event that had over 50,000 participants, including world-class athletes. The various hashtags were trending topics for weeks – before, during, and after the marathon – and photos from the race inspired several memes.
The first runners have crossed Lekki-Ikoyi link bridge. #iGetStamina pic.twitter.com/AP4s2fRcmc

— Access Bank Plc (@myaccessbank) February 11, 2017
Access Bank continued their run with #SaveTodayTakeTomorrow, a variation – #300KYoureNotUsing, both for the #AccessFamilyFortunePromo, a campaign that had families saving at least N300,000 together for a chance to win prizes that include 3 duplexes in Lagos.
https://twitter.com/queen_nickki/status/888454466411868160
Then they began their innovative recruitment campaign through Instagram Live. Basically, everyday, people visited their page, listened to a short presentation, got the password of the day with which they could apply for frontline internship positions. 3 weeks after the campaign began, they had grown by about 50,000 followers – 20,000 on their @HumansOfAccess page and 30,000 on @MyAccessBank, all gained organically.
Access Bank has been one of the biggest backers of technology in Nigeria, and they once again proved their commitment to that sector by creating the Africa Fintech Foundry, a hub for creative innovators.
It was my pleasure working with the amazing team at @AFFoundry, @myaccessbank and our partners to set the stage for Africa's finest fintech entrepreneurs. We're solving real financial problems as we build for the next billion. #AFFDisrupt2017 pic.twitter.com/r43vRAKx31

— Herbert Wigwe (@HerbertOWigwe) December 14, 2017
The launch of the facility was followed by #AFFDisrupt, a tech summit – the biggest in Nigeria in 2017 – that had industry heavyweights, policy makers, investors, techpreneurs, startups, and tech enthusiasts together at the Eko Hotel convention center, discussing technology. Online conversations during the event had thousands of engagement, reached over 6 million people and created about 30 million impressions.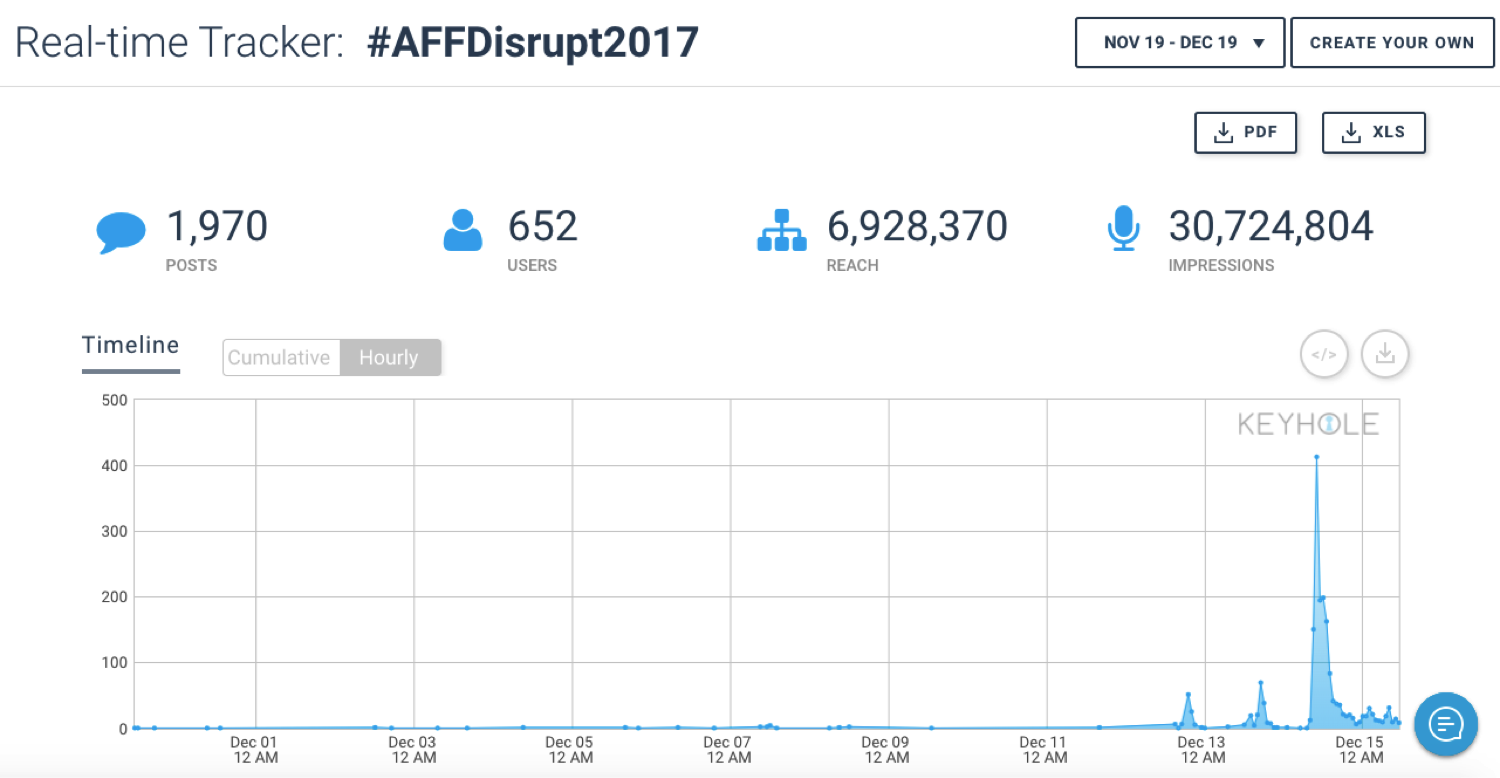 To round up a great year, Access Bank dropped one of the overall best ads in 2017, #AccessGetYouForMind, a short film that shows they will go the extra mile for 'you'.
I really really like the message in this video. Reminds me of Liam Neeson's "I will look for you, I will find you …" without the "I will kill you" part. Going the extra extra mile for your customer. Amazing ad ❤️ pic.twitter.com/DPnNJFrawi

— Chidi Okereke (@Chydee) December 20, 2017
In less than 2 weeks, the video – which is said to be based on a true story – was viewed over 1 million times, across Social Media channels.