Cowbell
While Cowbell had other campaigns like #FuelTheirDreams, the biggest thing they did on Social Media in the last one year is the Cowbellpedia Mathematics competition for Junior and Senior Secondary School students.
Martha answered 11 questions in 60 secs. Oluwanifise aced 13. These #Cowbellpedia kids are not my mates. My aunties ?pic.twitter.com/XJPZKEMJcK

— Chidi Okereke (@Chydee) August 25, 2017
In its 3rd season, the Oscar Oyinsan-hosted competition was a massive hit as people from all backgrounds tuned to their TVs to watch how kids aged between 13 and 17 chopped and screwed numbers like it was nothing. The conversations that followed each episode during the show's 14 weeks run ensured the hashtag – #Cowbellpedia trended almost every week, during the show's run.
This guy taught the kid who won last year's #Cowbellpedia, then came and won this year's #TeachersEdition. Dope! ????pic.twitter.com/WKy8U1VDZH

— Chidi Okereke (@Chydee) October 14, 2017
The intelligence of the kids was mind blowing, the stories of their teachers was inspiring and some moments were plain hilarious.
See..Slap me if this video doesn't crack u the fuck up! Just watch till the last second……????????? pic.twitter.com/fYjtWQJ768

— Manny ✂ (@DeGentleman_) October 22, 2017
Airtel
Airtel may not have done a lot of extra-ordinary things on Social Media this year, but the telecoms company gave us some of the best ads. It began with the 'Lost' Data is life ad from late 2016 to the emotional one about an old man who had never seen his grand children.
Their run continued with the data-stingy fella who scanned visitors and ensured they all had only one device with them.
The one about the lady who was always checking on her man – 'Whatchu doing' – was hilarious, and the one about the mom who loved praying was very very relatable
Video is the future, and Airtel has mastered how to touch people using that medium.
Custodian Insurance
Sometime in July 2017, someone started a challenge where people basically captioned images that depicted 'yepa' moments. Soon enough it went viral, with everyone from Twitter to Facebook to Instagram sharing scenarios that had them 'shook'.
I bought a new smartphone for N188k and the screen shattered the next day. to fix screen is N85k. #YepaChallenge pic.twitter.com/sOrVekexhR

— Jésè (@JesseOguns) July 4, 2017
After a few days where the hashtag – #YepaChallenge – stayed on top of online conversations, it was revealed that Custodian Insurance was behind the campaign. It was also revealed that it was part of their bigger year-long #TomorrowIsBeautiful project.
Want a beautiful future? @custodianplc believes #insurance can help. That's what #TomorrowIsBeautiful is about. pic.twitter.com/F0i67DhYMW

— Ebuka Akara ?? (@ebuka_akara) July 4, 2017
Few weeks after the #YepaChallenge, a campaign to sensitize people on Insurance in Nigeria began. Led by key social media influencers, the campaign had social media users consuming facts and stats about #InsuranceInNigeria. This sensitization led to increased knowledge and awareness about compulsory insurance policies and insurable possessions. It also rounded up with a live video chat between Custodian and Customers, moderated by Omojuwa.
Live interview with @CustodianPLC on #InsuranceInNigeria https://t.co/IBJhTmRKjs

— JJ. Omojuwa (@Omojuwa) August 25, 2017
Custodian rounded up the year with #ChristmasWithCustodian, where they rewarded Social Media users who participated in a contest with various gifts. Good to see that the insurance industry has representation on Social Media.
Jameson
If you want to get lost in a world of coolness, all you have to do is go through the social media pages of this Irish whiskey brand. It is filled with photos of young, (if you're active online) identifiable people who are enjoying life with the customary green plastic cup. It makes you want to go get a bottle, because that is the right thing to do.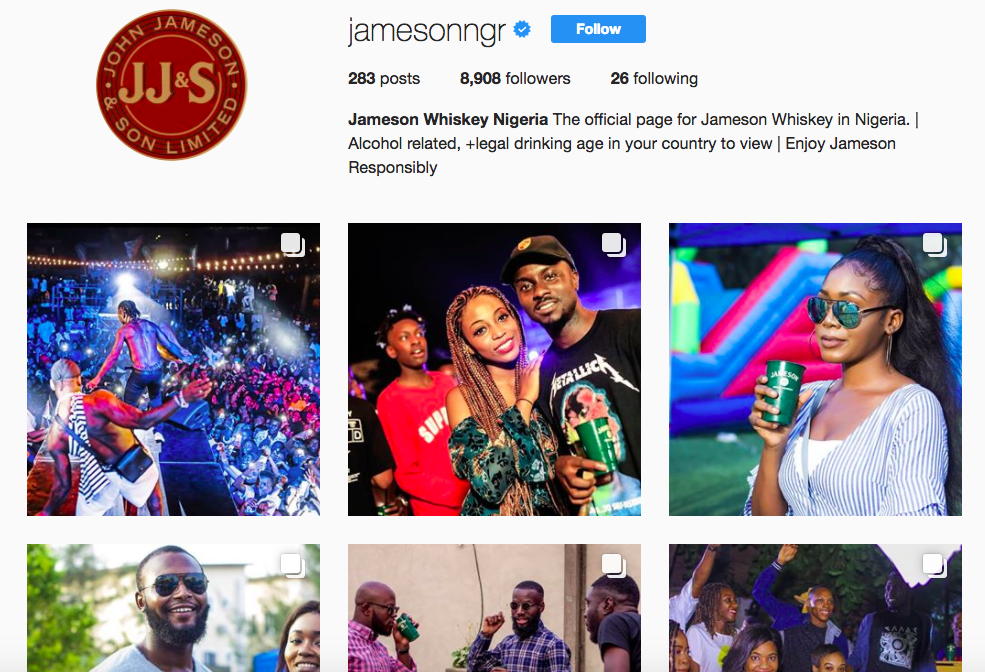 In a world where Hennessey, Remy Martin, Jack Daniels, etc., were the alcoholic beverages one needed to consume to achieve that 'big boy' status symbol, Jameson coming along, and changing the status quo is no ordinary feat. Reasonably priced, they showed one can be cool, while drinking something cheaper than aforementioned drinks. And they did all that through a combination of their branding, communications strategy, association with other brands, and activities on Social Media.
They kicked off their 2017 activities with #JamesonConnectsNG – a social event that had acts like Jesse Jags billed to perform. It sold out many days before D-Day, and on the scheduled date, the cool kids came, connected and didn't stop talking about it.
Bond & Connect moments with super cool lads and ladies at #JamesonConnectsNG pic.twitter.com/VLY0dYt04Y

— Jameson Nigeria (@JamesonNGR) February 27, 2017
Long time collaborators with the popular Socialliga, they co-branded for the #SocialigaMD3 and #WavesbySocialiga events and sometime in September, they hosted the #JamesonBeardDay, a day to celebrate men with beards. Incredible.
We had a great time last weekend celebrating #WorldBeardDay at the 'Brunch Out' and 'Don't Drop The Mic' events. #JamesonBeardDay #JamesonNG pic.twitter.com/iOpegXJGHY

— Jameson Nigeria (@JamesonNGR) September 8, 2017
They continued the run with another sold-out episode of #JamesonConnectsNG, took over Abuja with Maleek Berry, and debuted #LynkUpWithJameson – an event for super-cool people who were ready to mingle, and possibly find the love(s) of their lives. Their year ended with another LynkUp event and sponsorship of the hugely successful Native Land concert that had superstars like Skepta, Tekno, Maleek Berry, Mayorkun, Burnaboy, Davido, etc., perform. Really remarkable year for Jameson.