The Falz Experience, first ever headline concert by versatile Nigerian artiste, actor, lawyer and comedian – Falz the Bahd Guy – holds today, December 20th. Having already seen a few artists' shows this festive season, expectations are quite high to see what Falz will be delivering.
While trying to get a sneak peak of plans for the event, our sources revealed some interesting info that Falz fans should expect at #TheFalzExperience:
No African Time
Falz has been talking a whole lot about the concert starting at exactly 8 PM, unlike the usual Nigerian entertainment events and their 'African Time' behaviour. According to him, if no one is seated by 8 PM, the show will go on. That will really be something to watch – a Nigerian show with an early start! Hallelujah!
Blockbuster Production
Recently, it got out that budget for The Falz Experience was a whopping N300 million. Combine this huge amount with Falz's multiple arts skills, and the fact that Livespot is in charge of production, one gets an idea that the organisers plan to deliver a one-of-a-kind event. Livespot is renowned for incredible event productions, such as Darey Art Alade's 'Love Like A Movie' showcase, which merges music with art. We're eager to see the amazing stunts they're going to pull this time with 'The Falz Experience'.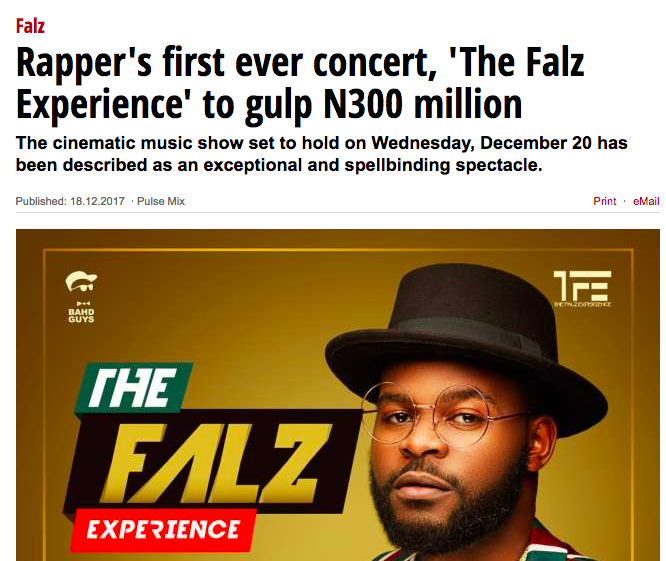 No lip-syncing
The problem with a lot of concerts in Nigeria is that many acts just jump on stage and lip-sync to their tapes. Very annoying. As in, if we wanted to watch 'lip syncs', won't we just stay at home, download music, watch Sound-City or MTV's lip sync battle?
That is why it is exciting that Falz is ditching lip-sync for live music. Very exciting.
Cinematic Performances
The Falz Experience has consistently been described by the producers as a combination of music, drama and comedy with guest artistes like Olamide, Davido, Simi, Yemi Alade, Reekado Banks, Reminisce, among others. We're really hoping to see some James Bond or Justice League, Hollywood-type moves at Eko Convention centre today.
Tickets
Tickets for The Falz Experience are N5,000 for regular and N25,000 for VIP. Considering how much work and expense has been committed to make this show happen, it is very very affordable. So, apart from the other superstar acts who are billed to perform, go and experience the 3 versions of Falz: Taju the Comedian, Folarin the Barrister and Falz the Bahd guy at The Falz Experience today.
Go to www.falzexperience.com for tickets and further information.