Is The Falz Experience the best concert Nigeria has seen this year? Absolutely yes. When it was announced that putting the show together cost N300 million (cash, kind and barter), a lot of people thought the figure was exaggerated. But after the events of last night, we can all agree that it was money well spent, and if you were not there, you definitely missed something remarkable. Whether you witnessed it or not, I have curated 8 major highlights of Folarin 'Falz' Falana's first ever concert. Enjoy, share.
African Time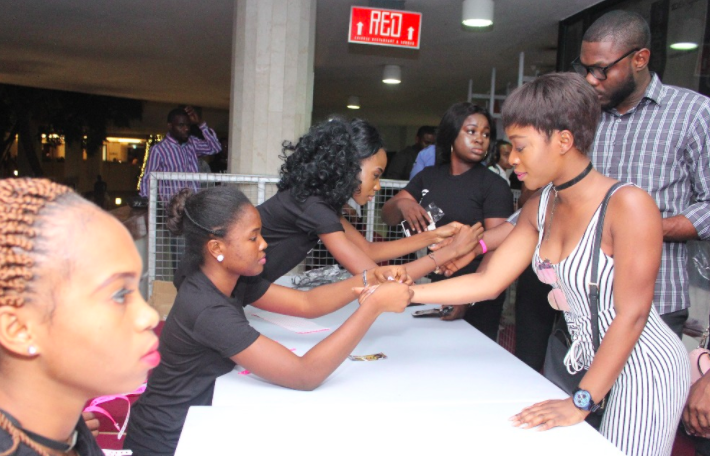 Prior to the event, Falz and his PR people kept hammering on how the show was going to begin by 8pm on the dot. Red-carpet shenanigans were supposed to start by 6pm, and by 8pm, The Falz Experience was supposed to be underway. But this is Africa, and as giants of this continent, Nigeria has to uphold the African time culture. For this reason, while a lot of people showed up before time, a lot of others came later, and ticket 'accreditation' didn't begin until 8pm. As the Eko Convention Center gradually filled up, DJ Crowd Controller and Shoddy the Turn-Up King kept the place hyped. Darey Art Alade, (whose wife, Deola is CEO of Livespot – the events producers) was the compere (sort of) and he kept assuring that the event will begin soon. They just wanted as many people as possible to witness #TheFalzExperience in its entirety.
Seating drama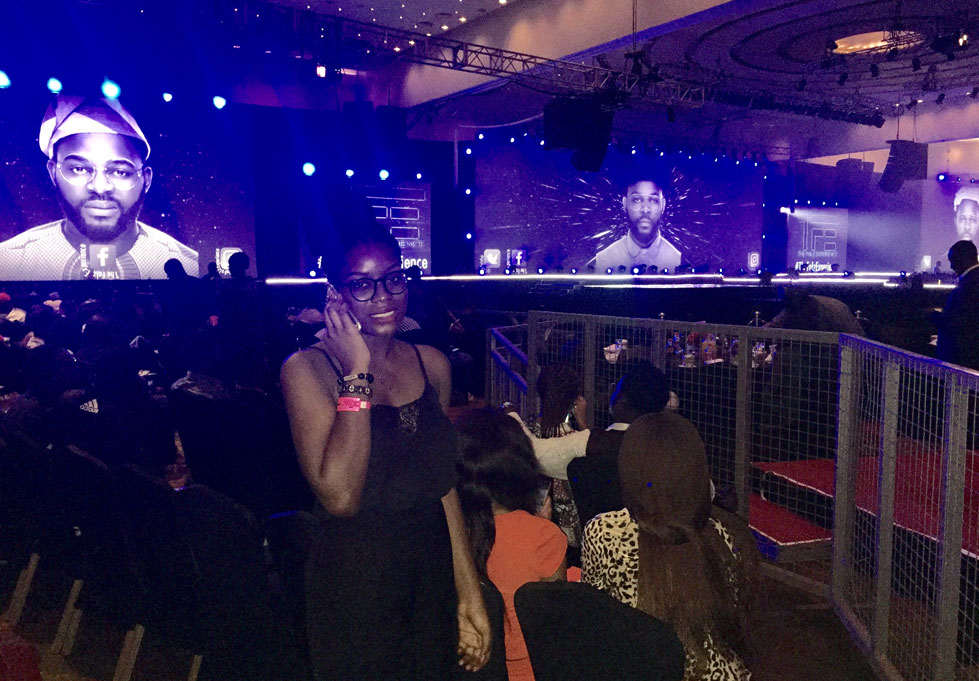 Originally, VIP ticket holders had seats surrounding the stage, while tables were set up on elevated platforms behind them. Regular ticket holders were cordoned off to the left and right of the stage, behind those who paid more. But as fate would have it, some minutes before the show began, regular ticket holders were asked to enter the VIP area and fill up the seats in front. In summary, the show went from one where people sat in categories to one where those who came first got premium seats close to the stage. God is faithful.
The beginning
The experience eventually started with some pre-recorded skits at about 9:30pm. According to a Twitter user (it is important that you know someone else said this, not me), one of those skits was funnier than the whole Wedding Party 2 (Nigerians are mean sha). The last skit ended with Falz' character jumping from 'somewhere' high above the ground. A few seconds later, Falz was descending from the roof high above the stage, and the convention center erupted in applause.
At some minutes to 10, @falzthebahdguy made a grand appearance. He descended from the roof a la duex ex machina, I lost it. Hear me screaming like a banshee. #TheFalzExperience pic.twitter.com/bFUCFnpGoh

— Minister Of Food and Enjoyment (@FlawlessMilo) December 21, 2017
The applause transformed to bopping heads and grooving bodies as Falz performed his latest hit single – La Fete. The experience had officially begun.
Solo performances
Devoid of the typical lip-syncs we see in most Nigerian shows, Falz' solo performances were completely amazing. His energy, stage presence, connection with the crowd, drama, etc were beautiful to watch. Every performance was a story and each one rolled into another, like various scenes in a movie. Amazing human, this Falz guy.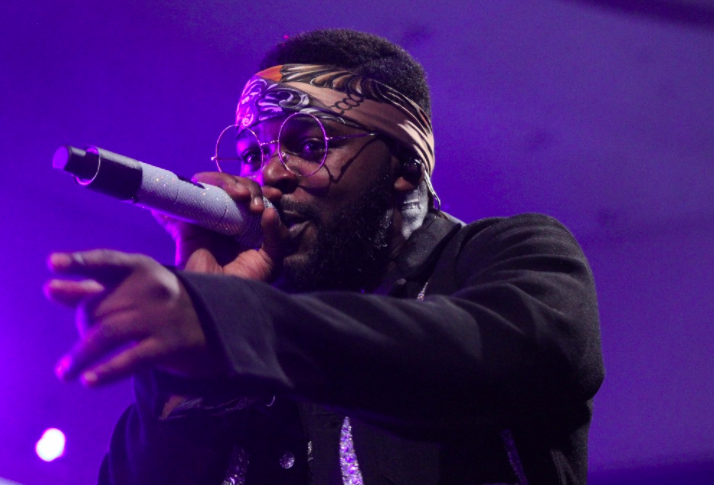 Live skits
Folarin is a lawyer, Falz is a bad guy, Taju is a comedian; and the 3 personalities of the entertainer came out to play in different live drama performances. From his spat with Chigul post Karashika to his wooing the hot Kaffy, to the military drills, every skit was a hit, back to back. My favorite moment was when a chicken was brought to the stage. Falz went "I said bring the chick in, not the chicken …"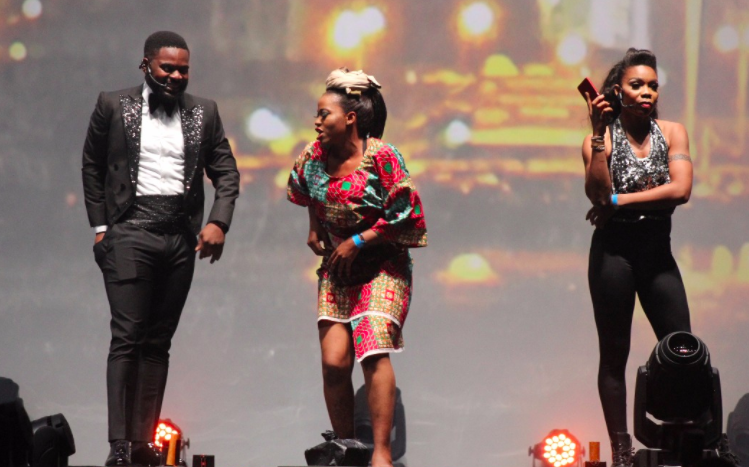 Other performers
While #TheFalzExperience was about Falz, one must commend the outstanding guys in the background, giving the stage life, telling stories without words, and making the experience much better. From the energetic dancers to the 'soldiers' getting drilled to guys in the 'club', back to the very energetic dancers, the other performers were amazing. They were all fluid, choreography in-sync, present, without overshadowing the person we came for. Two of them in particular – a white man and woman had our hearts in our mouth as they spun and twisted in unison from robes, high above the stage. Amazing all of them. Amazing.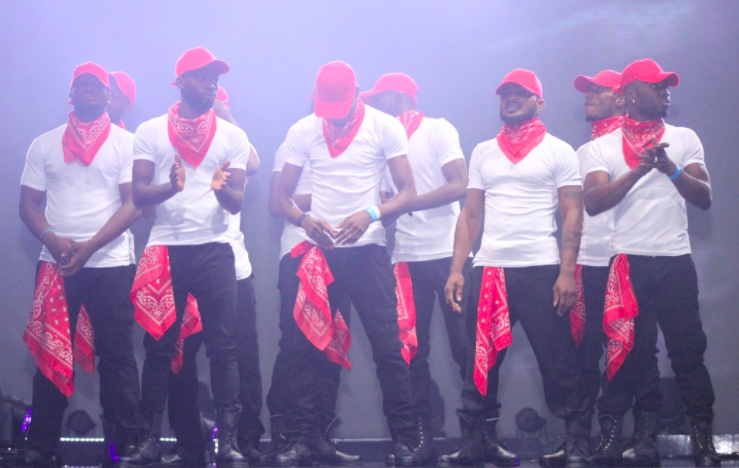 Supporting acts.
Some of the biggest names in the industry were on hand to support Falz, and they did not disappoint. He performed Clap with Reminisce, Chardonay music with Poe and Chyn, Celebrity Girlfriend with Reekado Banks, Way with Wande Coal, and Something Light with Ycee. He performed two songs including Single and Searching with Yemi Alade. His performance of Karishika featuring Phyno ended with a hilarious rant by Chigul.
Simi joined him on stage for a rendition of Chemistry, off their collaborative album of same name. This was followed by the rib-cracking Soldier skit with Chigul and Kaffy as co-leads, and then a beautiful rendition of Soldier featuring Simi. The duo then rounded up their performance with 'Foreign' off same Chemistry album.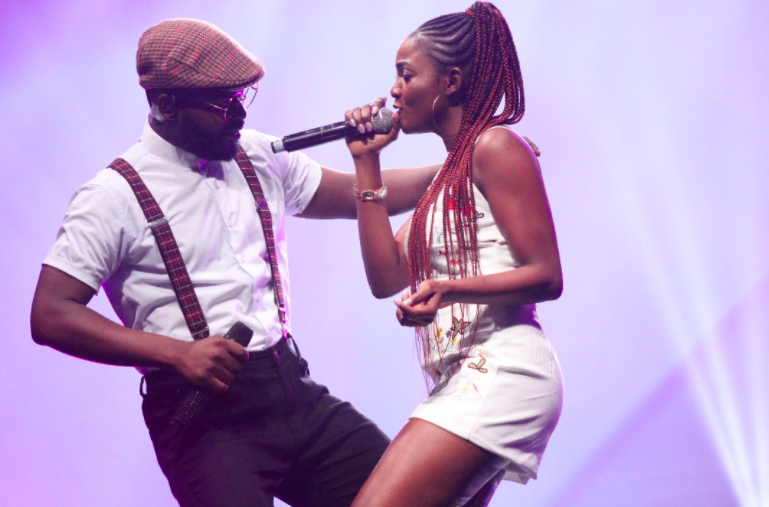 The performances came to an end with a rendition of Bad Badoo Baddest, featuring Olamide and Davido. While Olamide was conspicuously absent, Davido came in and ensured the very last performance left us all on a high.
Finally …
Nothing is perfect. But if anything were perfect, #TheFalzExperience was. Overlooking the fact that the concert began more than one hour after schedule, every single moment was amazing; so amazing that everyone promptly forgot about the delay. Transiting from one story-performance-skit-drama to another was seamless, and all these without a typical compere/host. Only thing that saddened me was how soon the show ended … or rather, the performances – since music and dance continued into the night. While I understand that the show was about Falz, I wish other acts were allowed to perform at least one of their bangers each, so the show would have lasted longer and so I'd have gone crazy when/if Davido performed Fia.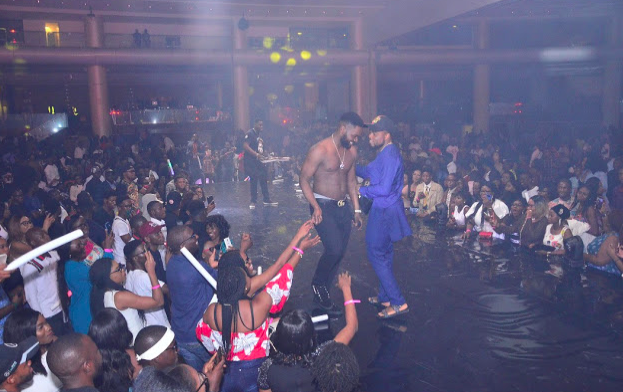 All in all, #TheFalzExperience is the best show I've seen this year, and Falz deserves to take a bow, because he has raised the bar really really high. Looking forward to the next one, and an amazing 2018! See some photos from the concert.