Nigerian food is, without a doubt, one of our most cherished meal. Nigerian chefs have found themselves under growing pressure to challenge, surprise and eventually, please diners. Cooking is no longer just restricted to the two-dimensional challenge of creating a dish that both looks and tastes good. It has become a medium through which the best, brightest and most innovative can let their fancies run wild.
Essentially, the Nigerian kitchen is at the heart of a new revolution and food is no longer just about taste. In response, a crop of Nigerian chefs has emerged, creating menus that are breaking down traditional barriers and specialising in creating new sensations. These foodies are not only pushing the Nigerian menu in uncomfortable, unfamiliar directions, they are showing how it has the potential to offer the ultimate intimate experience as well.
By the time you finish reading this article, over a million people would have posted pictures of their lunch. Fact. Okay, maybe not fact but it's really, really likely. You see, we are living in the age of the foodie and if you aren't with the program, you're about to get on it after this post. There are so many chefs right now but these 5 are on our radar because they all clearly are having an affair with food and we want to get involved.
Tunde Wey
//www.instagram.com/embed.js
This young chef has a deep love for his country, its food and culture. He is self-trained, ignoring bourgeois celebrity restaurateurs and expensive cooking schools. He arrived in America at age 16, while in college, he worked as a West African Dance Instructor and served food at Wendy's later. After moving to Detroit to live with his aunty, he and his old-time roommate Peter Dalinowski started an innovative restaurant concept called the Revolver. Like its name, the restaurant opens with a rotating line of chefs. In April of 2014, Wey went on tour around these American cities, Chicago, Buffalo, Washington, Philadelphia and New York City hosting Nigerian themed diners as a guest chef at top restaurants. He got recognised by New York Times, they decided to produce a documentary about his passion for cooking. He is motivated by the need to create diversity in the culinary industry, changing the way people view Nigerian food in general.
2. Fregene Gbubemi
//www.instagram.com/embed.js
Gbugbemi was born in Benin city, attending Olashore school in Osun city before heading to Covenant University. He graduated in 2008 with a bachelor's degree in Industrial Relations and Human Management.Popularly known as Chef Fregs, Gbugbemi Fregene is undoubtedly the best chef in Nigeria with his glamorous expertise in french and Nigerian cuisine. He has a passion for creative display of sweet tasting food, this passion and zeal drove him to Le Cordon Bleu Culinary Institute in Paris to further master the art of cookery. Chef Fregs started in humbling beginnings as a suya seller, he emphasized that through hard work, being nice to people, seeking knowledge and producing quality over quantity, he achieved success. Currently Chef Fregs has established himself in the Nigerian culinary industry, attending culinary events such as Knorr Taste Quest and coping handsome endorsement deals.

//www.instagram.com/embed.js
3. Alex Oke
//www.instagram.com/embed.js
A Nigerian/Russian chef, Alex is passionate about bread, pastry and confections. Chef Alex Oke is based in Lagos, he is enthusiastic about bread, pastry and confections. He is skilled in both classical and contemporary French cuisine, having gained his cookery arts from Pacific Institute of Culinary Arts in Vancouver, Canada.
It is not secret that Alex Oke's calling is in the culinary/pastry arts. Currently based in Lagos, he is the owner at XO Boutique Bakery and an instructor at the Culinary Academy in Lagos.
While Alex draws inspiration from local and seasonal produce and tries to live and work within the farm to table philosophy, his approaches show that modern culinary innovation. He uses a combination of technique and sensual experience as he experiments with Nigerian dishes, fusing them with European and Asian influences to create what he calls "gentrified Nigerian food".
//www.instagram.com/embed.js
4. Tomi Makanjuola
//www.instagram.com/embed.js
Nigerian-born writer, food blogger and chef who currently resides in the city of London, created and maintains 'The Vegan Nigerian' – a space for foodies seeking culinary adventure to experience the food and culture of Nigeria with a vegan twist. In this space, she develops and shares a range of vegan menus created either by 'veganising' traditional meals or using well-known Nigerian ingredients in new and innovative ways. Tomi's recipes showcase the vibrant and colourful flavours of traditional and contemporary Nigerian food and certainly reflects her passion for fusion and vegan cuisine. Some of her recipes have been featured on the BBC, as well as online platforms such as One Green Planet. Her book is titled Nice Cream.
//www.instagram.com/embed.js
5. Ozoz Sokoh
//www.instagram.com/embed.js
Popularly known as the 'Kitchen Butterfly', Ozoz Sokoh considers herself a 'Traveller by lens and plate'. A writer and food explorer who has been documenting African cuisine over the last couple of years, she is most passionate about food fusion. She has a knack for transforming Nigerian meals into delightful culinary adventures, with a goal to elevate traditional Nigerian cooking to fine dining.
She has since become well-known both for her challenging and unusual recipes. Ozoz created 'The New Nigerian Kitchen' – a platform which celebrates Nigerian cuisine by reinventing and representing Nigerian food, unearthing history, sharing techniques, using old ingredients in new ways and focusing on in-season produce- with hopes that it will inspire other chefs to be more innovative and push food and restaurant industry here to grow. She believes that reinventing age-old recipes will ensure that those traditions remain alive and continue to be passed down from generation to generation.
//www.instagram.com/embed.js
6. Benedict Okozu
//www.instagram.com/embed.js
Benedict Okozu is an expert in Italian cuisines, he combines his Nigerian roots with his acquired Italian culinary skills to create exquisite dishes. Chef Okozu attended the Le Cordon Bleu Firenze and Carpiagiani University, Bologna. Here, he gained expertise in the art of cookery.
//www.instagram.com/embed.js
7. Abiola Akanji
//www.instagram.com/embed.js
Abiola Akanji (born 29 January 1983) is a Nigerian celebrity chef, author and Online media personality, also known as "Chef Stone". One of Nigeria's top celebrity chefs, he has taught masterclasses at the GT Bank Food & Drink Fair and makes regular appearances as a guest judge on cooking competitions such as Oando 'Teens Can Cook'. He is also the founder of Red Dish Chronicles culinary school.
//www.instagram.com/embed.js
8. RapahelDuntoye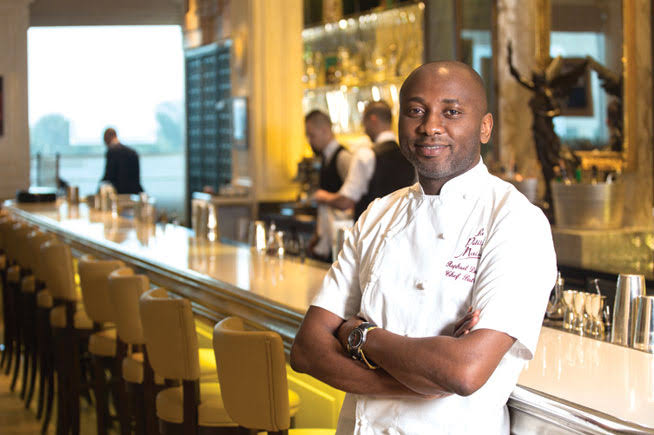 Raphael Duntoye became a Chef Patron at La Petite Maison, he also worked 5 years with Pierre Koffman at the 3 Michelin Star La Tante Claire. He is a protégé of Koffman, learning the roles of British culinary history and he is in a team of other top chefs such as Ramsey Gordon, Tom Akeins, Marcus Wareing and Michel Roux Jr.Raphael Duntoye is a connoisseur of French cuisines. He sacrificed a career in engineering to chase his lifelong dreams of becoming a top chef. He gained his culinary skills in Butlers Wharf Chef School in the UK and worked as an Executive Sous chef at Sketch in the highbrow area of Mayfair. He later worked as a Senior Sous Chef at the Japanese restaurant Zuma in the most expensive area in London, Knightsbridge. La Petite Maison which is run by this chef has branches in Dubai, Miami and Abu Dhabi.Chef Raphael later created a Christianna Foundation in Nigeria to raise money to revamp the educational infrastructure and provide basic amenities.
9. Michael Elegbede
//www.instagram.com/embed.js
Michael Ade Elegbede started his cooking exploits at a very early age while helping his mother and grandmother run their locally owned restaurant. He found his passion at a young age, while helping out in th kitchen. He started learning to cook professionally at Alliance Bakery in Chicago, before returning to school to further gain more knowledge. He attended Culinary Institute of America Greystone in California, where he graduated with a degree in Culinary arts. He continued to work top restaurants across America including renowned Eleven Madison Park Restaurant in New York.Michael Elegbede is loved in Nigeria because his expertise is in Nigerian cuisine. He travels round the country cooking the delicacies of whatever area he finds himself, winning him wide support across different sections of the country. He has vowed to rediscover our hidden flavors, ingredients and cooking cultures.
//www.instagram.com/embed.js
10. Tolu Erogbogbo
//www.instagram.com/embed.js
Tolu Erogbogbo popularly known as Chef Eros, is arguably Nigeria's bet chef. He founded Cookies Jar Bakeries also currently is the Chief Executive at Chef Eros and Gourmet foods. His strong business acumen and matured cookery arts has earned him a place among West Africa's best. He has mentored young and prospective chefs at the GT Bank Food and Drink Fair. His restaurant specializes in cakes and pastries for all events.
//www.instagram.com/embed.js