It is no longer news that Ekemini Ekerette, also known as Kemen has been disqualified from the Big Brother Nigeria competition because he sexually assaulted a fellow housemate – Tboss. Reactions from social media have been diverse – from praise to the organizers for taking that action to requests that Debbie-Rise be evicted too – for kissing a seemingly sleeping Bassey last week. Many have blamed Tboss for sleeping on the same bed with Kemen and allowing him give her a massage, while even others have ruled that the punishment was harsh, because what Kemen did wasn't that big a deal.
This has brought us to the realization that there is a lot people do not know about consent. We have therefore outlined 5 things everyone should know about consent.
What is consent?
Consent is simply an agreement between participants to engage in sexual activity. Even though it is not verbal all the time, verbally agreeing to different sexual activities can help you and your partner respect each other's boundaries.
Positive consent is all about communication. Communicating when you change the type or degree of sexual activity with phrases like "Is this OK?" Explicitly agreeing to certain activities, either by saying "yes" or another affirmative statement like, "let's do it". Using physical cues to let the other person know you're comfortable taking things to the next level.
In summary, positive consent must never leave room for doubt. If you are not sure, don't.
Consent needs to happen every time
If someone borrows your phone to make a call today and returns it, can they come take the phone tomorrow, without asking, simply because they have used the phone before? That is exactly how consent works. The fact that you have had sexual relations with someone before does not give you the right to have sexual relations with them again, when they have not given consent.
So, whether you're husband and wife, boyfriend and girlfriend, friend and friend with benefits, homosexuals, etc, an affirmative yes is required every time in order to move forward.
An intoxicated or incapacitated and/or underage person cannot give consent
According to the law, if a person is drunk, passed out or under the influence of drugs, they cannot consent to sex. Simple and short. We could expand by saying, unless you've been having sex with someone, do not try to have sex with them when they are intoxicated (even this has gray areas when number 2 above is considered, but it is to protect those who may not know what they are doing and may not want it. In summary, wait for him/her to be sober or old enough (18 years at least) before you attempt to have sexual relations with them.
It is not consensual sex if you pressure or threaten them
The idea that rape only happens when there is physical force is completely wrong. If you threaten to physically or emotionally hurt someone; take away certain rights/privileges; threaten to release damning information about the person, etc, you have coerced them. Whatever consent they give you then is under duress. If you do all this and successfully have sex with that person, you have raped him/her.
You can change your mind any time
Imagine discussing having sex with someone, but when you get to a room, make out, strip naked, condoms on, ready to go, the person says, "Err, I don't think I want to do this anymore. I have changed my mind …" As painful as it is, there is only one thing to do – S.T.O.P. Respect their desires and fvcking stop.
The circumstances do not matter. The height of passion you're feeling is irrelevant. The level you have reached in the process is inconsequential. If they're not comfortable and want to stop, they have the right to say "no."  And you MUST always stop pursuing sexual contact. All you can do is try to verbally convince (NOT coerce) them. Any other thing is rape/attempted rape.
In summary, remember that:
Consent is an agreement between those involved and without it, whatever happens is called rape.
Assuming that wearing certain clothes, flirting, or kissing is an invitation for anything more is the first step towards rape or attempted rape.
All the blame must always be on the rapist, regardless of the circumstance surrounding the incidence.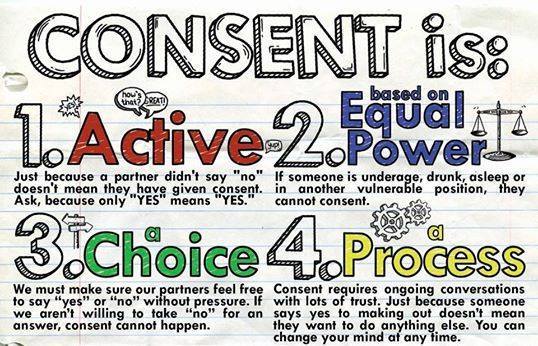 Now that you have this knowledge, ask yourself, have you sexually assaulted someone before? And now you have this knowledge, would you do it again?