It is high time Ayo Balogun changes his stage alias from Wizkid to Wiz-King, because the afro-beat crooner has proven over and over again that he rules the music scene in Nigeria, and Africa as a whole. That is the reason the Eko Convention Center couldn't contain all the people who showed up for his first Headline concert in Lagos in 6 years. Amazing cannot begin to describe how awesome the show was, so if you missed it, let us attempt to recreate it, highlight by highlight.
Enjoy, say yeahhh yeah … and share!!!
It started late
Sorry it had to start on a 'minus' note. But this is also supposed to serve as a review of the concert – which was billed to commence by 8pm, but began at about 11:40pm. Somebody said Wizkid is a notorious latecomer to shows and whether the person was wrong or right, fact remains that the concert began more than 3 hours after schedule. Yes, we have to live up to our African Time culture, but is it not time Nigerians start keeping to time? Really annoying to get somewhere early and have to wait for latecomers.
Wizkid may be internationa, but not starting a show at the appropriate time is nothing close to being international.#wizkidtheconcert.

— olufemi isaac (@Iamfemiisaac) December 24, 2017
Venue – Overcapacity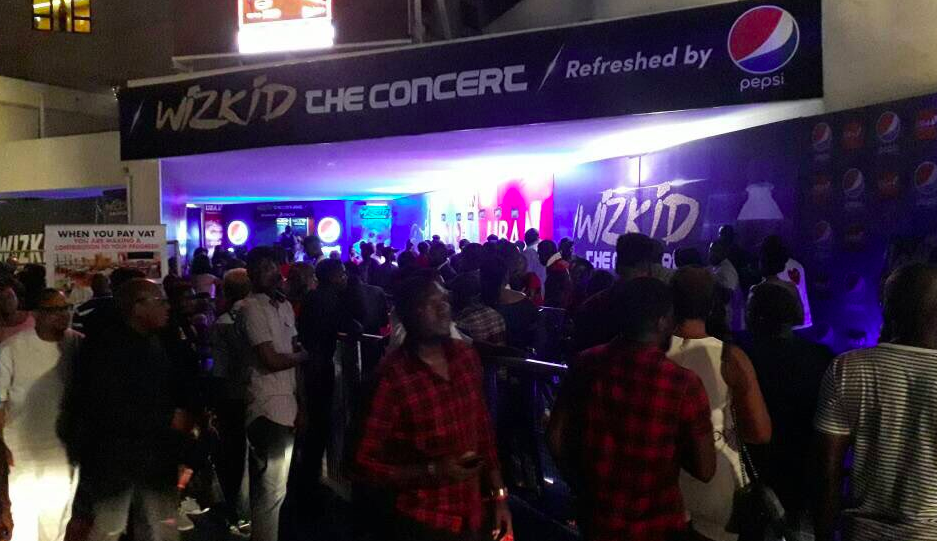 True, Eko Hotel is the classiest, most-secure, easy-to-set-up place one can have a concert at in Lagos. But one would think that Wizkid should know he is way bigger than a 6000 capacity hall. Especially as this – his first concert in Lagos in 6 years – fell on a Sunday, during the end of year holidays. The hall was full to the brim, and lots of people had to stand and squeeze themselves anywhere they could find space. He should have gotten a bigger venue, and perhaps, a lot of people who couldn't get in would have had an opportunity to watch the Starboy.
The 1 million bucks 'scam'
Imagine paying N1million to be on a table – close to the stage with an unobstructed view of the Starboy and hearing the announcement: "Regular, make una jump the barricade, come close to the stage …"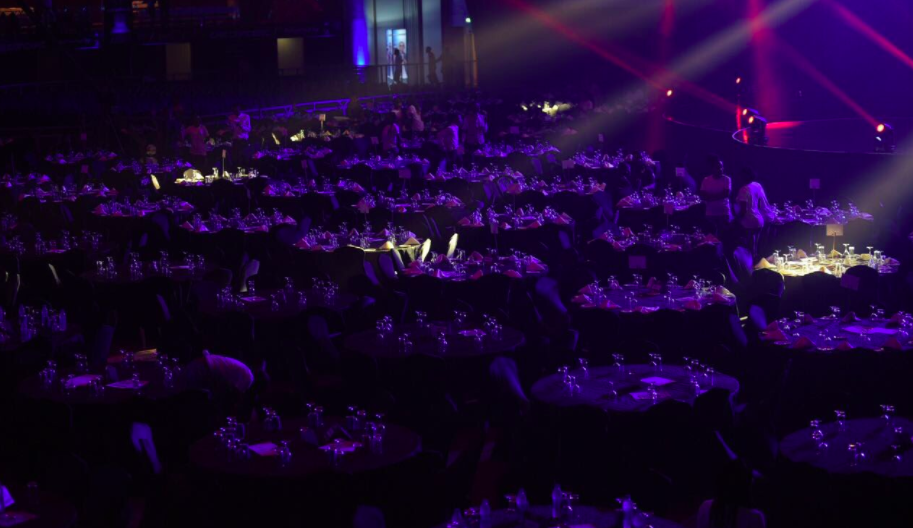 Heartbreaking. That is probably how people in the 'upper-class' felt when Wizkid called in regular ticket holders to surround the stage. Because it is obvious the big boys and girls who forked out a million bucks will not stand around the stage and hype the performers and performances. Anyway, the table people still enjoyed themselves. Food and choice drinks were going round in excess – compensation, I believe.
Performances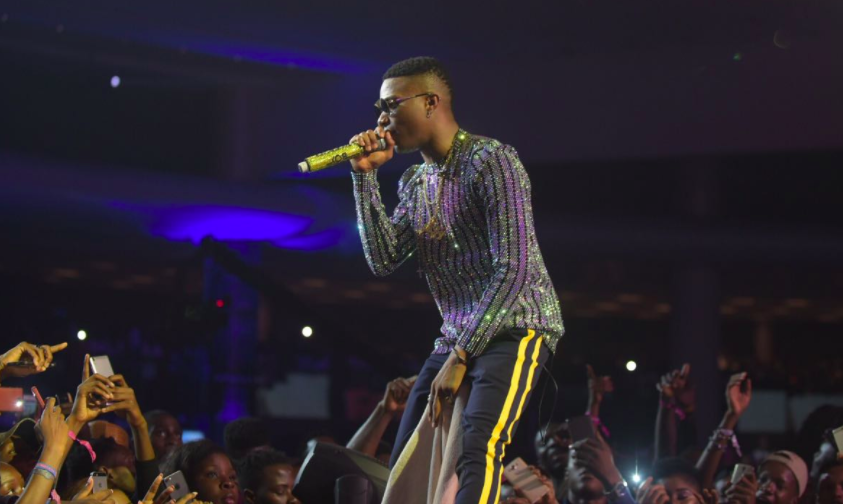 Yes, Wizkid is an effortless performer. He doesn't sweat it, doesn't force it, he just grabs the mic and enjoys himself. And that is exactly how his performances went today. Between his solos, features, calling other acts on stage, etc., he kept the crowd hyped till the moment the show ended. He used the live band and had everyone singing along to his timeless classics.
Ahmed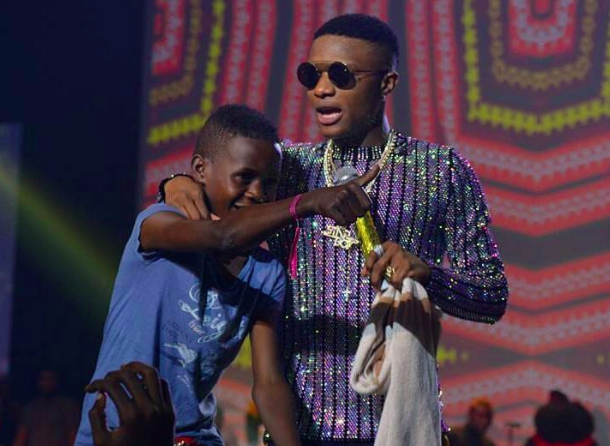 His story is simple, and fairy-tale like. Ahmed, a kid from Ijebu Ode was brought up to the stage to perform. He asked the DJ for any instrumental and after he killed it, Wizkid signed him to Starboy on the spot and gave him N10million. Simple, short, mindblowing.
Supporting acts
Prior to the concert, supporting acts were not announced, neither were promotional banners of them distributed. It was a Wizkid concert and only Wizkid was promoted. But the biggest acts in the Nigerian music scene came out to support the Lion; most to perform songs they'd done together, and all to perform at least one of their banging singles.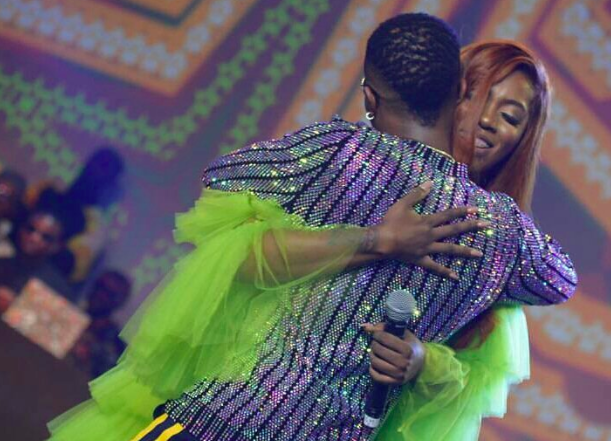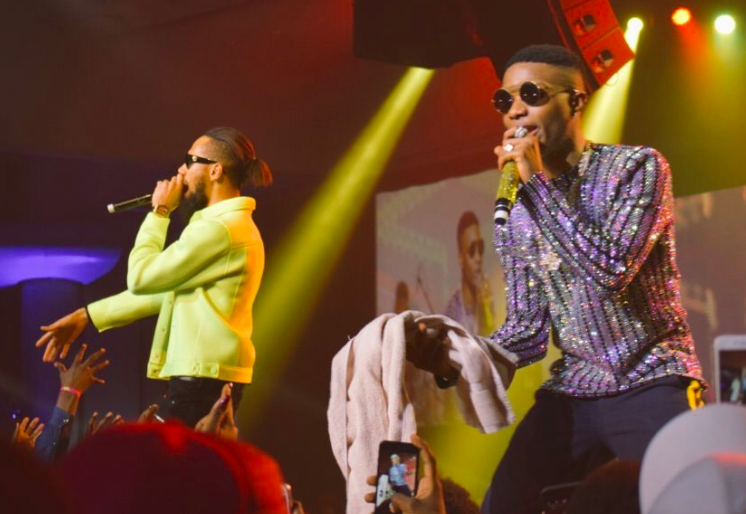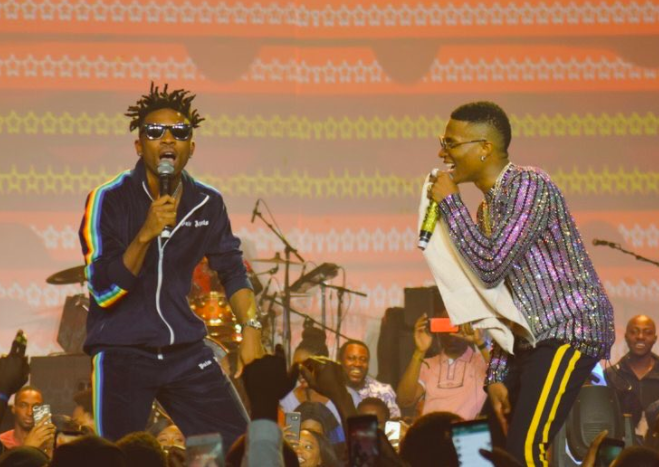 The supporting acts include LAX, Tiwa Savage, London-based Skepta, CDQ, Maleek Berry, Tekno, Mr. Eazi, Phyno, Young Bane, Mayorkun, Wande Coal, Tuface, Olamide and …
Fia Fia Surprise …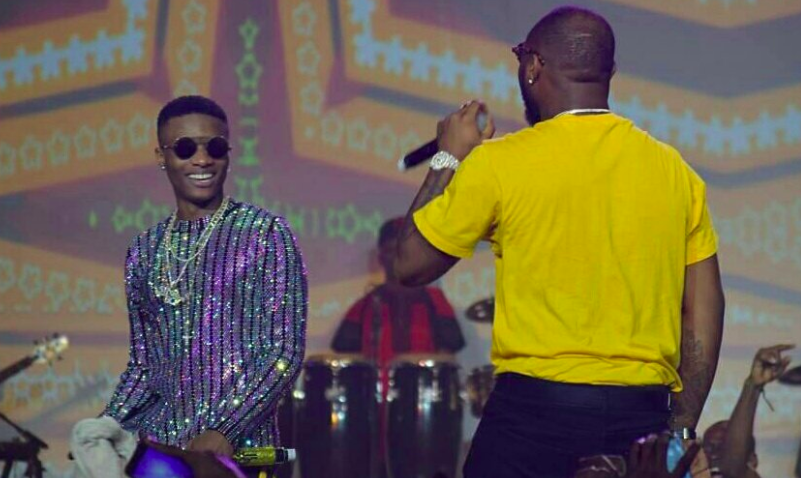 Perhaps the 'majorest' highlight of the night was when Wizkid brought Davido out to perform arguably the biggest song in Nigeria right now – Fia. It was flames, and the screams were ear-splitting. Considering the purported beef between both acts, seeing both of them on the same stage would have seemed impossible, but it happened, and a lot of us are excited that the two biggest acts in Africa are finally united. I mean, in a remixed version of the famous words of Jay Z, "what's better than one multi-talented globally renowned act? TWO!!!"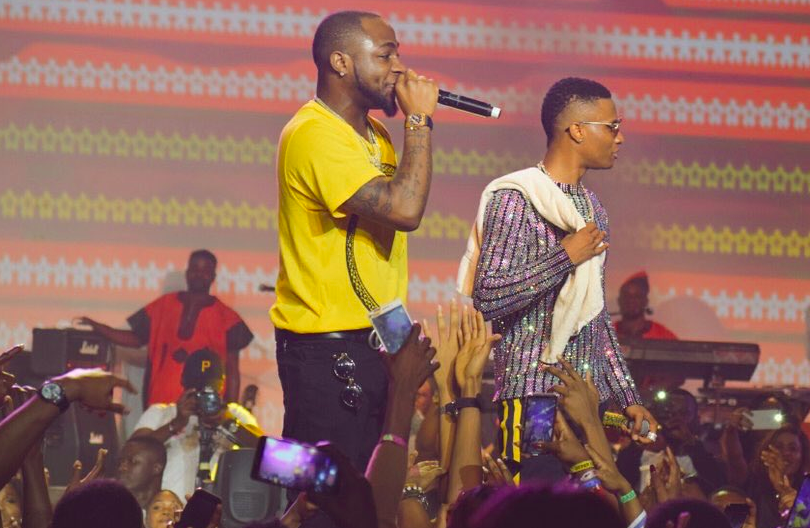 Reactions
Of course it is a Wizkid show. It is number two trending topic in Nigeria (as at this moment) – only behind 'Merry Christmas' for obvious reasons. There are bound to be reactions. And we have curated the most interesting ones.
WIZKID JUST BROUGHT DAVIDO OUT. I'M SCREAMING. #WizkidTheConcert pic.twitter.com/3HTdsn7gVe

— Chidi Okereke (@Chydee) December 25, 2017
12/24: Davido joined Wizkid on stage to perform "Fia". #WizkidTheConcert pic.twitter.com/1EP6wqdd8Z

— Wizkid News ? (@WizkidSource) December 25, 2017
Wizkid has done more in a few minutes than Buhari has done in his miserable regime as President

Making a lot of people happy all at once and changing the life of a kid forever #Legend #WizkidTheConcert #WizkidTheConcert

— RCBNews (@RCBNews1) December 25, 2017
Tiwa Savage bowed for Wizkid and he bowed back. Real recognize real #WizkidTheConcert

— ????? ????????? (@iffycandy) December 24, 2017
VIP with table just dey squeeze face for this wizkid show. Pay 1m for table only for wizkid to call regular to come front ?? #WizkidTheConcert

— MR SAVAGE 9ja ???? (@I_Dey_Tweet_die) December 25, 2017
I saw @wizkidayo tonight and it was everything it was meant to be .He sang No Lele, Pakurumo , Don't Dull. #classics for dayssss #WizkidTheConcert

— Bolanle Olukanni (@bolanleolukanni) December 25, 2017
This kid is FIRE !!!!! #WizkidTheConcert
I'm no longer upset. Wizkid signed him to Starboy and pledged 10M to help him grow. Not bad at all !!!!!!!! pic.twitter.com/gWqJwG9QDe

— Amazon (@Koksicle) December 24, 2017
Easier for Wizkid & Davido to perform together

Easier for Atiku & PMB to dine together

Stay Woke. Dont die for anyone #WizkidTheConcert

— Larrie Peniel (@larriepeniel) December 25, 2017
I don't understand why they sell tables in a show like this..How do you sit down in a wizkid cincert..LMAOO…Regular ti take over #wizkidtheconcert

— Richard (@TWEETARRAZZI) December 24, 2017
This picture of Wizkid and Tiwa Savage is giving me life! ❤️ #WizkidTheConcert pic.twitter.com/f3ueUEZ2Og

— Ibrahim Salawu (@UnilagOlodo) December 25, 2017
Wizkid brought davido out and they performing on the same stage ?? Guys I'm actually literally shaking??#WizkidTheConcertpic.twitter.com/nPO8Ip7pDu

— Daddy CHO (@Chidubem__O) December 25, 2017
The Moment @wizkidayo scattered the arrangement as he told fans in Regular/VIP to scale over the barricade and move to the table area/VVIP ? #WizkidTheConcert pic.twitter.com/um46GfUltE

— Y! Online (@YNaija) December 25, 2017
Wizkid spotted young Ahmed from Ijebu-Ode in the crowd and brought him up to rap. After bursting our heads, Wizkid blessed him with 10million naira and a record deal. Merry Christmas Ahmed! #WizkidTheConcert pic.twitter.com/EQV8yxHWtf

— darth vain (@SvelteMei) December 25, 2017
Christmas came early for little Ahmed at #WizkidTheConcert – 10Million naira + #StarBoy deal ?. @wizkidayo pic.twitter.com/9yntuAUZ33

— Pulse Nigeria (@PulseNigeria247) December 25, 2017
Me at wizkid's concert then remembering I'll have to queue for fuel in the morning #WizkidTheConcert pic.twitter.com/xnHYQ0QEF1

— Ekun (@Blvck_skinhead) December 25, 2017