Last night, Nollywood actress, Oge Okoye disgraced herself, Nollywood, the entertainment industry, Nigeria and Africa as a whole when she posted a picture of two dogs with the caption, "Yippie, my new babies just arrived. #Rob #Rosy".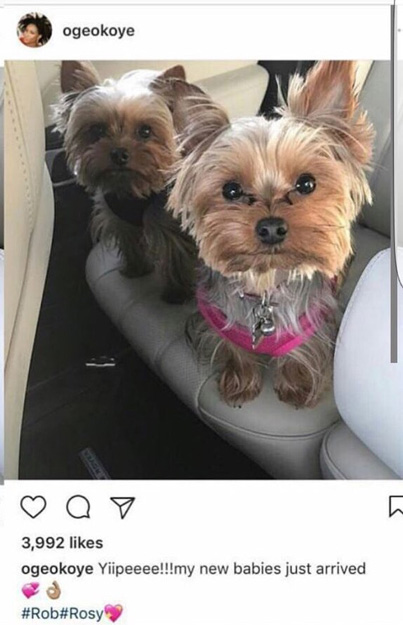 Alas the picture was from Kenya Moore's page and the stolen dogs already had names – King and Twirl. The theft was exposed by a Kenya Moore fan account that called our former superstar and role model 'some lady in Africa' and paired both pictures side by side.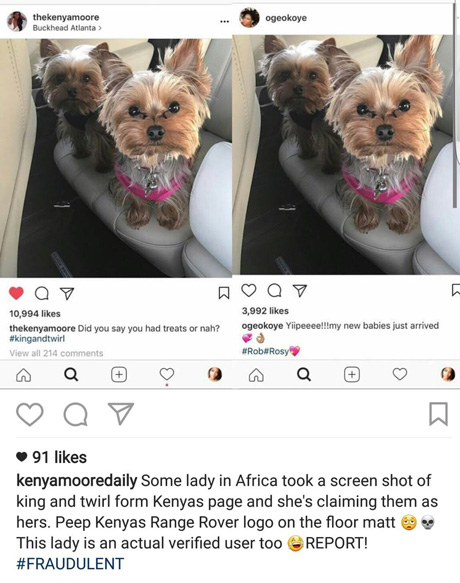 We do not know the devil that entered Oge Okoye's head, but we know that she has not had it easy since she was outed. Nigerians in their droves have been attacking and calling her out on Social Media. It got so bad she started disabling comments on her Instagram pictures, but saw the futility in it, as she has over 1000 of them. Pretty certain she would have locked her account if it wouldn't jeopardize her verification status.
Anyways, while we wonder how Oge Okoye is going to come out of this, see the top reactions after the dognapping went viral.
We saw it first on Miss Igho's timeline
https://twitter.com/MissIgho/status/837721170631929857
She barked out
https://twitter.com/Onflood_/status/837739677637541889
What an embarrassed
https://twitter.com/femifactor/status/837765722604515328
#StealAndRepostChallenge
Can't wait for my Range Rover Velar to arrive so I can start driving it. #Rob #Rose #StealAndRepostChallenge pic.twitter.com/vqpILwJjyy

— Chidi Okereke (@Chydee) March 3, 2017
Wikipedia page, sharply updated
Look at what someone did to Oge Okoye's wikipedia page.

You Nigerians are too quick!!!
Lmaooooo pic.twitter.com/giJHilkmCo

— Diepriye (@I_am_Priye) March 3, 2017
Howling like a local dog
If Oge Okoye really did own any dogs they'd probably be named Eugene and Somto

— Bambi, Oh Cheops (@mhagayr) March 3, 2017
Inner Oge Okoye
Oge Okoye sees dog pictures: These dogs are so cute 😍

Inner Oge Okoye: Steal them.

OO: But …

Inner OO: Rename them #RobAndRosy pic.twitter.com/lnWplltZhT

— Chidi Okereke (@Chydee) March 4, 2017
With Love, from Instagram
Nigerians are savage sha. If you were Oge Okoye, what will you do?