Love her if you like, hate her if you like, what you cannot take away from TBoss is the fact that people are talking about her. And what this has done is push her from a position where she was just one of the housemates to one where she is the housemate to beat.
We cannot say how Sunday will eventually end, but these are 5 reasons TBoss the half Romanian beauty may win the 2017 BBNaija competition.
Boss Nation
There is a phenomenal movement of people who are promoting TBoss for the win, and their official hashtag is #BossNation – which has been trending since Sunday. After being ridiculed for barely getting enough votes to stay in the house, #BossNation got to work marshaling votes for their queen. And at the last eviction show, it paid off as she got the highest number of votes. Boss Nation is now focused on topping that, and they just might pull it off and make her the winner.
Tboss against all odds.. #BossNation pic.twitter.com/e3jwdKc2ce

— Abidemi (@bidemi_brooke) April 3, 2017
Celebrity Power
A lot of celebrities are solidly behind TBoss. From John Dumelo to PayPorte Ambassador – Noble Igwe to former Big Brother winner – Uti Nwachukwu, TBoss has the support of many respected celebrities. That endorsement might just pay off and she may end up winning the crown.
Oyaaaaa lets do this peeps #BBNaija Vote TBoss to 32052!!!

— Mr Dumelo (@johndumelo1) April 3, 2017
Talkability
If this subheading wasn't 'talkability', it would have been 'private jet support' or 'light-skin-privilege'. Is there such a thing as light-skin privilege? Yes. In case you're wondering why people bleach their skin, there is some reward in being light skin. You get to have Private Jet owners chasing after you and so on – but that is story for another day. You see? We're talking about irrelevant things, but we're talking …and this talkability that TBoss has is why she is always in the news, and could eventually win the money.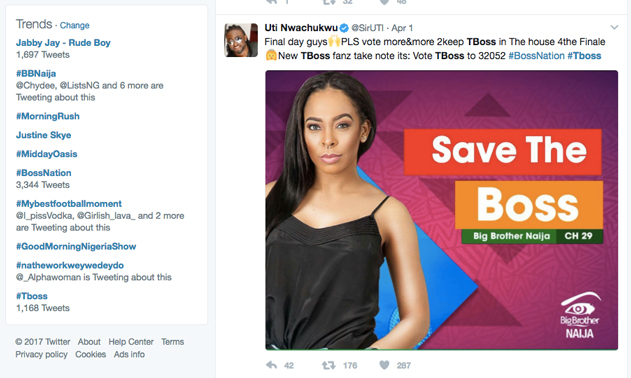 She has haters
From inside the house to outside the house, TBoss has a lot of 'haters'. If it wasn't clear how much she is disliked by fellow housemates (except Debbie-Rise), the conspiracy week made it obvious. This hate by other housemates and viewers is one of the biggest reasons she has plenty support from people who support the 'underdog', just because. Some other people can relate to being 'hated' for no just cause and are therefore supporting her. Little wonder someone like Bobrisky who must know what it feels like to be hated is seriously campaigning for her.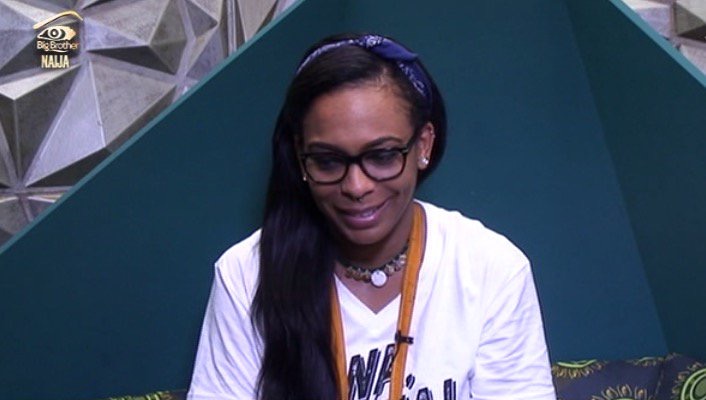 She has the 'looks'
There is a certain 'look' an ideal ambassador for the BBNaija x DSTV x PayPorte brand should have. Someone who can stun on red-carpets, mingle with high-rollers, and basically 'represent' well. To be honest, no one in the house has better carriage than TBoss, and that is why there are conspiracy theories as to the show being rigged in favor her. We do not believe the show is being rigged, but we know her looks may just work in her favor.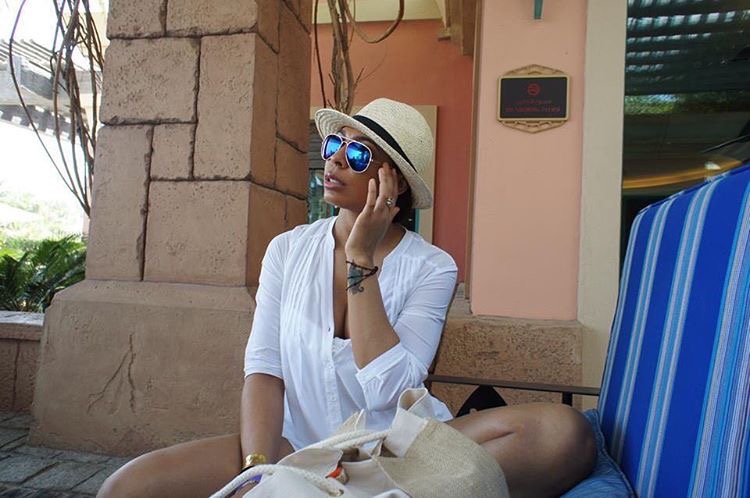 ***
There, 5 reasons TBoss may go home with the N25 million and Brand New SUV. Hopefully she doesn't spend it all in one week.
May the best housemate win.
Please take this poll on your way out.
Who do you believe will win the N25million and brand new SUV on Sunday? Please vote and RT. Reply for Marvis. #BBNaija

— Lists NG (@ListsNG) April 4, 2017