This years' Golden Globe award, hosted by Jimmy Fallon may have come and gone, but it's high points remain indelible in our minds. With La La Land packing most of the awards and FX series Atlanta making its Golden Globe debut win, here are our top 5 moments of the 2017 Golden Globe Awards
Donald Glover's shout out to Migos
Donald Glover took to the stage with the rest of the cast of the FX comedy television series 'Atlanta' after it was proclaimed the Best Television Series –Musical or Comedy and delivered an acceptance speech 'for the culture'. He not only gave a shout out to the black folks of the city of Atlanta he also gave a shout out to Hip Hop group 'Migos'. He claimed the shout out was for both Migos making a cameo in the TV series and for their hit song 'Bad and Boujee'
Viola Davis' tribute to Meryl Streep
Viola Davis took to the stage and as she famously does in her movies delivered an exceptional tribute to film icon Meryl Streep as she presented the years' Cecil B. Demille award to her. Viola Davis had also delivered an amazing speech after receiving her award for Best Actress in a Supporting role in the movie 'Fences' and had shown to the audience and to the world just how strong her character is in both fiction and the real world
Tracee Ellis Ross making history
Black-ish actress Tracee Ellis Ross became a big part of film history in the black culture by becoming the first Black woman in 30 years to win the award for Best Actress in a comedy Series. It was also her first ever golden globe nomination which makes it all the more intriguing. She went ahead to dedicate her award to people of color, "This is for all the women, women of color and colourful people whose stories, ideas, thoughts are not always considered worthy and valid and important, I want you to know that I see you. We see you" she said. She also thanked her co-stars, her parents and her siblings.
Black excellence in Fashion
Janelle Monae, Issa Rae, Tracee Ellis Ross, and 58 year old Angela Bassett all stepped on the red carpet to 'slay'. Janelle Monae wore her usual black and white, Issa Rae wore a long flowing, long sleeved white gown, Tracee Ellis Ross wore a silver dress and Angela Bassett poved to the world that 'black don't crack' in her beautiful red gown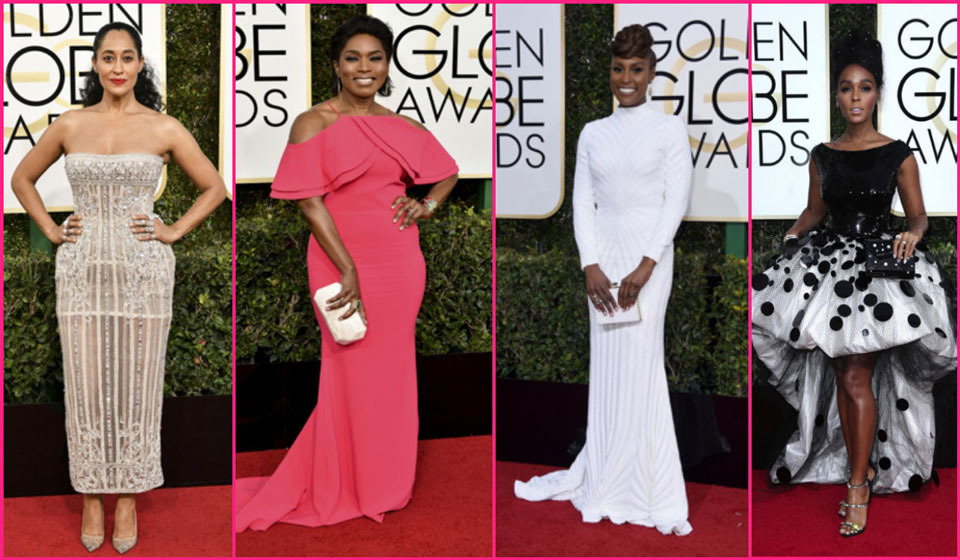 Meryl Streep's acceptance speech
The iconic Meryl Streep was honoured with the Cecil B. DeMille Award for a lifetime of work in the film industry and she took to the stage and used the opportunity to call out President Elect of the United states of America, Donald Trump for his mockery of a disabled reporter. "It kind of broke my heart when I saw it, I still can't get it out of my head because it wasn't a movie. It was real life," she said. Trump Later responded by calling her 'overrated'
There, our top moments from the 2017 Golden Globe awards. Comment if you think we missed anything.