Nipsey Hussle born on 15th of August, 1985 as Ermias Asghedom. He's an American rapper who emerged from the west coast in the mid 2000s and hit the spotlight due his awesome mixtapes.
He grew up in Crenshaw, South Los Angeles. Where he worked hard and also gave back to his community by helping others. Crenshaw is more like a hood for the Black's, filled with various gangs and war Lords.
Nipsey has been on the drive for saving the people from street gangs and making the place a safe place for the children. He's legacy goes beyond music, its move of a movement.
Nipsey who was supposed to meet with the Los Angeles police commissioner to work on how to put a stop to the street gangs and make the street safer, sadly met his untimely death as he was shot multiple times right outside his own clothing store.
Whether or not you are a big fan of Nipsey's music or not, things few things will let you know why his death is heartbreaking.
He was in a street gang way back in the early 1990s but he grew love for music and left the gang to chase his music career.
Hussle was the father of two children, a son, Kross, with his wife, actress Lauren London, and his daughter Emani from a prior relationship.
Hussle and his partner Lauren London have been together for five years, they kept there relationship private only recently going public with details on their relationship.
His latest album "Victory Lap", which debuted at No. 4 on the Billboard 200 albums chart, was nominated for a Grammy Award in 2019.
On March 31, 2019, Hussle was shot multiple times right in front of his clothing store, Marathon Clothing, in South Los Angeles. Hussle was hit five times in the torso and once in the head.
Hussle was deeply involved with his community in South LA. He was among the organizers of the Destination Crenshaw arts project. Additionally, he pioneered a co-working space called Vector 90 in Crenshaw that offered youth classes in science, technology, and math.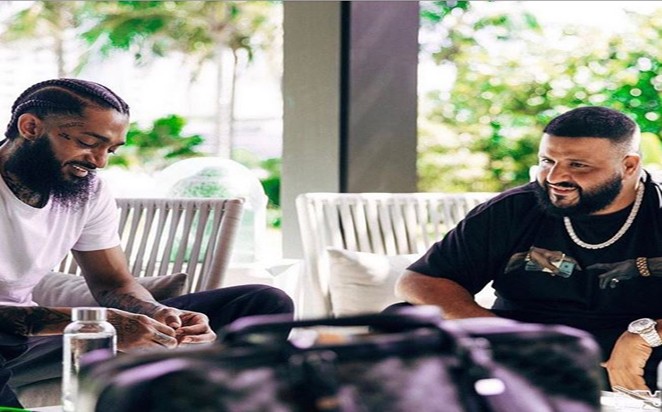 Nipsey had features with some of the big American artist, the likes of, Snoop Dogg and others. He was named one of LA's new harfcore MC.
Hussle and his partners were had goals of turning the Marathon Clothing store plot into a residential building.
Hussle's legacy is quoted as being "more movement than music," which is evident in the outpouring of tributes by both fans and fellow celebrities alike.
Hussle inspired and motivated a lot of people.