The 2018 BBNaija is in its 8th week and the drama, twists and intrigues have continued. Last week, all the housemates except Rico and Nina were up for eviction, and after intense campaigns, Anto was evicted, after receiving the least amount of votes. 
Prior to that, Tobi received a strike – for conspiracy – and another retroactive strike was activated. He now has 2 strikes, alongside Cee C and Lolu. 
A new twist has also been introduced to the game. At the eviction show, Ebuka announced that 2 of the evicted housemates will be returned to the house to play for the money. While a lot of people have argued that it won't be fair on current housemates to have those who have seen the outside world and understand the game better back in the house, Big Brother has gone ahead to open the portal for people to vote who they want back.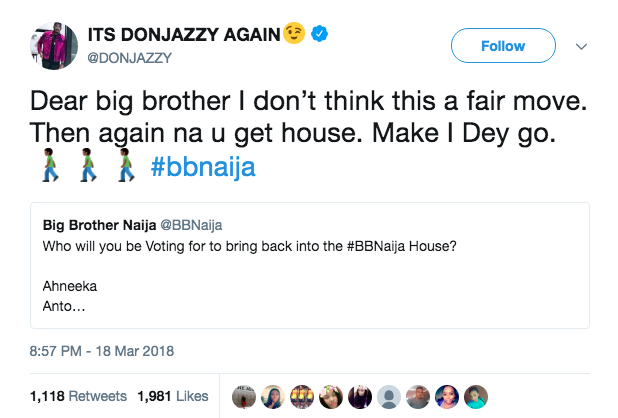 By the way @BBNaija, it makes no sense to bring in evicted housemates. They have watched the game from the outside and have an unfair advantage. They'll go in and tell current housemates whatsup. Don't ruin it. #BBNaija

— Chidi Okereke (@Chydee) March 18, 2018
The former housemates too have been campaigning for votes, and on Sunday, the returnees will be announced. 
Back in the house, Miracle won the Head of House challenge for the second time, and chose Nina to enjoy his 'palace' with him. He also picked a Chance Card that gave him full immunity, power to save, but not replace.
The live nomination just ended, and although the housemates do not know it is fake, this is how they nominated fellow housemates for eviction. 
Nina nominated Bam Bam and Rico
Alex nominated Bam Bam and Teddy A
Teddy A nominated Tobi and Rico
Bam Bam nominated Tobi and Alex
Rico nominated Lolu and Bam Bam
Lolu nominated Cee C and Rico
Tobi nominated Teddy A and Bam Bam
Cee C nominated Alex and Bam Bam 
Miracle nominated Cee C and Lolu
As a result, all the housemates, except Miracle and Nina were up for eviction. Miracle saved his 'best man', Tobi, even though it won't count for anything. 
Are you voting to bring anybody back? Who are you voting?