A "fascinating" and "jaw dropping" book titled "The Game of the Anti-Christ (Exposing the secrete behind football)" and written by self proclaimed Evangelist A.F. Funmilayo has been trending on social media. The book, written from first hand experiences and encounters having spent 990 years of her life serving Satan, details the real origins of football, otherwise known as soccer and the demonic spirit behind it.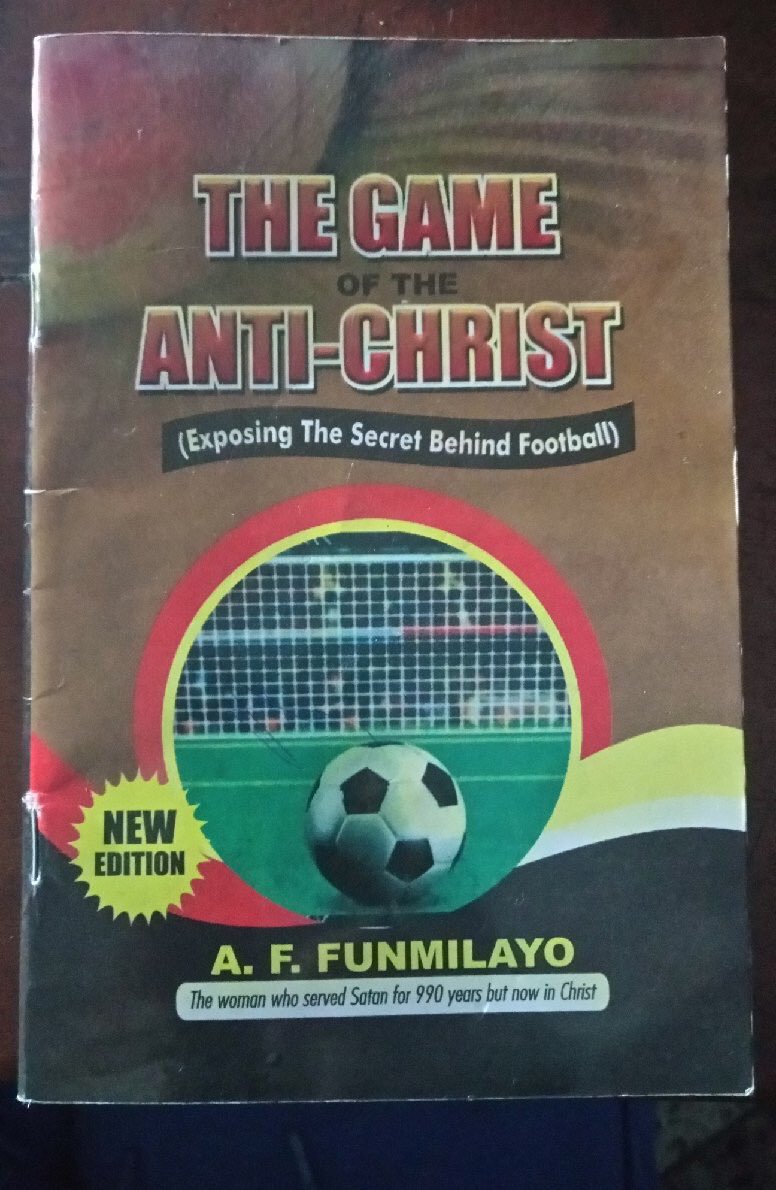 Th author identified several reasons, backed up with "facts" why watching football or being associated with it in any way can and will lead you to eternal condemnation.
See some of the reasons below, enjoy and repent!
It originates from the anti-christ
According to Funmilayo, while she was a member of the satanic kingdom, the idea of introducing football into the world was brought up by the anti-Christ as a means to 'unify' the world during an exclusive meeting of the "executive arm of darkness". Football is straight from the kingdom of darkness.
If you love football, you're possessed by a demon
The ground breaking and revealing book asserts that the reason you love football and cannot stop watching is because you are possessed by the demon of football which comes directly from Satan. Almost everyone who watches football is possessed, and this demonic possession can sometimes come from the womb. Fascinating!
Talent to play football only comes from the devil
The spirit behind football is responsible for its success, says the writer. The ability to skillfully play football is directly from Satan himself who gives the possessed individual understanding of the game. If you are a talented football, you need deliverance as soon as possible. As a matter of fact, if you have ever had any dream regarding football, you also need serious deliverance.
Have you ever heard of the "god of soccer"
Have you ever heard football commentators mention "god of soccer", well the book has revealed that there is an actual god of soccer of satanic origins being worshiped in a dedicated temple in Brazil. Another evidence that proves that football is definitely not of the lord.
Football is taking God's time
The book claims that most people spend so much time watching, discussing or playing football rather than thinking about God and meditating on his word. This is actually what Satan and his anti-Christ wanted when they introduced football to the world. In essence, that time spent on watching football should be used doing the work of God, else hell is calling.
Football and immorality are an inseparable pair
Football is filled with immorality and immorality is a pathway to hell fire. According to the writer, any one who watches football does not have the spirit of God. In her words, if you watch football "its high you repent before you perish with multitude of football fans"
The anger it brings
For those of you who watch football, have you ever felt so much anger during a game as a result of an annoying squad choice, trash play or things not just going in your favour? If yes, be very careful because in that moment of rage and bitterness rapture might take place and you know what that means–hell fire! Hence, to avoid this, just stop watching soccer.
Your love for the players
As revealed in the book, football players, coaches and officials engage in all sorts of sorcery and cultism in order to boost their abilities and ensure consistent trophy hauls. Therefore, if you love and support these players and teams, sing their names or wear their jerseys, you are a candidate of hell. Be warned!