Typically, marriage is usually between two people, except in some religions like Islam where the maximum is four. However, throughout history a few men have gone on to exceed these stipulated numbers, and by huge margins too. These men who are not afraid of surrounding themselves with women and children have taken polygamy to another level and given it a new meaning.
From Solomon to Masaba  here are the world's eight most prolific polygamists.
King Solomon
Solomon was, according to the Hebrew Bible, Old Testament, Quran, and Hadiths, a fabulously wealthy and wise king of the United Kingdom of Israel who succeeded his father, King David.  Along with being a wise king whomis credited with building the first temple in Jerusalem, Solomon was obsessed with women and fell in love with many. According to the biblical account, Solomon had 700 wives and 300 concubines most of who were described as foreign princesses, including Pharaoh's daughter and women of Moab, Ammon, Edom, Sidon and of the Hittites. The only wife mentioned by name is Naamah the Ammonite, mother of Solomon's successor, Rehoboam.
Fath-Ali Shah Qajar
Fatḥ-ʻAli Šâh Qâjâr was the second Shah of Qajar Iran who reigned for 37 years from 17 June 1797 until his death. Fath Ali Shah is reported to have had more than 1,000 spouses. He was survived by fifty-seven sons and forty-six daughters, along with 296 grandsons and 292 granddaughters. The end of his reign was marked by difficult economic problems and military and technological liabilities took Iran to the verge of governmental disintegration.
Asentus Ogwella Akuku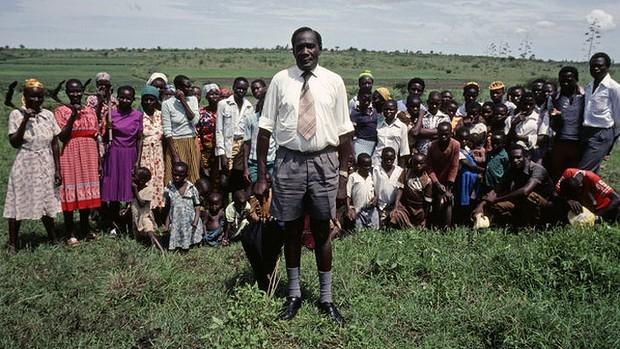 Asentus Ogwella Akuku was a renowned polygamist, arguably one of the world's best known ones. He is said to have married 130 times, had divorced more than 80 of his wives and sired more than 200 children. Akuku married for the first time back in 1939 at the age of seventeen, by the time he was 22 years old, he had married five women, and by 35, he married his 45th wife. Akku's children were so much that founded two elementary schools for them to be educated in. He died in 2010 of natural causes at 92.
Mohammed Bello Abubakar
Mohammed Bello Abubakar was as a teacher and Imam, who stirred up controversy in his hometown Bida, Niger State, even went to jail  as a result of his extensive polygamy and defense of it. Islam limits the number of wives a Muslim man can have to four, mandating they must be all treated equally, however, Abubakar married 120 wives, divorced 10, and fathered 203 children. Most of his wives were younger than 30 years of age, and a few younger than his elder children. In interviews with Al Jazeera English, his wives claimed that he was a good husband and father. He and his family lived in an entire apartment block.
Joseph Smith Jr. was an American religious leader and founder of Mormonism and the Latter Day Saint movement.
Warren Steed Jeffs
Warren Steed Jeffs is the President of the Fundamentalist Church of Jesus Christ of Latter-Day Saints, a polygamous Mormon denomination. He is thought to have married over 87 women, with whom he had 250 children. In 2002, Warren succeeded his father Rulon Timpson Jeffs and married almost all of his father's widows. In 2007, the FBI declared him one their most wanted criminals based on charges of rape, polygamy, tax evasion and kidnapping. He caught, tried and sentenced to life in prison in 2007 but that ruling was overturned by the Utah Supreme Court in 2010 due to flawed jury instructions. However, in 2011, Jeffs was convicted of two felony counts of child sexual assault, for which he is currently serving a sentence of life plus twenty years.
Rulon Timpson Jeffs
Rulon Timpson Jeffs, known to followers as Uncle Rulon, was the President of the Fundamentalist Church of Jesus Christ of Latter-Day Saints who married about 75 women, and at the time of his death, he was survived by 20 of those wives and around 65 children.
Saleh al-Sayer
Saudi Arabian businessman Saleh al-Sayeri was forced into his first marriage at age 14 and since then has married 58 women over a 50-year period. In his words, "marriage doesn't more me" and will do it all over again. Saleh al-Sayeri is reported to have paid over $1.6 million in wedding expenses and divorce settlements.
Brigham Young
Brigham Young was second president of The Church of Jesus Christ of Latter-day Saints from 1847 until his death in 1877. Throughout his 76 years of life, Brigham managed to marry 55 women, 21 of which had never been married, 16 were widows, 6 were divorced and 6 had other husbands.