On the 1st of December 2016, President Yahya Jammeh of The Gambia was ousted by Adama Barrow, his opponent in the Gambian presidential election. He surprised the world conceding defeat after the results were announced, but in the space of one week, he shocked us again by reneging on his decision to step down. He closed down the Election Tribunal, arrested key political leaders leading to Adama Barrow fleeing to Senegal for personal Safety, coerced his country's lawmakers to extend his tenure by 3 months and had his Defence Chiefs swear loyalty to him. He is supposed to handover on the 19th of January 2017, but yesterday, the 17th of January, he declared a state of emergency in The Gambia.
All these lead to a question: what happens if he refuses to step down. These are 5 things that could possibly happen.
There would be a Legal Challenge sent to the Supreme Court
Jammeh's ruling party is challenging the Dec. 1 election results, saying there were irregularities in the vote, but the country's Supreme Court says it could take months to act because it is short of judges. Jammeh has invited judges from Nigeria and Sierra Leone to complete the court, but that is not expected to happen until May 2017. It is not clear what will happen if Barrow is inaugurated and the court later decides in Jammeh's favor.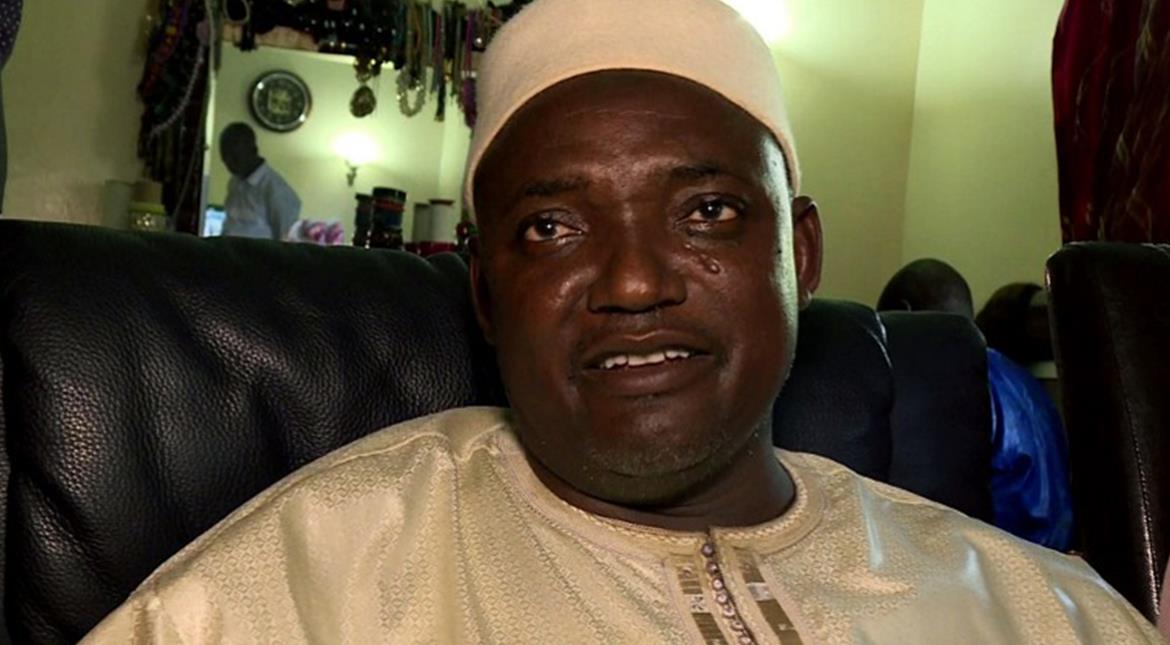 Diplomatic Efforts 
Diplomatic efforts will continue appealing to the President to step down and a form of parley to request for exile will be had to ensure he hands over power smoothly. Jammeh can be exiled in another country and will stick to the regulations of his exile and the incumbent administration will seek to hold redress on his activities but he may not be held accountable.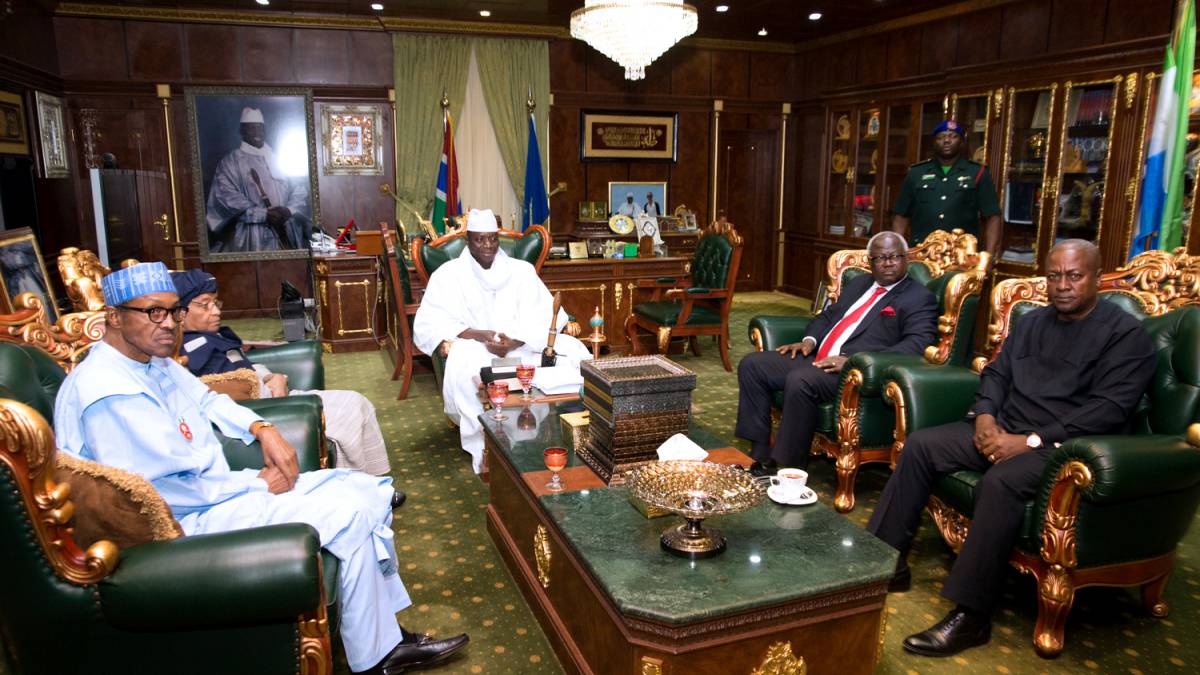 The Military can stage a Coup ousting Jammeh and installing a temporary Supreme Council.
The Council can be formed to discuss options on leading the country or handing over to the elected democratic Government or form a transition and holding role depending on the wishes of the Supreme Council.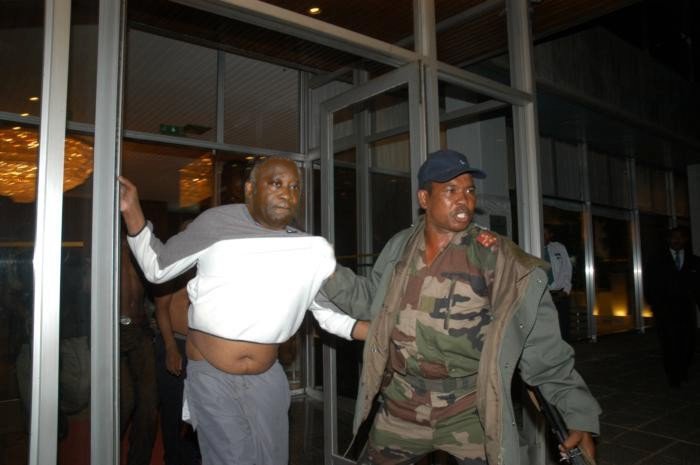 ECOWAS Prepares an Ousting Force
The Economic Community of West African States has a standby military force ready to enter The Gambia if Jammeh doesn't cede power when his mandate ends on Thursday. If the use of force is necessary, a U.N. envoy has said ECOWAS will seek the endorsement of the U.N. Security Council and the African Union Peace and Security Council to deploy the troops. Gambia, a nation of 1.9 million people, is estimated to have an army of just 900 troops.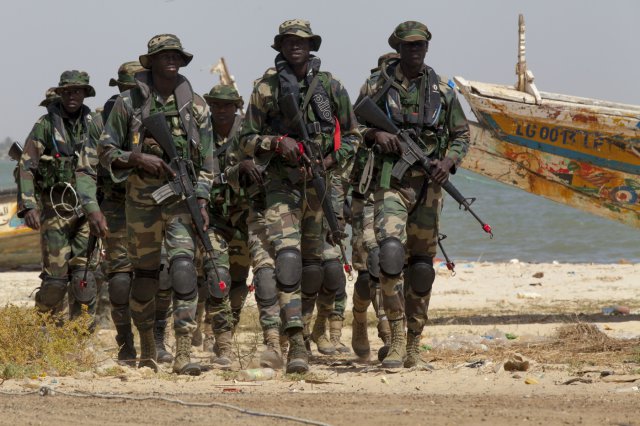 Foreign Troops Invades Gambia
The Military Forces of Senegal have vowed to capture The Gambia from Jammeh and have deployed 2 battalions to forcefully remove him and his army. The Nigerian Government has also deployed 1 battalion of 800 men from the Army's 19th Battalion based in Okitipupa, Ondo State. This battalion, christened ECOMOG NIBATT 1 together with the Navy's Warship NNS Unity is part of Nigeria's contribution to the ECOWAS Standby Force.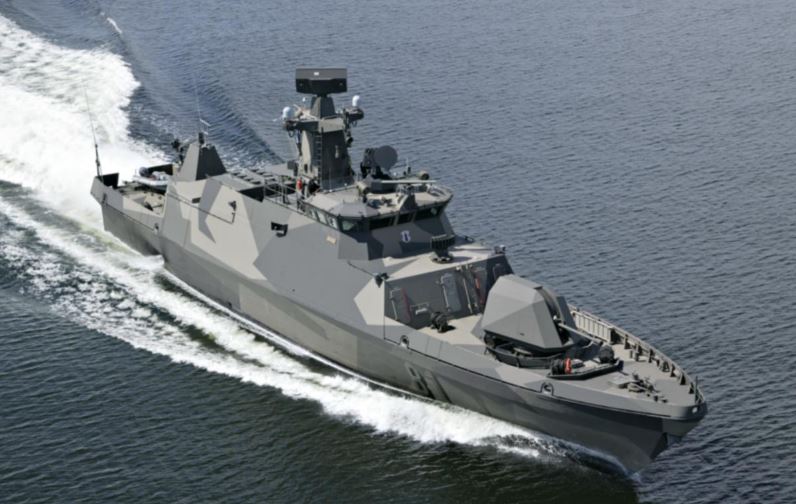 The ECOWAS Commission President, Marcel de Souza, said Senegal, The Gambia's only territorial neighbour, would lead any military operation in the country. Other West African countries will be mandated to provide troops as well, Mr. De Souza reportedly said.
Alternatively and as a passing possibility Adama Barrow can be sworn in in Senegal Tomorrow in the presence of leaders of ECOWAS countries. The Commission can formally transfer powers to Barrow making him President and he can issue an instruction to pick up Jammeh. I must add that this could be a thorny legal issue that may have negative implications in the future.
 ***
At the Moment, there is no telling what option would happen as both military and political leaders try to correct the fluid situation. But ultimately, President Jammeh has 24 hours to step down or face the consequences of his unilateral actions.
Written by Temitope @SinzuBaba Ekundayo