There's been a lot of news about Wilson Oruma recently, since pictures of him roaming the streets surfaced online. It is alleged that he was duped to the tune of N1.2 billion by a pastor and he suffered a mental breakdown as a result. We will not focus on all that though. This piece will concentrate on his interesting football days, and the period immediately after he retired. Enjoy, share.
He's a Warri boy
Wilson Oruma was born in Warri, on the 30th of December 1976 in Warri. He began his professional career with Bendel Insurance in 1993, when he was 17 years old.
The U17 Worldcup that made him a star
Wilson Oruma was the brightest star at the Under 17 Worldcup hosted by Japan in 1993. In a class of Eaglets that included the likes of Nwankwo Kanu and Celestine Babayaro, he captained our side, stood out and emerged top scorer of the tournament with 6 goals. We eventually defeated Ghana 2 – 1 in the final and returned home with our second-ever U17 World Cup trophy.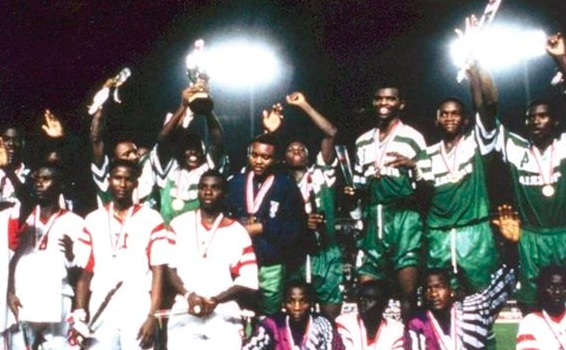 France
After his outstanding performance at the U17 World Cup, Oruma moved to France and joined Lens in 1994. Following a dismal run, he was loaned to Nancy in 1996, but returned to Lens in 1997. In that period, he played 64 games and scored only 2 goals.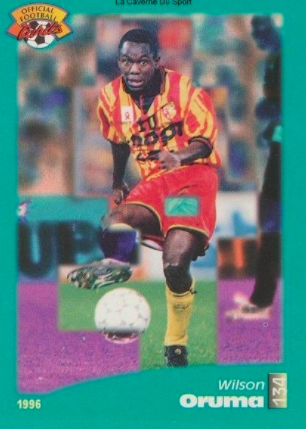 Golden and Super Eagles
Wilson Oruma joined the Senior Eagles team in 1995 and was part of the Dream Team that won the gold medal at the 1996 Olympics in Atlanta. In the France 1998 World Cup, after Nigeria had defeated Spain and Bulgaria, Oruma played his first and only World Cup game against Paraguay and scored in the 11th minute. He was eventually substituted in the 68th minute, when George Finidi replaced him. We lost that match 3 – 1, but we still topped our group and made it to the second round. Our campaign in that tournament ended in the second round 4 – 1 defeat to Denmark.
Wilson Oruma was also a member of the Nigerian squad at the 2002 and 2006 Africa Cup of Nations; and we finished both competitions with the Bronze medal. In total, he played 19 games for Nigeria, and scored 3 goals.
Later forays in Europe
After representing Nigeria at the 1998 FIFA World Cup, Wilson Oruma moved to Turkish side, Samsunspor. 21 games and 4 goals later, he returned to France in 1999 and joined Nîmes. In 2000, he joined Servette in Switzerland, played 49 games and scored 12 goals (his best club run), but he returned to France and played for Sochaux (2002 – 2005), Marseille (2005 – 2008), and Guingamp (2008 – 2009) – a Ligue 2 club with whom he won the 2008 – 09 Coupe de France, the most prestigious French cup competition.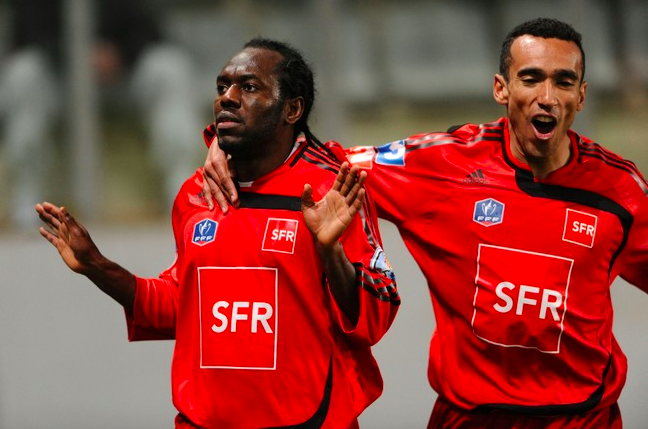 In the summer of 2008, he was handed a trial by Cardiff City, and scored in a 2 – 2 pre-season friendly at Chasetown, but the EPL side did not give him a contract due to a lack of fitness. He finally moved to Greece, and retired from professional football in 2010, after a season with AO Kavala.
After Retirement
After he retired from professional football, Wilson Oruma started a nationwide evangelical mission that was supposed to reach Nigeria's 36 states. According to Oruma, the mission was a result of his being struck by the spirit of God when he came across the gospel book 'Prepare to meet your God!' written by an Ecuadorean lady, Angelica Zambrano, who claimed she met God and was shown the kingdoms of Heaven and Hell. The book soon became Oruma's daily companion and he bought 50,000 copies which he distributed free to people, during his outreach programs.
Rivalry with Jay Jay Okocha
Because of their positions and somewhat similar style, Oruma's National Team career was overshadowed by Austin 'Jay Jay' Okocha's. At some point it seemed they were dragging the Number 10 position/shirt, but the ex Super Eagles captain always came out tops. Their relationship degenerated when in 2004, he told French Magazine, L'Equipe that Okocha did not want him in the squad for the African Cup of Nations.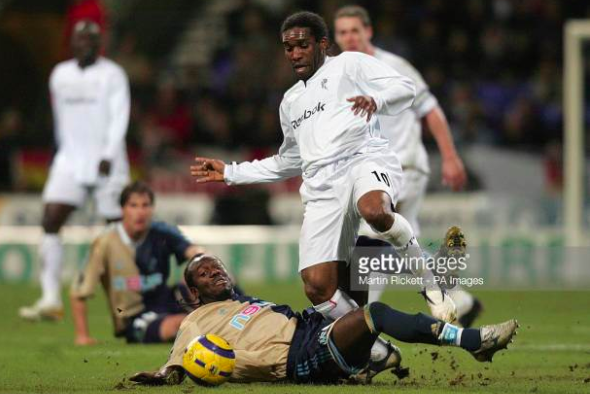 "Coach Christian Chukwu didn't trust me. He wanted me to be on standby but I refused it, as it's not my right place. They told me I didn't respect their decision … I was disappointed with Okocha. He may be an icon for our country, but he didn't want me in the squad. That's life."
Have they eventually settled? Can't tell. Jay Jay's participation (or not) in the fundraising match for Oruma will clarify.
Now
As the introduction stated, Wilson Oruma has fallen on hard times as a result of investment decisions that went bad. But his ex-teammates – including Nwankwo Kanu, Austin Eguavon, Samson Siasia, Taribo West, etc, have decided to play a novelty game to raise funds for him. They also intend to use the medium to share their experiences to current footballers on how well to manage their finances and life after retiring from football.