When elephants fight, the grass suffers. When celebrities fight, we grab popcorn, something fizzy and forget our sorrows for a bit. These are the celebrity feuds that broke the Internet in 2016.
Olamide vs Donjazzy
2016 proved it was going to be a year of pettiness when Olamide pulled a Kanye an Olamide on the very 1st day of the year, at the Headies Award.
After Mavin Records' Reekado Banks won the highly coveted Next Rated award and the car that came with it, Olamide went on stage to express his displeasure that his artist, Lil Kesh did not win it – because "every single song was a hit, back to back". He ended his speech with the phrase "ko ni da fun iyalaya anybody", before dropping the mic, red cup and storming off the stage with his boys.
Don Jazzy wouldn't take it, so he climbed on stage and said, "Egbon Olamide, if it is the car you want, come and collect".
This had all of us like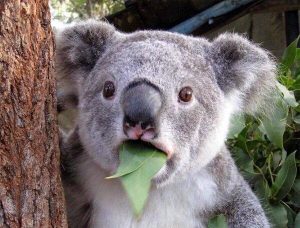 After Don Jazzy's rebuttal, Olamide went bonkers. He took to Twitter to insult the Mavin Boss, asked all of us to leave trash for LAWMA, before banning Don Jazzy from the mainland part of Lagos. A whole Don Jazzy.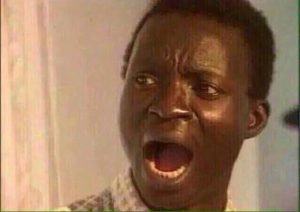 Jisos is Lord
We were all looking forward to diss songs, wondering how DPrince was going to murder YBNL with his dope lyrics when the richest black man on earth, Aliko Dangote waded in and settled the fight.
Baba should have just focused on his sugar empire o. SMH
Davido vs Sophie and Dele Momodu
"Mr Dele na my boy, Dele na my boy …"
If you're not familiar with this line, what does it feel like to be in a coma?
Anyways, we were just on our own when we heard that Davido was intercepted at the airport for baby-napping his own daughter, Imade. He was trying to travel out with her while his sister posed as the child's mother but the guys at immigrations, acting on a tip-off from Sophie, the baby's mom, who is also Dele Momodu's niece, stopped the OBO from traveling with the baby.
Now, if you know Davido, you would know that his own anger doesn't have control. It is the kind of anger that can boil ofada rice. Kid got angry and the ensuing Social Media exchanges between him and Sophie + Dele Momodu had us eating popcorn and soda. After a while, like all celebrity gist, the cross-attacks died down until we heard the infamous 'Dele Na my Boy' line in his verse on Bad Badoo Baddest with Falz and Olamide. The painful thing is, that line is the juiciest line in that song, and whenever it comes on, people can't wait to echo it.
With time again, it seemed like the battle had ended until, barely a few days into 2017, Davido performed the song at an event where Dele Momodu was in attendance. A video of the Ovation publisher walking away after Davido called him his boy, twice has since gone viral.
Anyone that has Davido's ears should remind him that in Africa, insulting elders would bring you ruin. Gbagbe oshi pic.twitter.com/hqnYGnbeIn

— Chidi Okereke (@Chydee) December 29, 2016
Gbemi vs Olumofin Brothers
A few days before OAP Toolz' wedding with Captain Demuren, fellow OAP Gbemi took to twitter to throw shades at 'certain' brothers who always gatecrashed parties. She mentioned that they had not been invited to Toolz' wedding, but may as usual show up uninvited. Self acclaimed relationship expert – Joro and his brother – Dokun Olumofin who are active Lagos socialites caught the shade and went ham on Gbemi. We cannot even mention all the names they called the OAP even as they posted screenshots of a conversation they allegedly had with the groom, to prove that he actually invited them to the high-society wedding.
Joro and DK Olumofin heading to Naija FM to deal with Gbemi, mercilessly. pic.twitter.com/1TSSOAtt8g

— Nigerian Comedy (@NigerianHumor) January 26, 2016
In the end, they apologized for all the things they said about Gbemi and attended the wedding briefly. Rumor has it they were politely asked to leave. We cannot confirm or deny. But that beef was sure juicy that year.
Tiwa Savage vs TeeBillz
This has to be the hottest tea that was served to us in 2016; so hot that the story was trending for weeks.
We just woke up one morning to the most bizarre messages on TeeBillz' Instagram page. In summary, he had accused Tiwa Savage of sleeping with Tuface Idibia, Don Jazzy and Dr Sid. He then threatened to commit suicide. We thank God for Banky W who rushed to the Lekki-Ikoyi link bridge just in time to stop TeeBillz from jumping over.
Days later, Tiwa granted a no-holds-barred interview where she accused her husband of cheating on her with a certain Edible Catering, cheating on her – business wise, doing hard-drugs, using her money for his personal business without informing her, and not buying pampers for their baby but getting dope haircuts.
The Internet was still abuzz with all these when TeeBillz went into a rehabilitation home. Well, that was months ago. Rumor has it that they are close to coming back together. We wish them well.
Dammy Krane vs Wizkid
One day like that, Dammy Krane took to Twitter to accuse Wizkid of stealing his intellectual property. According to the Enterkraner, Wizkid stole and used his 'gbetiti' slang in the remake of Kiss Daniel's Good time. Krane bragged about how he was going to beat up the Babanla, based on the fact that he owned the streets. Wizkid did not reply online; he waited until he saw Krane at Quilox, and broke his jaw with a glass cup.
Unfortunately, Shina Peller, the Quilox boss and Obafemi Martins waded in and they settled the issue. No beef track, nothing. Sigh.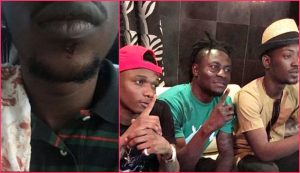 Peter Okoye vs Paul Okoye
It was a dark period for us all when our favorite twins announced that they were going their separate ways. According to Peter, he did not like the revenue-sharing formula the duo had with Jude, their elder brother and manager. He also wanted a better structure for their record label, where business is business and familial sentiments did not exist. Paul refused, saying he was comfortable with the existing structure, and family was more important than anything else. It sounded like a joke till they started performing solo at various events. Fans who did not like the split began to appeal to them to reunite. Some even made videos where they cried real tears. The split divided the nation into three parts – those who supported Peter, because business was business; those who supported Paul, because family first; and those who absolutely did not give a f*ck. In the end, they decided that the bank alert was more important than any beef, so they came back together.
7. Toyin Aimakhu vs The Men in her life
Toyin and Niyi used to be goals till one day they decided it was time for the usual 'celebrity marriage crash' trend we're seemingly used to now. They came out to wash their dirty linens in public and Toyin accused Niyi of cheating on her with one of her junior staff. Niyi who neither confirmed nor denied the allegations moved out of the house, into the arms of younger succulent women marriage had legally stopped him from being with.
What is that thing they say about rebound relationships? We are not saying that is what this was, but after Toyin exed Niyi, she moved into the arms of Seun Egbegbe – a TV app owner and self acclaimed businessman. They flaunted each other on social media and we were happy for her until one day we heard that she had been kidnapped. By, guess who … same Seun. After the public outcries, Seun spoke up and said he did not kidnap her. He had only seized her phone because she had 'embarrassed herself' after she posted a video on Instagram where she was crying and pleading with a suicidal Instagram comedian (Twyse) not to kill himself. He alleged that Toyin was moving around with small boys and had no regard for him because of that singular act. Of course this dissolved their relationship … good thing for Toyin, seeing as Seun was caught trying to steal 9 iPhone7s at computer village.
8. Toke Makinwa vs Maje
These two finally broke things off this year after Toke found out that Maje was going to be the father of a certain Anita's baby. It was ironic because Toke was a relationship consultant who dished advice to people on her popular YouTube Vlog. The whole 'beef' resurfaced after Toke released her best-selling auto-biography titled 'On Becoming', where she proved to us that men are scum.
***
So there, the feuds that held us spellbound and made us momentarily forget the recession in 2016. Did we miss anyone? Comment below.