In the last one month, exciting pictures of a certain Nail Boutique have been all over Social Media. We decided to investigate and have curated 10 things you should know about the The Nail Boutique.
What is The Nail Boutique?
The Nail Boutique is an upscale nail bar that is reinventing the everyday nail service salon experience. They offer specialist manicures, pedicures and nail extension services in an environment that is beautiful, fun and relaxing to be in.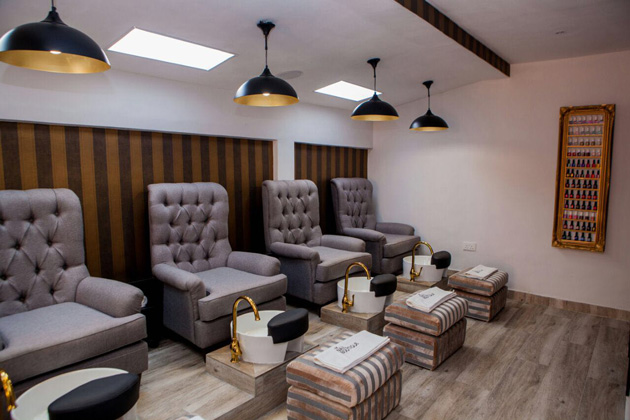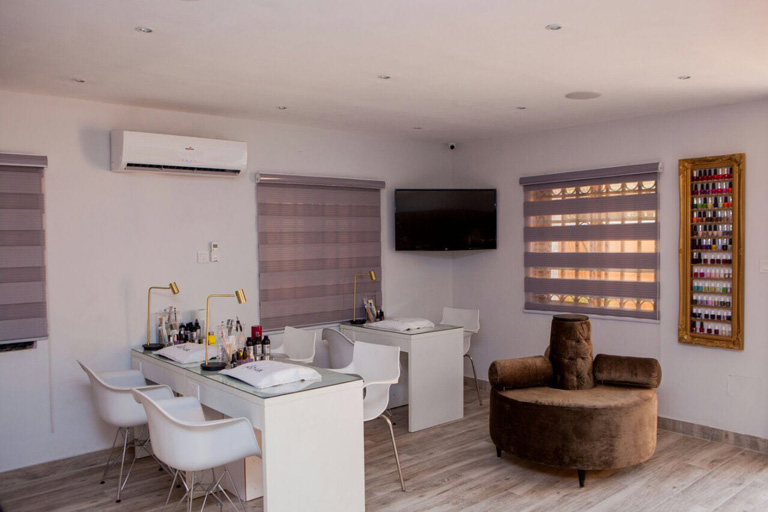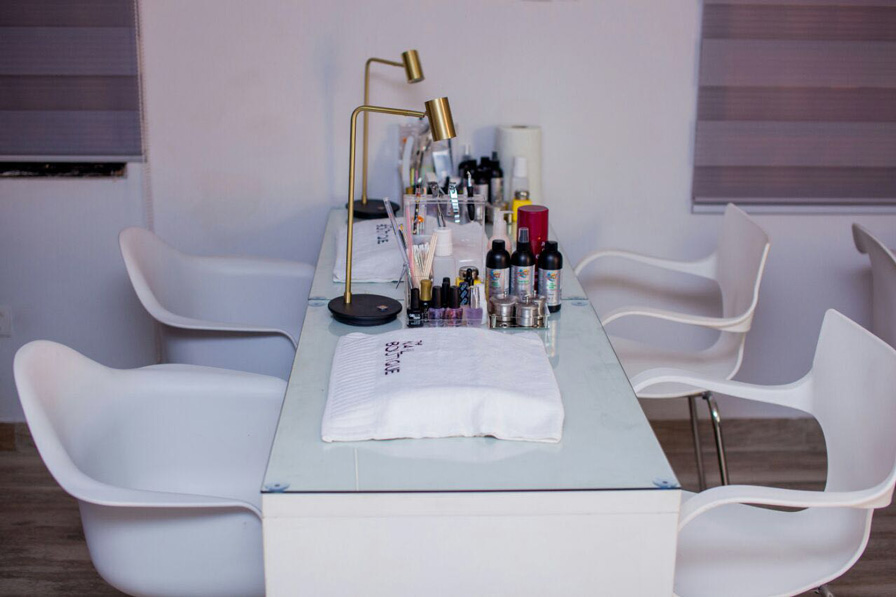 Location
The Nail Boutique is located at Raybok Mall, 5 Prince Adelowo Adedeji Street, Off Admiralty Way, Lekki Phase 1. The location is generally safe, and the average day and night temperatures are 27 degrees and 20 degrees respectively.
Opening Days/Hours
The Nail Boutique is closed on Mondays. It is open from Tuesday – Friday (10am – 7pm) Saturday (10am – 8pm) Sunday (1pm – 5pm).
Services
Basic Manicures, Luxury Manicures, Basic Pedicures, Luxury Pedicures, Mani/Pedi Combos, Kids, Womens Acrylic & Gel Systems, Nail extras.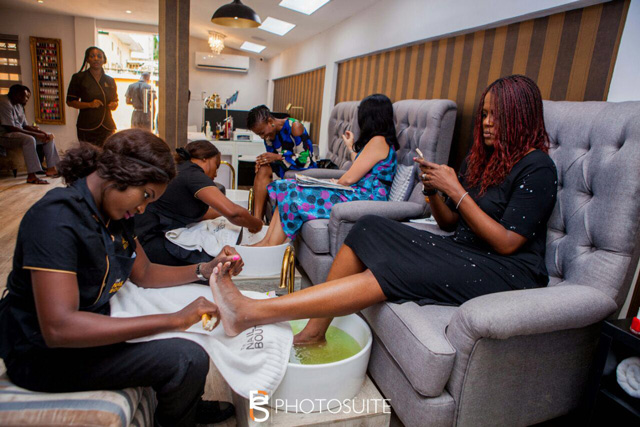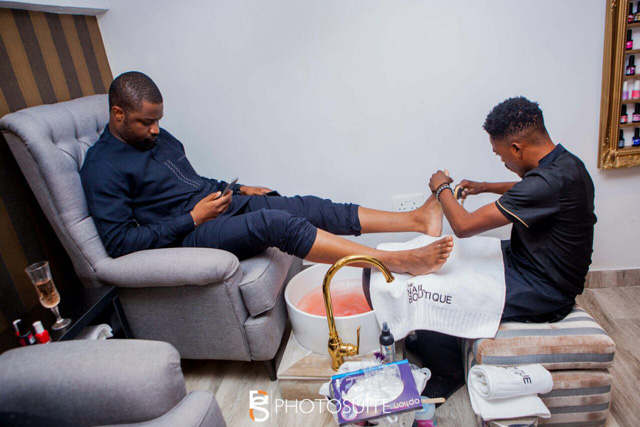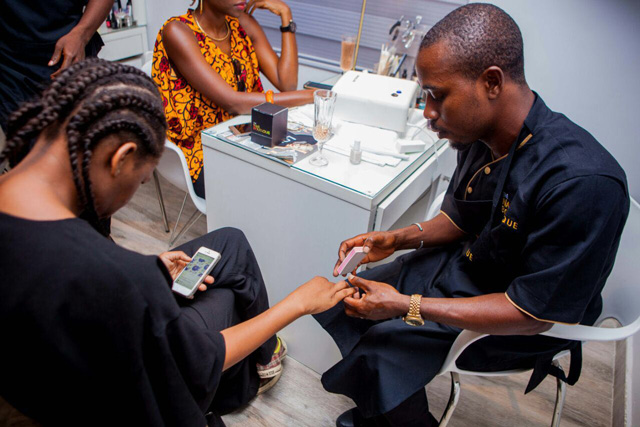 Products
Hand creams – 2k; Opi specialised products – 10k; Yoffee fungal nail treatment – N6500; Thymol fungal treatment – 1k; Foot and hand repair treatments – 5k each; Vane nail polish – N2500; Orly nail polish – N3200; Essie nail polish – N5000; Cuticle oil – N1,500, Personalized Nail Care kit – N9500.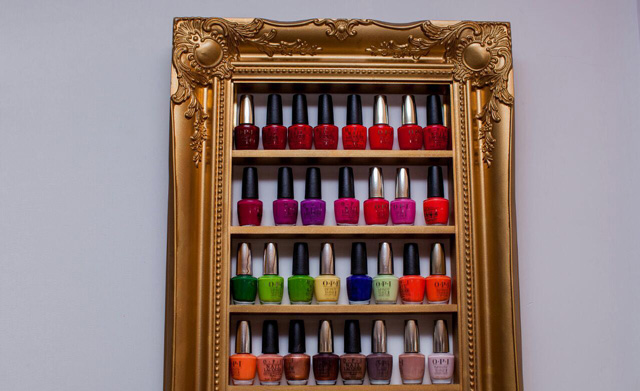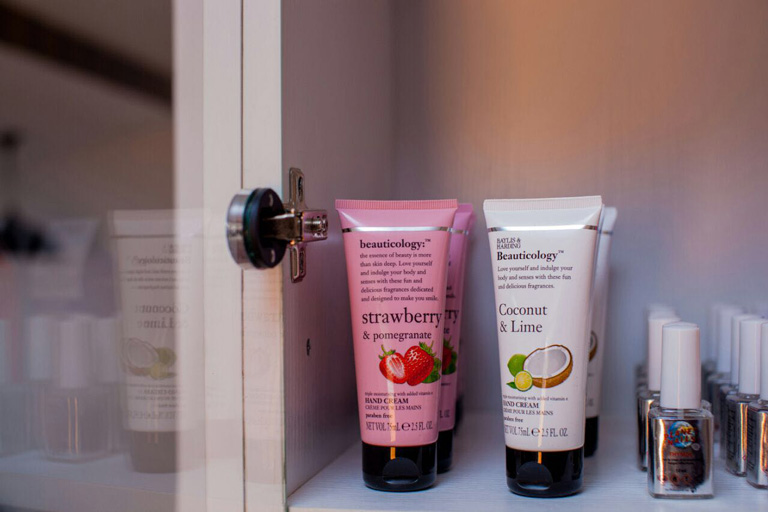 What to expect
Quality – The Nail Boutique utilizes only the very finest beauty products on the market and has promised to constantly seek out new and exceptional products to ensure it remains up to date on the latest beauty and nail products in the market
Professionalism – The Nail Boutique invests in continuous training of nail technicians to ensure continued high quality work output.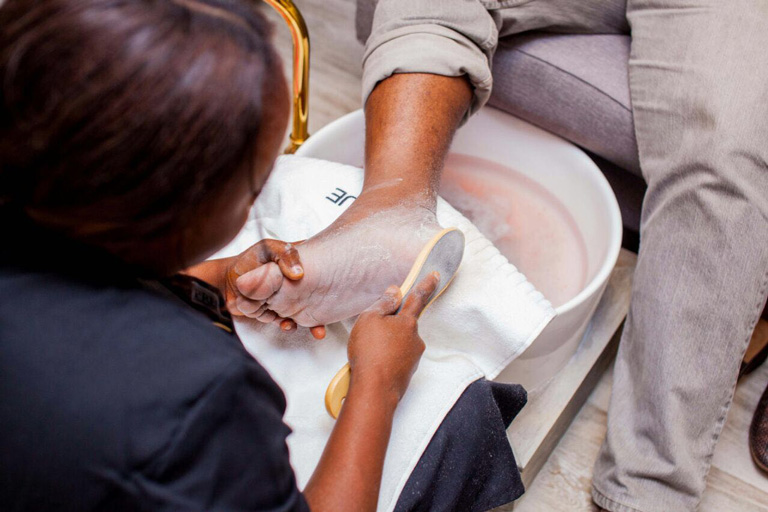 Cleanliness – The Nail Boutique considers sanitation and disinfection as cornerstones of running a safe, clean and hygienic nail salon. All instruments are disinfected and sanitized prior to each use. All nail and pedicure stations are also cleaned and disinfected after every customer's use.
Aesthetics – From colors to lighting, décor to elegant and recognizable dress code for staff, The Nail Boutique is developing salon locations that are attractive with strong visual impact that gives life to a distinctive customer experience.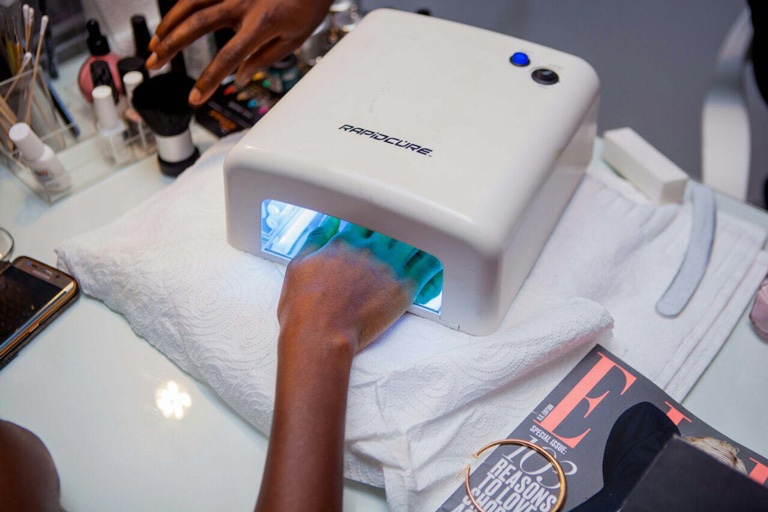 Customer Service – The Nail Boutique is aiming to be the No. 1 beauty services brand for customer service through a diligent approach to training and development of staff.
WiFi – The Nail Boutique offers free WiFi to every customer and dedicated outputs to charge their devices
Drinks – Customers will be offered drinks on the menu – Tea, Coffee, Water, etc. On special days, champagne is even served.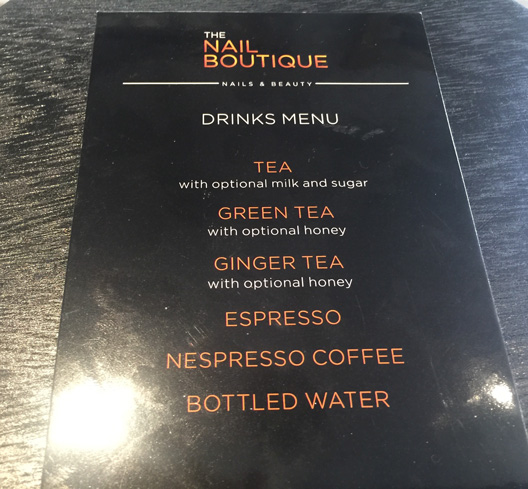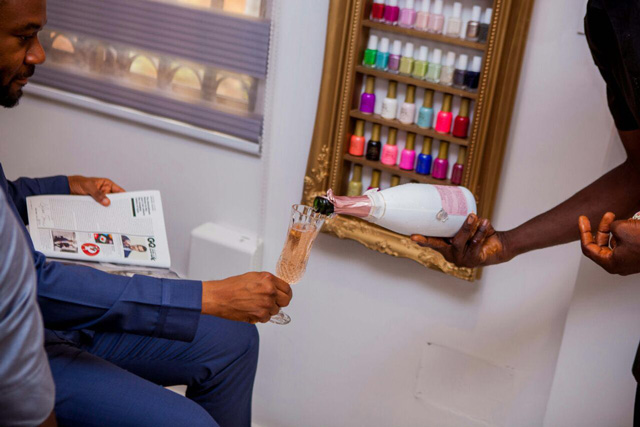 Loyalty programs – Very soon, customers will start earning rewards anytime they use The Nail Boutique. These would be in form of loyalty points as a thank you for their continued loyalty. The loyalty points when accumulated can be exchanged for gift cards or used to get discount on services or even get services free!
What to bring
Cash, Debit or Credit card, and your beautiful self. If you booked online, all you need to go with is your confirmation receipt.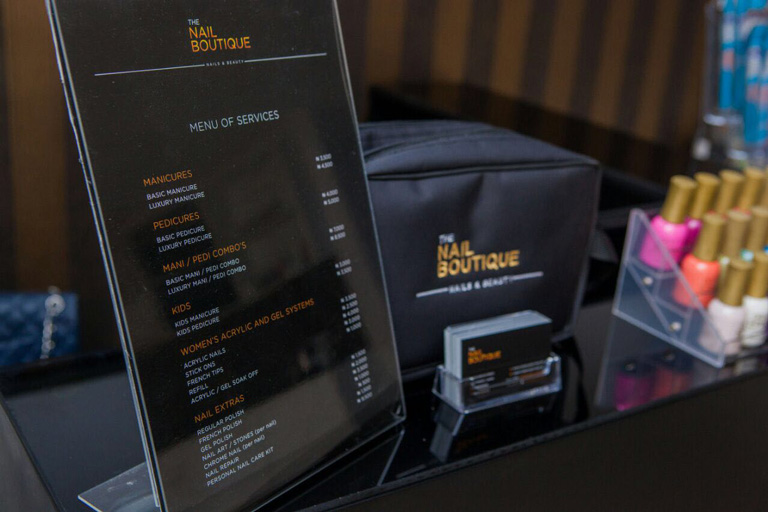 What people are saying about The Nail Boutique
Since it was launched in February 2017, social media has been abuzz with tales of how beautiful the place is and how exceptional service is.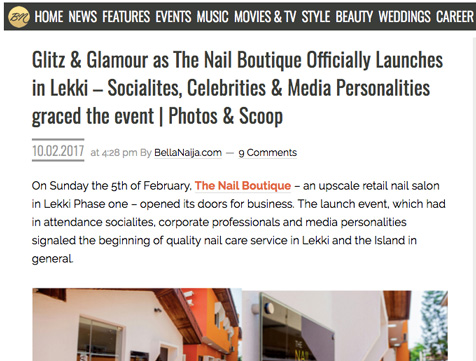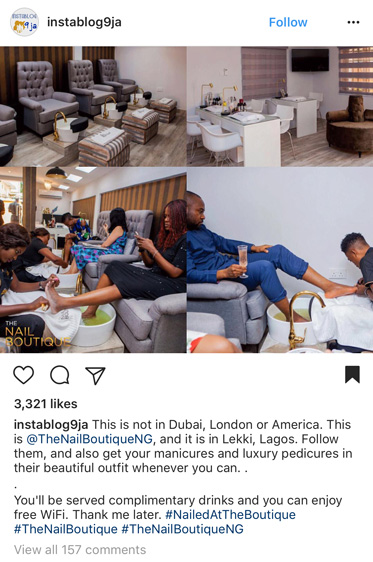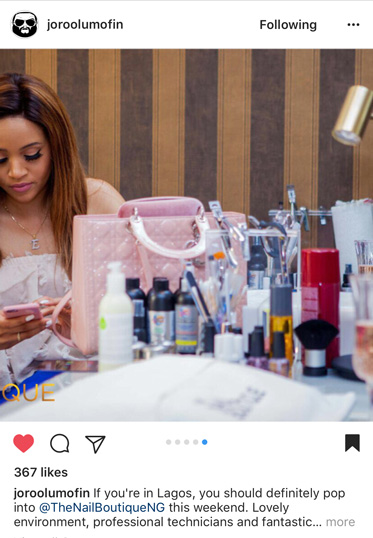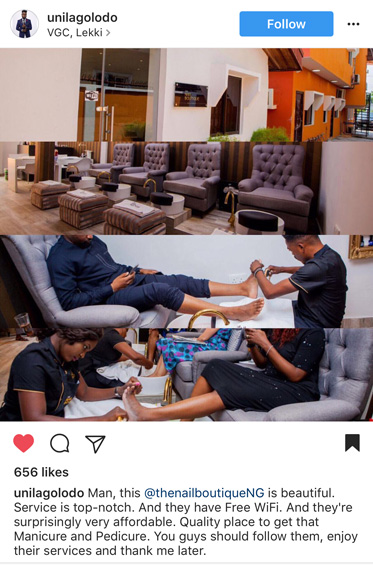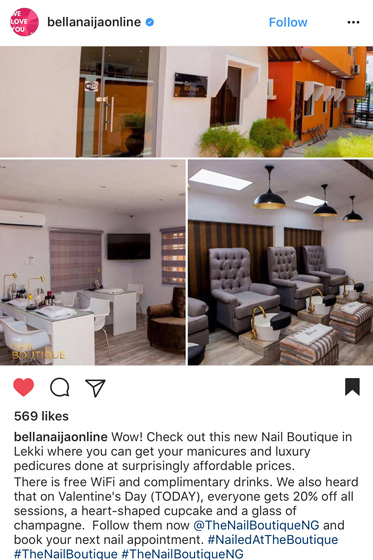 Contact details:
Website – www.thenailboutique.ng
Instagram – TheNailBoutiqueNG
Facebook – facebook.com/thenailboutiqueng
Twitter – @NailBoutiqueNG
Email – info@thenailboutique.ng
Phone – +234 818 000 3526, +234 805 058 0800
In Summary
With a tranquil environment to lend a soothing aura to the haven, as well as delivering on a goal to tailor the client's experience with maximum luxury, comfort and satisfaction, The Nail Boutique promises to deliver unrivaled luxury nail treatments that go beyond the classic manicure and pedicure.
Sources: