March was an eventful month for the progressive APC governors of Nigeria. They impacted various sectors and we have compiled a list of some of the things they did, and included links to news sources, for verification.
Empowerment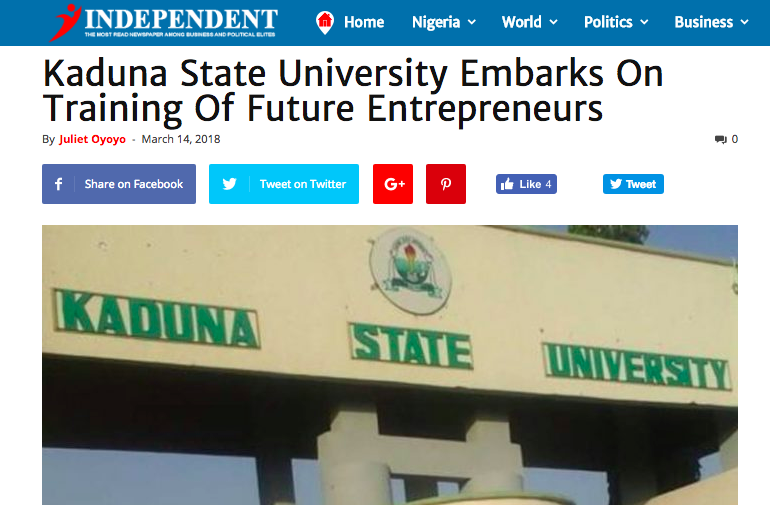 Adamawa govt empowers 10,000 youth – Premium Times Nigeria
FG, Edo to boost youth empowerment, as 121 graduate from skills …
42 Libyan returnees get empowered by Edo state … – Naij.com
40 women to get 20,960 goats loan in Jigawa – – Blueprint Newspapers
Kaduna State University Embarks On Training Of Future Entrepreneurs
Katsina Reiterates Commitment For Girl-child Education, Trains 100 …
Kwara to give scholarship to 195 youth for vocational college
Ogun State Govt empowers women in ijebu-ode lg on skill acquisition.
FECA begins training for 18,000 unemployed graduates – Punch …
Governor's wife distributes 1,000 goats, 500 sewing machines to …
Job Creation, Capacity building and Development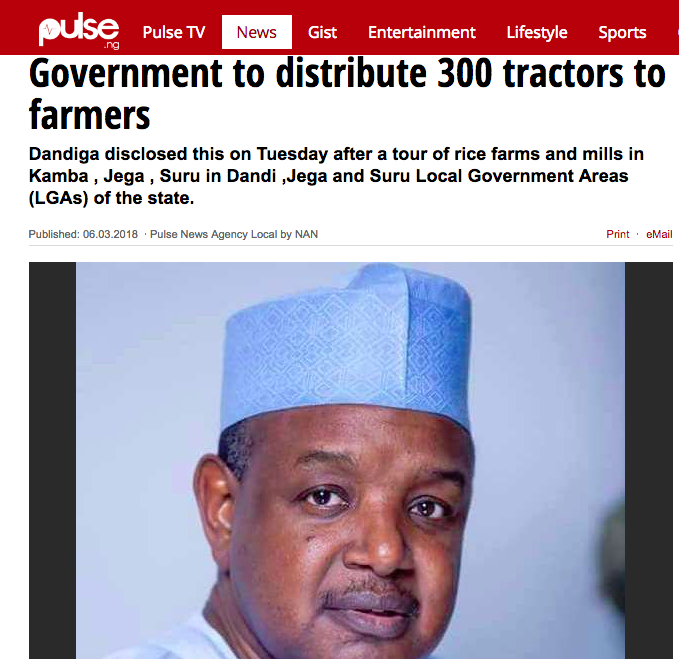 Nasarawa engages 1500 youths as environment guards – The Nation …
Adamawa gets N2.5bn reward for saving one million lives – Punch …
Bauchi signs pact with Morocco – The Nation Nigeria
Bauchi State Govt. To Train 10000 Farmers on the Use of Modern …
Edo SUBEB launches Edo-BEST programme, trains 300 teachers in …
Kaduna Begins Training, Orientation For Newly Employed 25,000 …
Kaduna State To Increase Teachers Salary | Sahara Reporters
Kebbi Govt distributes 133 motorcycles to health personnel – Local …
Kebbi Govt. to distribute 300 tractors to farmers – Local – Pulse.ng
Plateau buys 400 tractors for farmers – Vanguard News
Plateau Govt. promises to improve health indices – PM NEWS Nigeria
Sokoto Govt. supports farmers with N64m equipment – Local – Pulse.ng
Sokoto govt. releases N510m to curb water shortage – Pulse.ng
84 health centres receive drugs, equipment in Zamfara – PM NEWS …
Health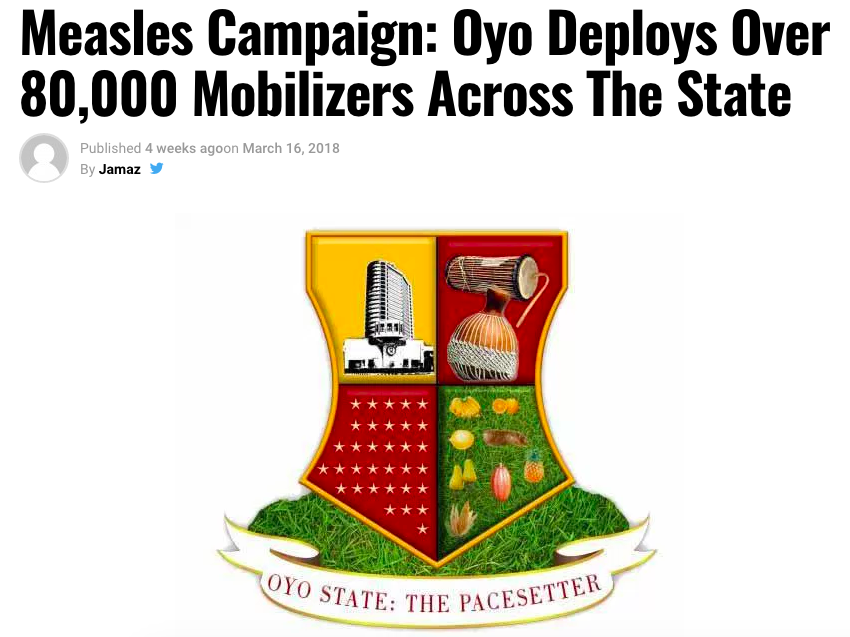 Supplementary measles immunisation begins in Imo – Vanguard News
Meningitis Outbreak: Jigawa Targets 16040 Residents In Most Hit Areas
Kano state to strengthen maternal health practices, immunisation
Kebbi, WHO embark on Yellow Fever campaign – Vanguard News
Niger governor's wife repairs 30 women with VVF – News Digest
FG Partners Ondo To Establish Infectious Disease Diagnostic Centre …
Ogun, Osun, Ondo target 2.6m children for vaccination against measles
Measles Campaign: Oyo Deploys Over 80,000 Mobilizers Across The …
Education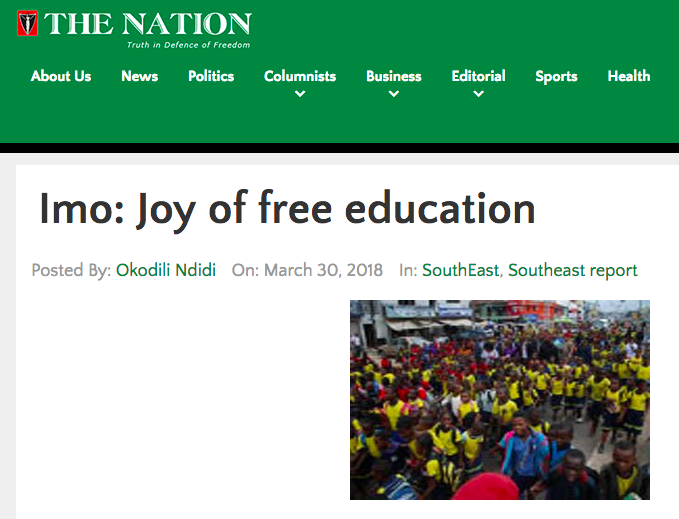 Borno Govt Enrolls Displaced Herdsmen's Children In Schools …
Imo: Joy of free education – The Nation Nigeria
Ibadan Technical Varsity Matriculates Pioneer 190 Students, Installs …
Adamawa Govt. to build airport in Mubi – Governor – Local – Pulse.ng
Bauchi state govt approves multi-million Naira rural, other projects
Obaseki commences construction of 500 Health Centres next month …
Govt. constructs drainage channel for road in Kachi community – Local …
Gov. El-Rufai performs ground breaking for 600 mass housing units …
Kano approves N4bn for flyover, roads – Vanguard News
OGUN COMMISSIONS N40M MODULAR THEATRE AT IJEBU- ODE …
Security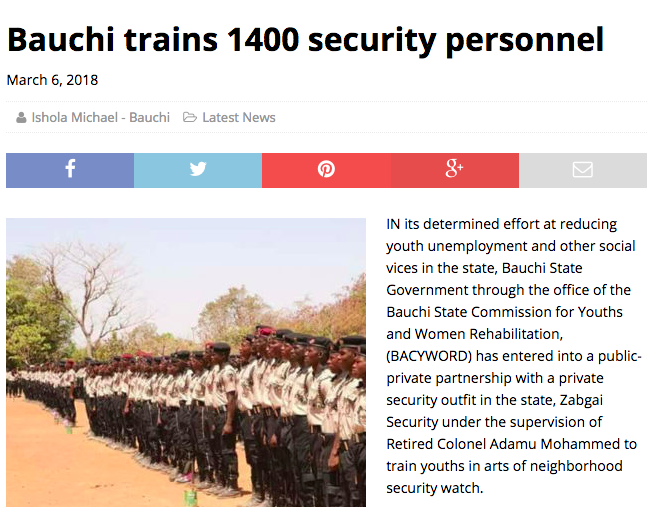 Bauchi trains 1400 security personnel – Nigerian Tribune
Kano trains 3500 vigilance members, distributes uniforms – The Nation
Katsina State Govt To Employ 1,000 Security Guards For Boarding …
Transportation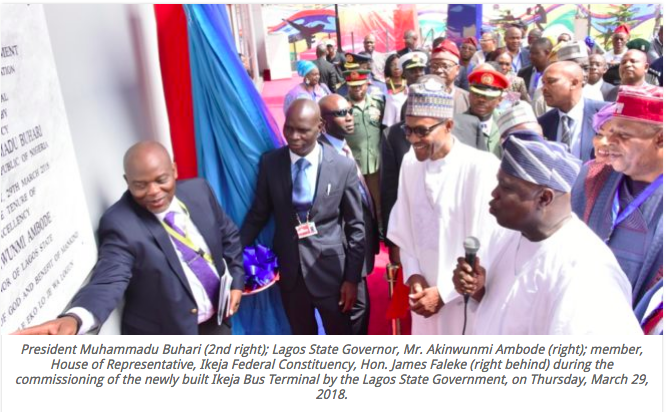 Kano approves N4bn for flyover, roads – Vanguard News
Kogi partners Julius Berger to construct 10 key roads – The Nation …
BUHARI COMMISSIONS IKEJA BUS TERMINAL – Lagos State …
NDDC, Ondo begin N19bn coastal road to connect Lagos – BusinessDay
NURTW Boss Lauds Aregbesola On Roads — OsunDefender
Oyo commences construction of 150km roads – Oyo State Government
Welfare and Rehabilitation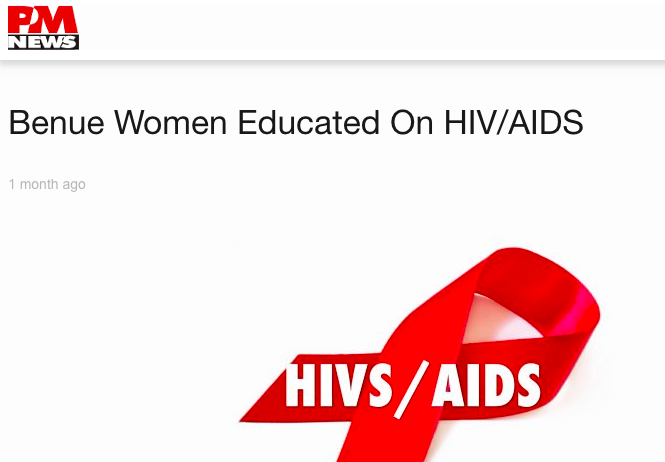 Adamawa partners British Council, EU to curb rape cases among …
Bauchi Polytechnic offers free studies to persons with disabilities –
Benue state women educated on HIV/AIDS – PM News Nigeria
Benue governor's wife offers free medical outreach to 20,000 people …
Shettima sets up high-powered committee to screen NGOs operating …
Obaseki visits accident victims, clears medical bills – Vanguard News
Obaseki commiserates with families of victims of attacks, revamps …
Kaduna Govt. Guarantees PWDs Access To Quality Education …
Ganduje distributes 10, 000 free delivery kits to women – Daily Trust
Kano State approves payment of exam fees for indigenous students
Kano donates N41m relief materials to flood victims – Punch …
Kebbi to introduce contributory healthcare scheme for citizens – The …
Kebbi, US govt to distribute 2,600 mosquito nets – Vanguard News
Kogi state assists 50 women living with disabilities with N50,000 each
Gov Bello to visit Kogi communities where herdsmen killed 32 – Local …
lasuth partners rotary international on speech therapy – Lagos State …
lsaca provides free hiv testing services for market men, women
Niger govt approves N300 million for 2018 WAEC fees – Premium …
Immunisation: 736,000 doses of vaccines ready for in Ogun
Children With Special Needs To Get Wheel-Chairs In Ogun | Ogun …
Oyo reiterates protection of the vulnerable as 10,514 benefit from child …
Oyo offers free TB treatment for residents – Premium Times Nigeria
Sokoto releases N7.9m for psychiatric patients, others – Daily Trust
Yobe distributes 18,600 bags of assorted grains to IDPs – Daily Trust
Economy, Power and Agriculture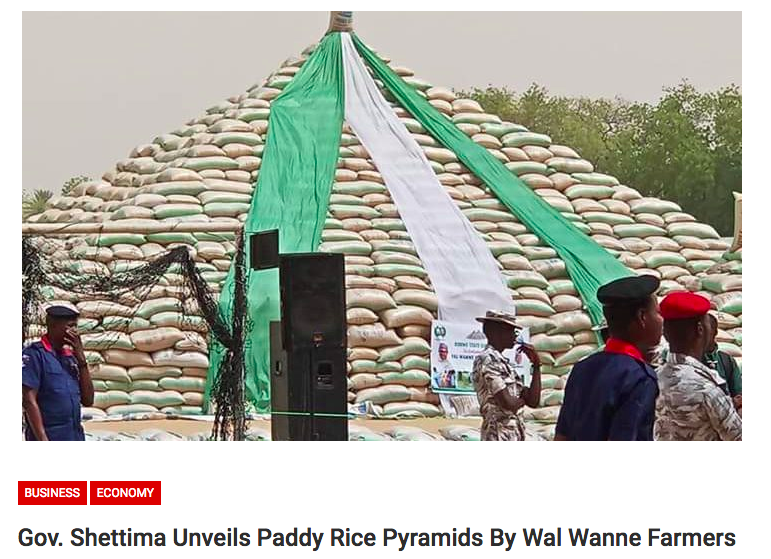 IFAD-VCDP intervention pulls N2.48bn into Benue economy …
Oyo gets 4-star rating on investment certification – Nigerian Tribune
Bauchi state to spend N395m on electrification project
Kano DISCO installs new transformers in communities – The Sun …
Kwara To Power Streetlights, Public Facilities With Solar Farm Tunnels …
Lagos, UK firm sign N2.52bn MoU on construction of 10000 street lights
Gov. Shettima unveils paddy rice pyramids by Wal Wanne farmers –
Jigawa to collaborates FGN to exports $36 million Hibiscus, Sesame
Nasarawa Commences Installation of Imported Fertilizer Blending Plants
NEXIM Bank, Ondo state to partner on cocoa export – BusinessDay …
Home-Made Chocolate From Osun State | Nigerian Observer
Yobe Partners Malaysian Coy On Irrigation | Independent Newspapers …
Environment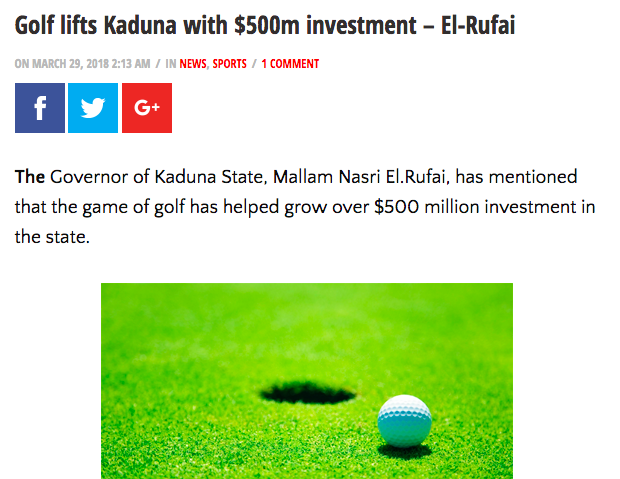 Bauchi state to replace mahogany trees with umbrella specie – Official
Jigawa govt promotes hygiene with open defecation award …
Oyo begins One House, One Refuse Drum policy – The Nation Nigeria
Golf lifts Kaduna with $500m investment – El-Rufai – Vanguard News
Plateau State Government promises support for tour operators …
Justice and Sensitization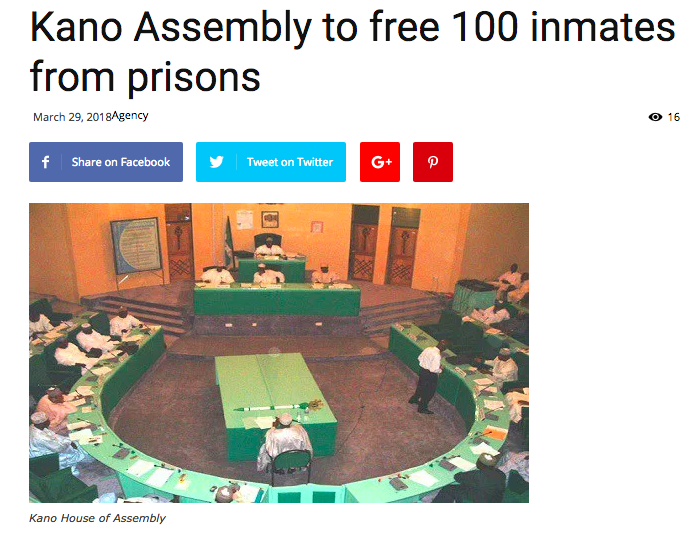 Benue deploys Remita software to tame payroll fraud — Business …
Kano Assembly to free 100 inmates from prisons | Daily Nigerian
Bagudu Pays Compensation To Property Owners In Kebbi …
Airport project: Ogun compensates farmers with N500m – The Sun …
Oyo State Government Compensates Land Owners
Editor's Note
As 2019 and a new election cycle approaches, we are curating a series on governance. This is – amongst other things – to keep voters informed and level the playing field (as much as we can).
All candidates seeking election are invited to share content/information about themselves on our platform. Those seeking re-election – who should run on their achievements – are invited to share what they have done for the people who elected them. Content created in LISTICLE format will be prioritized. We will investigate, verify and share periodically.
All media aides, campaign coordinators, candidate supporters should take note. Email us at editor@lists.ng