Football is the game of passion and footballers are perhaps the most beloved among all kinds of athletes in sports. However, it's not just love the legendary footballers earn, when they spend some quality time on the football pitch. The great footballers not only earn everyone's respect, attention and admiration, but also some huge amount of money and fame along with. But this may not always be the scenario after the retirement. Lots of things tend to change when they are not playing on the fields anymore. Sometimes the circumstances become so drastic and dramatic that the footballers have to take jobs which they could never have dreamt of. The Dutch international footballer, Berry Van Aerle choose to be a postman after his retirement. However, not all end on that path, specially the special ones. Some become legends for decades, or even for centuries.
Yes, our today's article is about them, about the all time football legends. Here, we have made a list of top 5 all time football legends. Some of the list may be dead, but their legends remain still. Please, give your constructional comments about this list.
Pele (Brazil, Striker)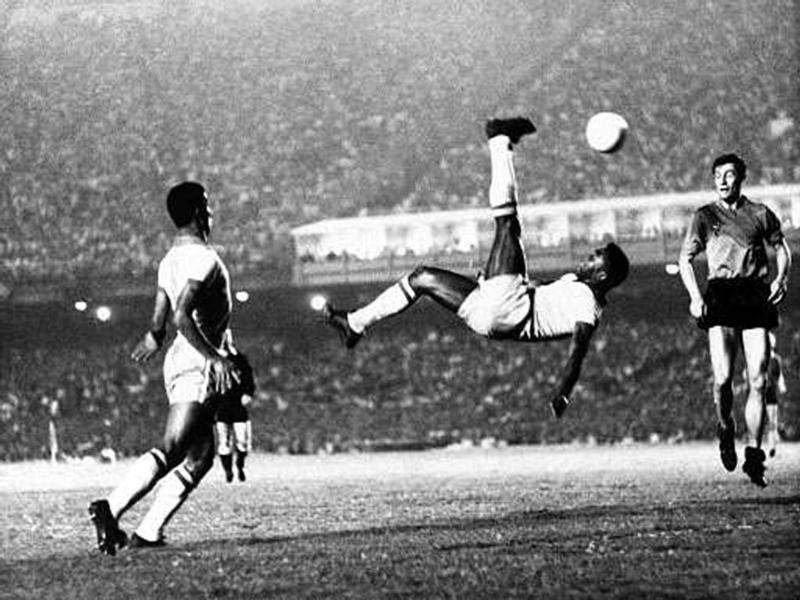 Pele, the most legendary soccer player in the football history. Brazil's pride and the national hero scored a stunning total 1281 goals in 1363 matches.
He is truly the goal machine. People call him "The Black Diamond" or even " The king of football'. He played for Santos for almost the entire career. With Santos he has a host of titles and he is the record holder in the number of Hat-tricks scored, which is 92!
Pele is the only player in the football history to win three World Cups, he won all of them with style. In 1966 world cup, he was brutally fouled and Brazil were eliminated in the first round of the competition. He came back in 1970 World Cup and was awarded "Player of the Tournament'.
2. Diego Maradona (Argentina, Forward)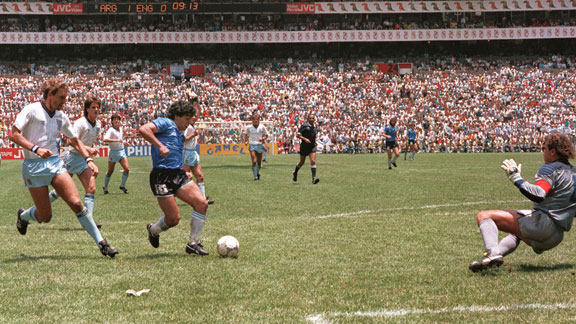 Diego Maradona is one of the deadliest Argentine strikers of all time. His infamous "Hand of God" goal against England was one of the historic events in world football. Apart from all these controversies, his dribbling with the ball and his relentless pace amazed all football fans.
In 1986 World Cup, Diego Maradona lifted the trophy, defeating the strong West German side. His performance in that tournament was awarded by naming him the best player and presenting him the Golden Boot award.
Maradona scored a total 34 goals in 91 appearances for Argentina National team.
No one can forget his spectacular goal against England when he took the ball from midfield and dribbled from the center to score.
In his club career, Maradona has scored 258 goals in 492 matches. He was bit like a nomad as he played for 6 different clubs in his entire football career. Perhaps you can attribute that to his character as he always gets in trouble with either coaches or even teammates.
3. Ronaldo (Striker, Brazil)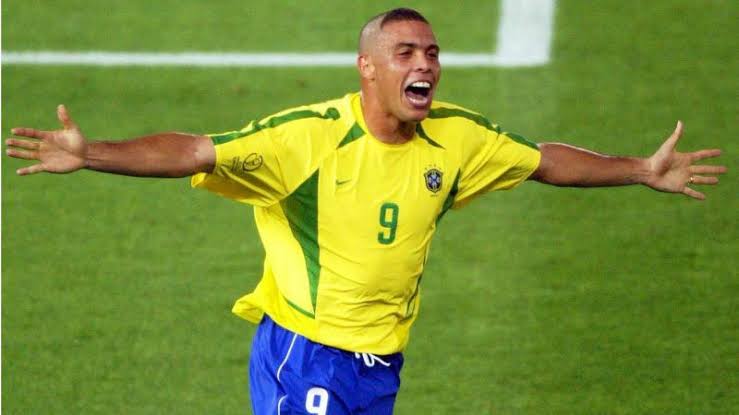 Ronaldo is a player with a great story, one that is interwoven with the history of the World Cup. When he led Brazil to the trophy in 2002, scoring 8 goals in the process, he was validating a personal comeback and claiming the recognition he deserved for his career up to that point. He exploded on the world scene with his one season at Barcelona in 1996/97, scoring 47 goals in 49 games and taking the club to a Cup Winners Cup trophy. His pace, dribbling and goalscoring ability was incredible, accompanied by a masterful close control gained from his early career as a futsal player. This was the best form of his career and he won the FIFA World Player in 1996 at the age of just 20. For Brazil, in the 1997 Copa America he formed a formidable partnership with Romario, driving his team to win the trophy, which he would win again in 1999. After just one season at Barcelona he moved to Inter Milan where he continued to impress, maintaining his impressive goal tally against tough Italian defences and expanding his repertoire with assists and free kicks, inspiring his club to win the UEFA Cup. He was the real star of the 1998 World Cup (winning the Golden Ball), in probably the best team in the tournament. We will probably never really know what happened on the day of the Final but the truth is that Ronaldo experienced some kind of seizure and, despite being eventually selected, was visibly far not himself in the game, which affected the whole team and led to France winning the trophy.
Ronaldo succumbed to major injury at Inter, rupturing as knee tendon twice and missing most of two seasons, but recovering in time for the 2002 World Cup. It was amazing that he recovered to play at all, but he inspired another great Brazil team to win the 2002 World Cup, this time teaming up with Rivaldo and Ronaldinho. This led to the third of his FIFA World Player of the Year awards and sealed a major transfer to Real Madrid's 'Galacticos'. He impressed for two years for Madrid and maintained an impressive goal ratio over his time there (83 goals in 127 games over 5 years). Most notably he starred in a 3-1 away demolition of Manchester United in which he scored a hatrick and was given a standing ovation by both sets of supporters (including this writer). At this point in his career he lacked the pace of his youth but this was compensated for by an innate understanding of where to be, and when, in order to score. By 2005 his party lifestyle and injury history were catching up with him. He played for AC Milan and for a succession of clubs in Brazil and retired in 2011.
4. Zinedine Zidane (Att. Midfielder, France)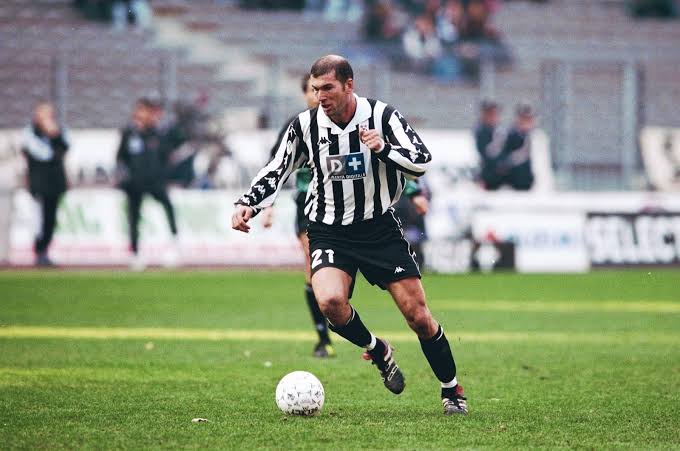 One of the greatest midfielders the game has ever known. Zidane played with such elegance, vision and sublime technique that when a film was made consisting solely of slow motion footage of him playing in one game it was taken entirely seriously as piece of art. In the 1998 World Cup Zidane succeeded where Platini had previously failed, winning the trophy to become a unifying symbol for his country. In truth he had not fully lived-up to his reputation until the Final when he rose to the occasion and scored twice to lift the trophy, although Brazil had problems of their own that day (see Ronaldo below). Zidane's greatest moment for France came two years later in Euro 2000 when he was the undisputed star of the competition and the inspirational player leading France to victory. After both he and his country disappointed in both the 2002 World Cup and Euro 2004 he surprised the world with an Indian summer in 2006, becoming the player of the tournament and unexpectedly taking France to the Final. Ill discipline has always been part of his game though; he missed several World Cup games due to suspension. This would cost him and his country in the 2006 Final, his last ever game, when he was sent off for headbutting Marco Materazzi, and France lost. By this point he had already been named player of the tournament.
At club level he moved from France to join Juventus in 1996, where he proved himself a vital player for them from the outset. He helped them to win two league titles and reach two European Cup Finals but lost in both of them. In 2001 Zidane joined Real Madrid's Galaticos line-up in a 75 million Euro deal. There he would become arguably the team's most important player, scheming from midfield, passing with incredible vision, setting up assists and scoring exquisite goals. His greatest goal was probably the volley he scored in the 2002 Champions League Final, an individual piece of brilliance that finally won him the trophy. One of the very few players to be named European Footballer of the Year three times he remains a legend for both his international and club career.
5. Ronaldinho (attacking midfielder, Brazil)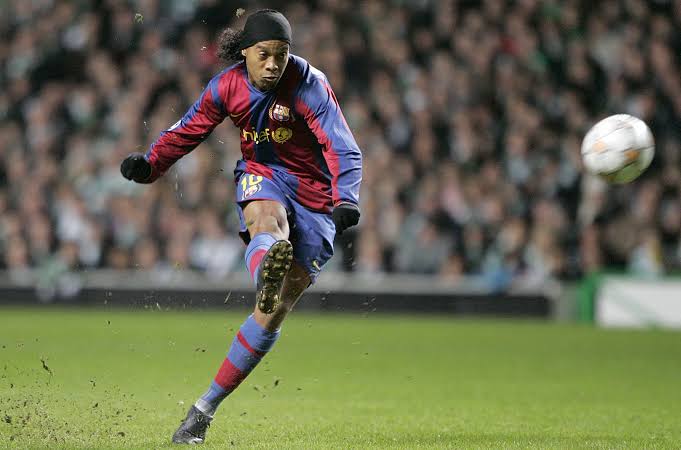 Ronaldo de Assis Moreira (born 21 March 1980), commonly known as Ronaldinho Gaúcho or simply Ronaldinho, is a Brazilian former professional footballer and ambassador for Barcelona. He played mostly as an attacking midfielder, but was also deployed as a forward or a winger. He played the bulk of his career at European clubs Paris Saint-Germain, Barcelona and A.C. Milan as well as playing for the Brazilian national team. Often considered one of the best players of his generation and regarded by many as one of the greatest of all time, Ronaldinho won two FIFA World Player of the Year awards and a Ballon d'Or. He was renowned for his technical skills and creativity; due to his agility, pace and dribbling ability, as well as his use of tricks, feints, overhead kicks, no-look passes and accuracy from free-kicks.
Ronaldinho made his career debut for Grêmio, in 1998. At age 20, he moved to Paris Saint-Germain in France before signing for Barcelona in 2003. In his second season with Barcelona, he won his first FIFA World Player of the Year award, as Barcelona won La Liga. The season that followed is considered one of the best in his career as he was instrumental in Barcelona winning the UEFA Champions League, their first in fourteen years, as well as another La Liga title, giving Ronaldinho his first career double. After scoring two spectacular solo goals in El Clásico, Ronaldinho became the second Barcelona player, after Diego Maradona in 1983, to receive a standing ovation from Real Madrid fans at the Santiago Bernabéu. Ronaldinho also received his second FIFA World Player of the Year award, as well as the Ballon d'Or.
Following a second-place La Liga finish to rivals Real Madrid in the 2006–07 season and an injury plagued 2007–08 season, Ronaldinho departed Barcelona to join Milan. He then returned to Brazil to play for Flamengo in 2011 and Atlético Mineiro a year later where he won the Copa Libertadores, before moving to Mexico to play for Querétaro and then back to Brazil to play for Fluminense in 2015. Ronaldinho accumulated numerous other individual awards in his career. He was included in the UEFA Team of the Year and the FIFA World XI three times, named UEFA Club Footballer of the Year in 2006 and the South American Footballer of the Year in 2013, and was named in the FIFA 100, a list of the world's greatest living players compiled by Pelé.
At international level, Ronaldinho played 97 matches for the Brazil national team, scoring 33 goals and representing his country in two FIFA World Cups. He was an integral part of the 2002 FIFA World Cup-winning team in Korea and Japan, starring alongside Ronaldo and Rivaldo in an attacking trio, scoring two goals, including a free-kick from 40 yards out against England, registering two assists and being named in the FIFA World Cup All-Star Team. As captain, he led Brazil to their second Confederations Cup title in 2005 and was named Man of the Match in the final. Ronaldinho scored three goals in the tournament, taking his total to nine, making him the competition's joint all-time leading goalscorer.