Many have suggested that Nigeria does not have a large variety of food items to choose from, and while that may be true to an extent, what we do have are food cultures and traditions. The origins of these unofficial customs are unknown, nonetheless, they have become a part of us. We live by them unconsciously and it has both satisfied and fulfilled us, giving our limited variety much needed excitement.
1. Rice and stew on Sundays
Rice and stew is the national Sunday afternoon food of nearly every Nigerian home. The stew is usually prepared the previous night or early Sunday morning and served with hot boiled rice when the whole family returns from church. This special tradition has been and will continue to be.
2. Jollof rice at parties
No Jollof no party!. Jollof is simply the staple of any and every party, whether weddings, birthdays or even burials. That unique smoky flavour and taste which many say comes from the fire wood used in preparing it cannot be gotten anywhere else. In summary, ain't no jollof like party jollof."
3. Pap and Akara (bean cake) on Saturday mornings
Every street or area has that trusted akara seller where everyone converges every Saturday morning to get a companion for the pap or custard waiting at home. The combo of pap and akara not only satisfies, but also puts the whole family to sleep on lazy saturdays, a much needed rest from the long week.
4. Fried rice at birthdays
Fried rise is the designated birthday delicacy. All the vegetables, liver and special condiments loudly say happy birthday, especially when they are in tandem with jollof.
5. Suya at night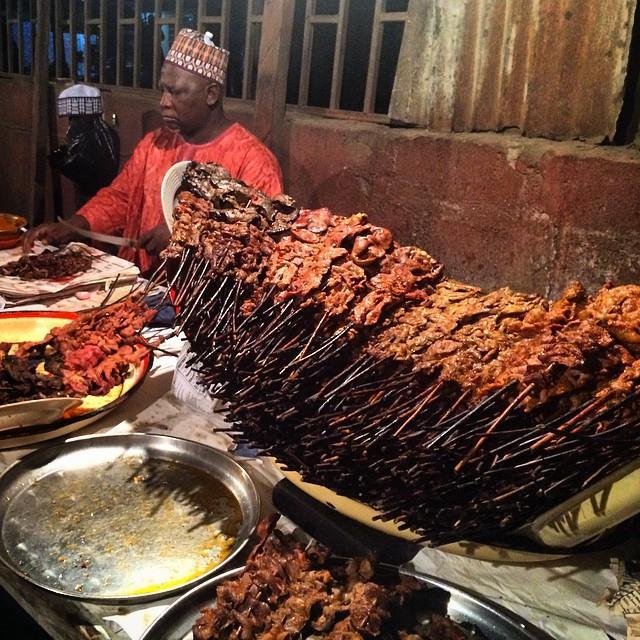 Many including me have always wondered why Suya is majorly sold at night, but as I have realized, not every mystery needs an explanation. All we know is that we love Suya and its true glory and deliciousness can only be experienced at night.
6. Corn and Coconut/Ube
This is everyone's go-to rainy season snack. Corn, whether roasted or boiled when combined with coconut or Ube (African bush pear) delivers a deeply satisfying delicious goodness, making it a favourite of the majority.
7. Boli and groundnut
No one can explain why boli and groundnut taste so good together but, whoever was the first to try the combo should be regarded as a genius and a legend.