Finally, 'e be like say e don dey happen' as Nigerian music icon Innocent Ujah Idibia popularly known as 2face, Tuface or 2baba has led plans for a protest against the current poor governance and economic hardship in the nation. Here are a few things you should know about the protest
The Origin
As most people know, Tuface is the major force behind the planned nationwide protest holding on the 6th of February, 2017. In a statement he made available to the press on Tuesday, he said; "the people have hoped for a better Nigeria since 1999 but things are not getting any better for the majority. We are still where we are; poor and desperate. I will no longer be quiet". He also made it clear that the protest has no political origin, adding "it is not a platform for politicians of any part to manipulate; it is a march for the unrepresented."
Protest Location
On his Instagram page, Tuface announced that the protest is to start at the National Stadium, Abuja at 8am and will proceed from there to the National Theatre. It is also expected to hold in other states like Lagos, Port Harcourt etc. It is important to note that this is a peaceful protest.
Support
Immediately Tuface called for the nationwide protest, stars like Davido and Burna Boy rallied behind the legend in support. Other acts such as Charly Boy, I go Dye and Daddy Showkey soon followed suit.
Make all men wey dey dis BG fallout for this March. I personally never believed that marching helps anything but it's Beta Dan nothing!??#7 https://t.co/lAORNqqGqj

— Burna Boy (@burnaboy) January 25, 2017
I galant with you my brother .. we go full ground ?? https://t.co/AfIIiJQkIZ

— Davido (@iam_Davido) January 25, 2017
The Ekiti State governor, Peter Ayodele Fayose also showed his support on his Twitter page saying "to those planning the 'Enough is enough' national protest, you have my total support and I will be part of the protest".
To organisers of Feb. 5 
"Enough is Enough" National Protest, you have my total support and I will be part of the protest.

— Peter Ayodele Fayose (@GovAyoFayose) January 31, 2017
Opposition
With every course that rallies support there will always be an opposition. Most of the people opposing the protest have attacked Tuface based on moral grounds saying a polygamist has no right to lead such a protest. Others have said he is just a pawn being used by the PDP, even though there has not been any actual evidence to prove so. A Nigerian professor, Akindele Adetoye was quoted saying:
"You are a bloody illiterate. You had sex with all manners of girls without using condoms. You impregnated them and made babies all over the place. You now want to lead protest against the government because of lack of governance! Have you governed your own personal life? Charity begins at home. Nonsense."
Tuface's former Plantashun Boyz group member – Black Face is also opposing the movement while some celebrities have planned to boycott the event.
Some person wrote about Tuface leading a protest and the ever-hateful Blackface reposted. So I thought I'd ask a few questions in return. pic.twitter.com/7k1bAxQUhm

— Chidi Okereke (@Chydee) January 31, 2017
Social Media Movement
Tuface also stated that for people that will not be able to join the march physically they can hold a cyber-march using social media making use of the hashtags #IStandWith2Baba #IStandWithNigeria #OneVoiceNigeria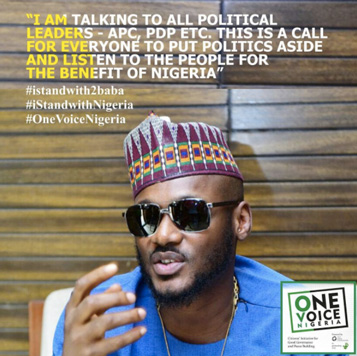 Finally, this is an opportunity for us as Nigerians to make our voices heard and our grievances known. Forget the messenger, focus on the message – a call on the government to do better to improve our situation. We should seize the day and scream to the heavens so our cries can be heard.
God bless Nigeria.