By now you must know that the courts have declared Dammy Krane who was accused of Credit Card fraud by US company –Tapjets – NOT guilty. When the incident happened back in June, there was outrage on social media, as the young crooner was dragged, accused of letting peer pressure get to him and shamed for disgracing Nigeria.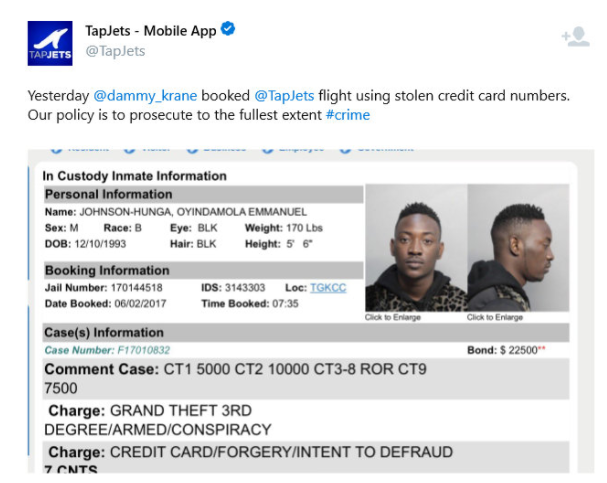 Almost everyone wanted a piece of the action, and only few people stood by him and called for patience. Well, guess who's laughing now? Of course Dammy Krane, and those who stood by him/called for calm.
The news of his acquittal has been trending all day – see top reactions HERE, and chief amongst conversations is how a lot of us joined in mocking him. This is a teachable moment though, and we have curated 5 lessons his acquittal has taught us.
Negative news is 'good' news
More often than not, negative news is only bad for the 'victim' of the news, and maybe his/her family and friends. For the rest of us, negative news is at least gist – for us to analyze, dissect, and entertain ourselves with. As far as we are not (related to) the victims, innocence or guilt is unimportant. Clicks, likes, reshares, and banter are the most important things.
Never be too quick to judge
It is very easy to condemn people who live some type of way and judge them without digging deep to ascertain innocence or guilt. But Dammy Krane's acquittal has taught us to take a second and third look at everything before judging people. Do not assume that they are in the wrong just because your gut says so. Check and double check before you make that conclusion.
Wait for the courts
This one is hard, but it is important to always wait for the court's verdict in matters like this. Even if accusations have been laid, and arrests made, until the person is proven guilty by a competent court of law, that person is only a suspect, an innocent suspect.
True, a lot of us do not trust the judiciary and the competence of the prosecuting agencies to properly handle trials, but for the sake of those who are really innocent, we must abide by the innocent until proven guilty rule.
Shame has no friends
According to Dammy Krane, the only colleague in the industry who reached out to him during his ordeal was Davido. Every other artiste looked away and refused to come to his defense/aid. While this is understandable as it would have seemed like they were supporting a criminal and endorsing crime, it doesn't take away the fact that shame indeed has no friends. It is important that we understand this and take note of those who stand by us when we're down – those are ride-or-die 'fam' and you should keep them very close.
Love your neighbor as yourself
If everybody practiced this one line, the whole world will be a much better place. But even though we cannot expect everyone to love their neighbors as themselves, imbibing this culture will help you find peace. If for example we all loved and cared for Dammy Krane, we would have been concerned about the possibility of his innocence rather than dragging him to the moon and back. Love is patient and kind and wishes other people well, always.