Burna boy has called out the organizers of Coachella for stepping on his pride as he was listed amongst the performers of the 2019 event.
The Coachella Valley Music and Arts Festival (commonly referred to as Coachella or the Coachella Festival) is an annual music and arts festival held at the Empire Polo Club in Indio, California, located in the Inland Empire's Coachella Valley in the Colorado Desert. It was co-founded by Paul Tollett and Rick Van Santen in 1999, and is organized by Goldenvoice, a subsidiary of AEG Live.
This event is one of the biggest of its kind. Burns boy and Mr Eazi and the only two African artist, who are featured on this list. Why others sees this as a great achievement, Burna boy seems not to aline with this thought and here is why;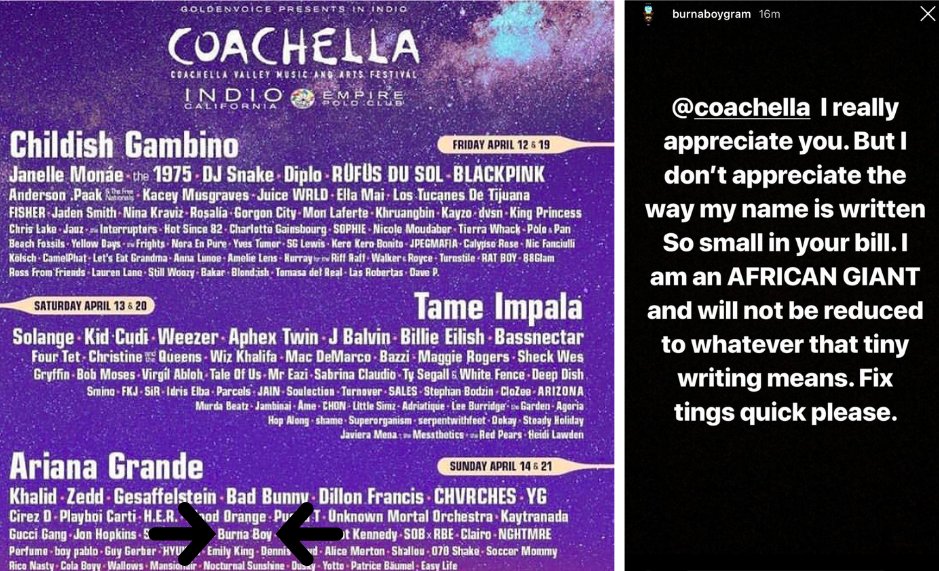 He wasn't pleased with the little font with which his name was published unlike other artists who had bigger fonts.
Coachella's arrangement of the artist lineup is a tradition they have had for several years. The arrangement starts with the headliner and then other artists are listed in decreasing font.