Promenade – 'prom' for short – used to be "the formal introductory parading of guests at a party" which began in the mid to late 1800s at colleges and universities abroad, to promote social etiquette and manners in each year's graduating class. It soon metamorphosed into one that held at colleges where the senior class, dressed in their "Sunday best" socialized and danced under the watchful eyes of chaperones. Prom is however not so popular in Nigeria, as most schools do a bland graduation party/end of year ceremony and call it a day. Only few schools do internal proms with all the pomp involved.
Finding a vacuum, the guys at J Vanni Global decided to switch things up. They are holding the first Prom concert in Nigeria and for those who have not (shockingly) heard about them, see 10 things you should know about AfroProm.
1. AfroProm made their debut in Nigeria in 2009. They have been hosting proms in schools since that time, and so far they have hosted many successful editions.
2. This year, Afroprom will be held on the 14th of July, 2019, at the expansive and prestigious Eko Hotels & Suites. It is a break away from the school-specific version. All fresh secondary school leavers in Nigeria are welcome to attend.
3. The concert which is meant for secondary school leavers will give them the opportunity to celebrate the successful completion of a phase of their academic pursuit. It is aimed at creating an avenue that will welcome them into adult life.
4. Guests at Afroprom 2019 will be treated to energetic and thrilling musical performances by a number of top-rated Nigerian popstars, including Teni, Rema, Zlatan, etc. There will also be cameo performances by comedians and social media sensations like Kenny Blaq, Broda Shaggi, Ikorodu Boiz etc.
5. Beyond the entertainment, attendees will be taught basic etiquettes, and other life skills by professionals
6. Banky W and Mediapreneur – Debola Williams will be inspiring and motivating the young attendees and giving them tips that will benefit them in the future.
7. An Afroprom Queen and King will be chosen on the event day. This will conclude weeks of campaigning by young kings and queens on Social Media.
8. Afroprom will offer a cozy atmosphere where guests will be treated to a proper dinner setting, an opportunity to network with students from other schools, 5-course meal, etc.
9. There are different category of tickets for sale, starting from N10,000 to VIP and Tables. You can purchase yours HERE or go to http://bit.ly/afropromdtc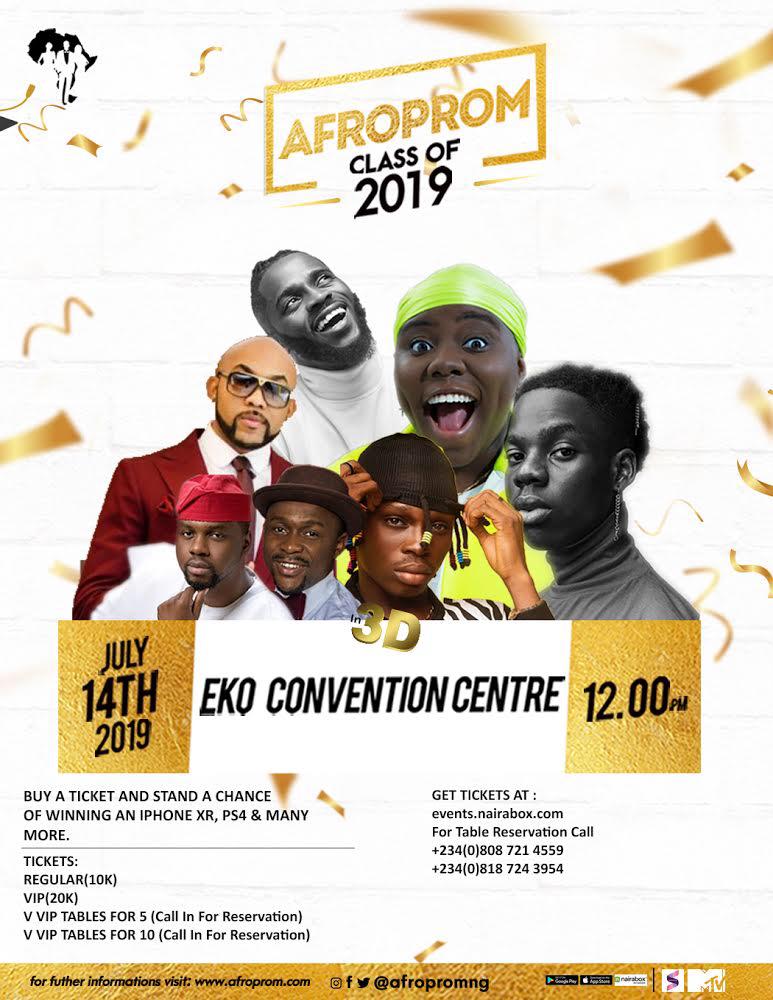 10. Afroprom attendees are creating customized DPs to confirm they are coming. If you are going, create yours for free HERE or go to www.lists.ng/afropromdp
For more information and updates about Afroprom, follow their social media pages
Facebook : Afropromng
Instagram: @afropromng
Twitter: @afropromng