Stephen Hawking is one of the greatest scientists ever and definitely the most famous of this generation. His accomplishments in cosmology and theoretical physics have basically changed the world and his groundbreaking work with black holes and relativity have earned him global recognition. The most amazing thing is he achieved all he achieved while suffering from a disease that should have killed him more than 40 years ago.
Unfortunately he has passed on, and as the world mourns him, see 10 quick facts about the legend.
He couldn't properly read till he was 8 years old
You know how many greats showed signs of their greatness from tender ages? Stephen Hawking wasn't one of those. He didn't have a sparkling academic career one would expect from the greatest mind of our time. Heck, he didn't even learn to read properly till he was 8 years old, and in High School, his grades were about average. Nevertheless, that soon changed. His classmates nicknamed him "Einstein" after he built a computer with his friends as a teenager. He also demonstrated a remarkable capacity for grasping issues with Space and Time, and received a scholarship to study Physics at the Oxford University when he was 17.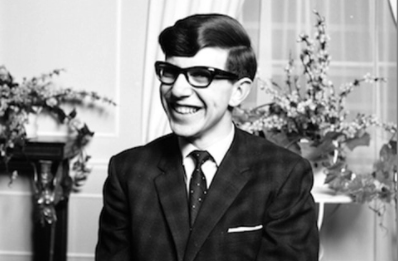 His father wanted him to be a doctor
Frank Hawking, Stephen's father wanted him to study medicine. But, for all his interest in science, Stephen didn't care for biology. He has said that he found it to be too inexact, too descriptive and would rather devote his mind to more precise, well-defined concepts like mathematics.
He was on the Oxford Rowing team
Hawking faced isolation and unhappiness during his first years at Oxford. Now, even before being diagnosed with a physically disabling illness, he didn't have an athletic build. However, row teams recruited smaller men like Hawking to be coxswains – a position that does not row, but rather controls steering and stroke rate. He joined the rowing team and because of how important and competitive it was at Oxford, the role made him very popular.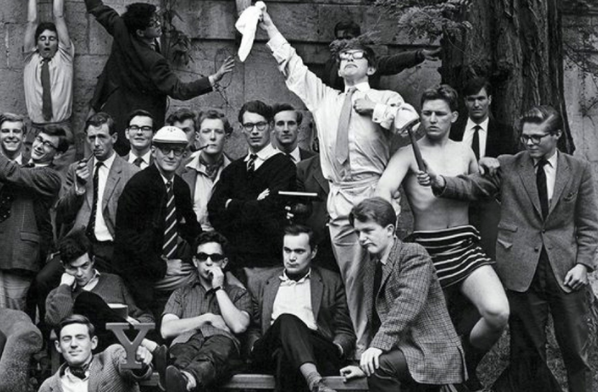 Battling ALS
In his first year as a Graduate Student at Cambridge, Stephen Hawking fell while ice-skating. Doctors diagnosed ALS (Amyotrophic Lateral Sclerosis), and told him he had less than 3 years to live. Well, he didn't die in 3 years … as a matter of fact he lived 40 plus extra years. As the ALS made him lose his motor skills, the scientist was forced to become more creative. "By losing the finer dexterity of my hands, I was forced to travel through the universe in my mind and try to visualize the ways in which it worked," he later noted.
The Equation that changed everything
The equation that changed everything, and one of his greatest works – it involves Planck's constant, Entropy, the speed of light, Newton's constant, Boltzmann's constant, and measures emissions from black-holes that is known as Hawking radiation today.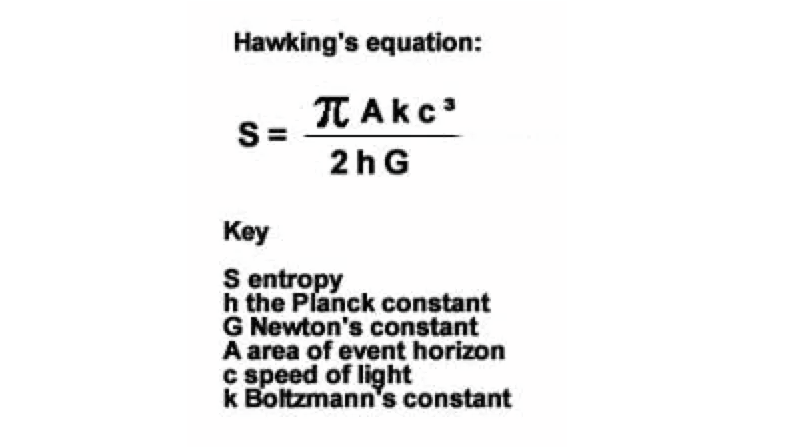 Hawking has since said he would like this equation to be carved on his tombstone.
When he almost died
Well, considering what his ailment was, and his doctors predicting death for him in 3 years, this sub-heading might seem ridiculous. But there was indeed a time in 1985 when he almost died, after contracting pneumonia. While he was unconscious and hooked up to a ventilator, the option of removing him from life support was being considered until his then-wife rejected the idea. Hawking instead underwent a tracheotomy – an operation that helped him breathe but permanently took away his ability to speak, prompting the creation of his famous speech synthesizer.
His Machine
After Hawking lost his ability to speak, a speech synthesizer was created for him by a company called Word Plus. The program enabled him to 'speak' by using a hand clicker to choose words on a screen mounted on his wheelchair. He soon lost the ability to use his hands, so an infrared switch mounted on his glasses that generates words by detecting cheek movement was installed for him.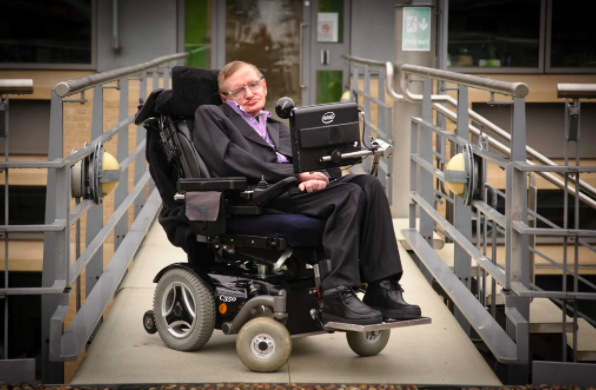 He never won a Nobel
Hard to believe that the greatest scientist of our time never won a Nobel Prize. Really hard to believe, but the guys behind the Nobel Prize do not give the awards to untested scientific work. Hawking's famous theory about black-holes has not been verified yet, because, they just can't be at this time.
Awards and recognition
While the Nobel price eluded him, Hawking racked up an incredibly impressive array of awards and distinctions including 12 honorary degrees. Some of them include being inducted into the Royal Society (the royal academy of science in the U.K), being awarded the Pius XI Gold Medal for Science by Pope Paul VI, the Albert Einstein Award and Hughes Medal from the Royal Society. In 1979, he attained the post of Lucasian Professor of Mathematics at the University of Cambridge, a position he would keep for the next 30 years. He was invested as a Commander of the British Empire, became one of 65 members of the Companion of Honour, and received the United States Presidential Medal of Freedom in 2009.
In TV and Popular culture
Despite his physical challenges, Stephen Hawking was never shy about appearing on screen. From Star Trek to Simpsons and Big Bang Theory, he has made appearances on TV, where he cracked jokes and generally was himself. He has written and co-written many books, including chidren's fiction. Numerous books have also been written about/referencing/mentioning him and he has been the subject of many films, including The Theory of Everything, for which the actor who portrayed him – Eddie Redmayne – won the Oscar for best actor.
****
Stephen Hawking has lived life to the fullest, despite his disabilities and made an impact in the world around him. He will never be forgotten. May he rest in peace