The game of football is one of most popular sports in the world although not the richest . Now 2018 brought a change in the face of the best footballer which usually evolved around Ronaldo and Messi as the Canadian star Modric, hit the spotlight.
Due to statistics and performance, here are the 20 best footballers in the world
Luka Modric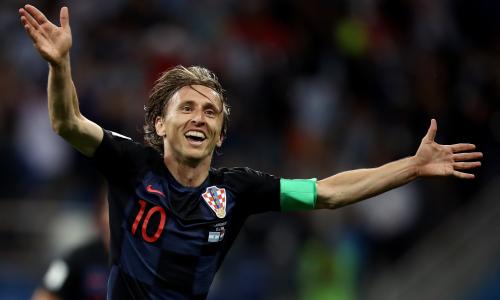 Age 33
Team Real Madrid / Croatia
Position Midfielder
After six years of the Messi-Ronaldo duopoly, we have a new winner. The Croatian won by some distance, 246 points to be exact, and 79 judges had him as their No 1 (compared with 48 for Messi and 33 for Ronaldo). And it had been coming. When even Zinedine Zidane coos about you, you know you're doing something right – and Modric does a lot right.
2. Cristiano Ronaldo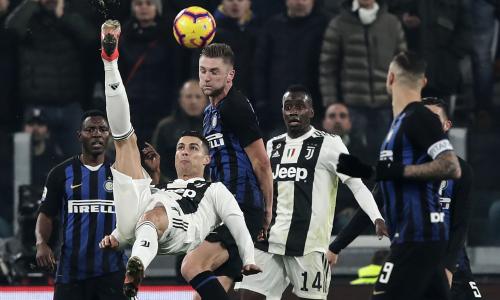 Age 33
Team Juventus / Portugal
Position Forward
In April, Ronaldo received a standing ovation from Juventus supporters for an overhead strike against their team at the Allianz Stadium. Three months later, he returned to Turin to join the Bianconeri. In between, he won his third consecutive Champions League title with Real Madrid and notched a brilliant World Cup hat-trick against Spain. Not bad going, by most mortals' standards, and Ronaldo makes no secret that he thinks he deserved the Ballon d'Or. The year ahead will be even more fascinating, though, as he seeks to win it back in a new setting. Hailed as a footballing alien by the Italian media, he took a few games to find his scoring boots for Juventus but had hit double-figures by the end of November. Back in his old position on the left of attack, he has shown a willingness to work for teammates as well – matching his assist tally already from last season.
3. Lionel Messi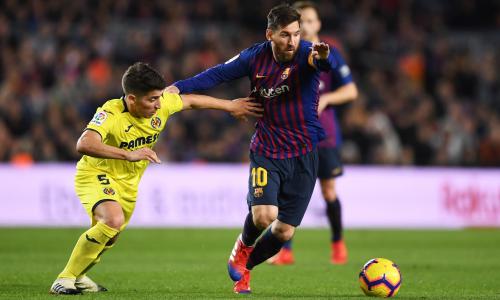 Age 31
Team Barcelona / Argentina
Position Forward
So, so far ahead of everyone else in Spain, but when it came to the Champions League and the World Cup, where opinions are formed and legacies left, Messi was unable to leave the impact that he wished on a year in which he led Barcelona, sometimes seemingly single-handedly, to a league and cup double. Ultimately the season felt like a disappointment – and that in itself speaks volumes. Messi is perhaps a victim of his own relentlessness, his normalisation of genius. And if the World Cup failure felt a little sad, even outside Argentina, it was perhaps in part because time may be running out for Messi. And then what? Last year, no one scored more, provided more, or played better anywhere. Still, he drops to third in our list, a mere 44 points behind second-placed Cristiano Ronaldo.
4. Kylian Mbappé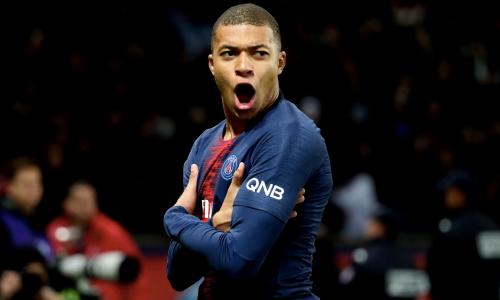 Age 20
Team Paris St-Germain / France
Position Forward
One could argue for hours about Mbappé's most impressive quality – his devastating speed? His deft touch? The deadly, joyful wit with which he plays? The composure that enables him to take all his gifts and all the acclaim in his stride? – or one could just point to the awards he won before even turning 20. In 2018 he helped Paris Saint-Germain to win the French domestic treble and France to win the World Cup, becoming the first teenager in 60 years to score in the final. "Welcome to the club," tweeted Pelé.
5. Mohamed Salah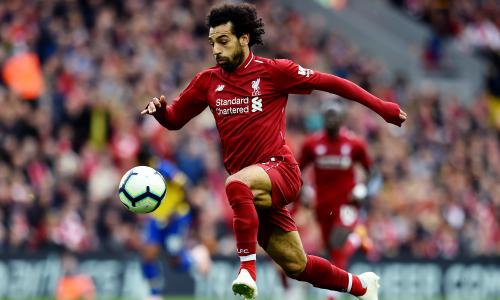 Age 26
Team Liverpool / Egypt
Position Forward
The man who made £36.9m resemble a transfer bargain. Salah is the biggest climber into the top 10 following a phenomenal debut season at Liverpool where he destroyed opposition defences, records and helped guide Jürgen Klopp's team to the Champions League final. The 26-year-old scored 44 goals in total for his club, including 32 in the Premier League. That made him the most prolific goalscorer in a 38-game season, eclipsing Alan Shearer, Cristiano Ronaldo and Luis Suárez, and brought a clean sweep of individual honours including PFA and FWA player of the year plus Liverpool's player of the season. Salah delivered for his country too, holding his nerve to send Egypt to their first World Cup in 28 years with a 94th-minute penalty against Congo.
6. Antoine Griezmann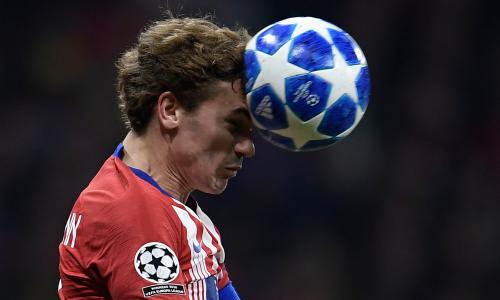 Age 27
Team Atlético Madrid / France
Position Forward
Sitting at the top table where he has said he wants to eat with Ronaldo and Messi. There may be some debate about that still, but he did what neither of them could and was the most decisive player for the world champions – scoring or assisting in every round from the quarter-final on. A superb player who plays as if he was a terrible one, endeavour and intelligence supplement his talent. Other systems might work better for him, seen selfishly, but he works brilliantly for Diego Simeone and for Didier Deschamps too. He is one of 13 Frenchmen on the 2018 list with only Kylian Mbappé in front of him, at No 4. He may need to win the Champions League – or at least reach the final – with Atlético this season to break into the top three.
7. Eden Hazard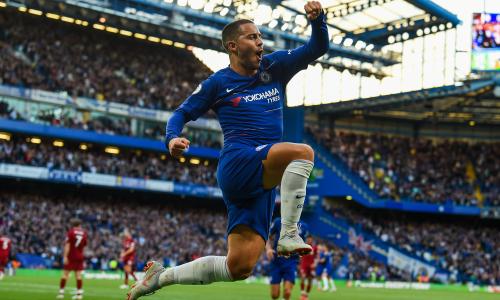 Age 27
Team Chelsea / Belgium
Position Forward
Hazard captained his country to a best-ever finish of third at the World Cup, prompting a slight rise to seventh, and remains Chelsea's creative inspiration, a force of nature offering menace from the left flank. The club's priority is to extend his stay at Stamford Bridge beyond 2020, conscious as they are that replacing the Belgian would be a daunting prospect. Money would effectively be no object, but Hazard seems to have set his sights on a move to Real Madrid. He suggested in St Petersburg over the summer that the time may be right for him to move on but, with Chelsea unwilling to countenance a sale at present, he knuckled down back at Cobham and was the Premier League's best player in the autumn. The goals have rather stalled of late but, with Real forever watching developments from afar and negotiations on hold over new terms, his threat remains potent.
8. Kevin De Bruyne
Age 27
Team Manchester City / Belgium
Position Midfielder
The midfielder began 2018 by signing a new five-year contract with Manchester City, who might have given him a deal for life if asked. A week later he demonstrated his latest trick in an ever-expanding repertoire, scoring a goal by drilling a free-kick under Cardiff City's wall. Every week he conjured a new delight as City swaggered to the Premier League title. "I think there is almost no game where my standard has dropped," he said towards the end of a campaign in which his incessant excellence surprised even himself. No player can control matches as authoritatively as him, and only a few can transform games with such sudden and improbable bursts or passes. He was instrumental for his country, too, as Belgium achieved a best-ever third place finish at the World Cup, his long-range winning goal against Brazil being one of the highlights of the tournament.
9. HarryKane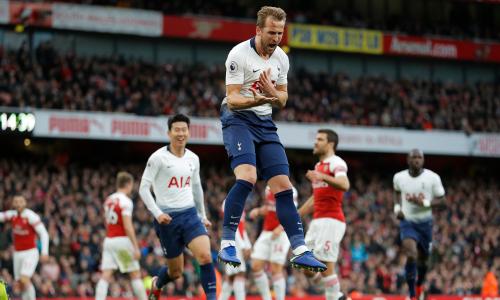 Age 25
Team Tottenham Hotspur / England
Position Forward
When you are at the top, the scrutiny only intensifies and it feels as though there is a peculiarly English obsession with picking holes in Kane. The England captain won the World Cup Golden Boot in the summer yet it was pointed out the haul included three penalties and a deflection. He had a slow-ish start to the new season, scoring just two in eight for club and country. Had he lost his edge, finally buckling under his gargantuan workload? Kane has made a living out of proving people wrong. Remember that one-season wonder tag? He is now a four-and-a-half-season wonder. Few players possess his single-mindedness, his obsessive dedication and, amid the noise, he has simply carried on doing what he does – scoring goals. Tiredness? Kane maintains he enjoys the flow of the matches. It gives him his rhythm. Surely, it is better to cherish a master of his art?
10. N'Golo Kanté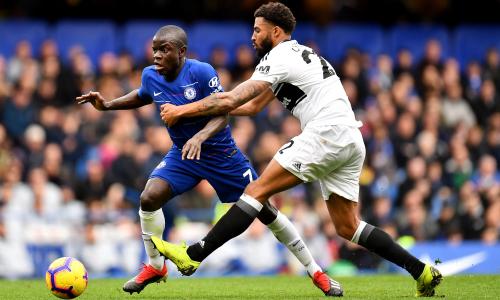 Age 27
Team Chelsea / France
Position Midfielder
The Frenchman had already won successive Premier League titles with Leicester and Chelsea in his first two years in English football but, not content with that haul, he was integral to Les Bleus' successful World Cup campaign. Kanté is all scuttling energy, a blur of interceptions. The French literally sung his praises after Russia, rejoicing in his understated style. Chelsea value him highly, warding off Paris Saint-Germain's interest for now with a new five-year contract worth £290,000-a-week in the autumn. He has actually found periods of the domestic campaign to date something of a chore having been displaced as the midfield pivot by Jorginho, with Maurizio Sarri demanding the 27-year-old is more of a progressive force these days on the right of a three. If the Italian can eke goals and creativity from Kanté's game, he will surely remain upwardly mobile in this survey.
To keep this list from being long and bulky, we decided list the remaining:
11 | Neymar
Age 26
Team Paris St-Germain / Brazil
Position Forward
12 | Raphaël Varane
Age 25
Team Real Madrid / France
Position Defender
13 | Ivan Rakitic
Age 30
Team Barcelona / Croatia
Position Midfielder
14 | Luis Suárez
Age 31
Team Barcelona / Uruguay
Position Forward
15 | Sergio Agüero
Age 30
Team Manchester City / Argentina
Position Forward
16 | Paul Pogba
Age 25
Team Manchester United / France
Position Midfielder
17 | Sergio Ramos
Age 32
Team Real Madrid / Spain
Position Defender
18 | Marcelo
Age 30
Team Real Madrid / Brazil
Position Defender
19 | Sadio Mané
Age 26
Team Liverpool / Senegal
Position Forward
20 | David Silva
Age 32
Team Manchester City / Spain
Position Midfielder