February was an eventful month, and the Progressive Governors of Nigeria left marks in their respective states. We have compiled a list of the sectors they impacted last month and included links to news sources, for verification.
Enjoy, and share. And again, if your governor is not listed, ask his people to send us their reports.
Empowerment
From fellowship programmes to rural financing, the Progressive Governors empowered the people in their states.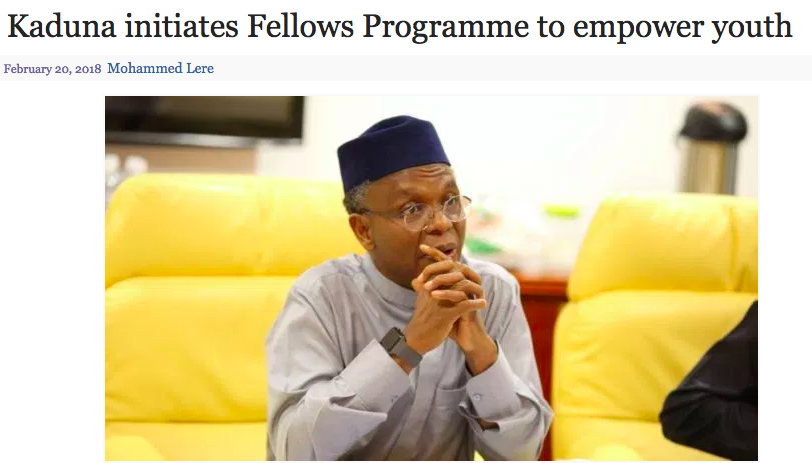 NITDA TO PARTNER JIGAWA ON ICT DEVELOPMENT
KADUNA INITIATES FELLOWS PROGRAMME TO EMPOWER YOUTH
KANO GOVT EMPOWERS 2,500 TRICYCLE OPERATORS
LAGOS PRESENTS EMPOWERMENT TOOLS TO ORPHANS, VULNERABLE CHILDREN
LAGOS EMPOWERS PROCESSORS IN COCONUT VALUE CHAIN
NIGER GOV'S WIFE EMPOWERS 3,000 WOMEN IN 25 LGS
RURAL FINANCING: OYO TRAINS OVER 4,000 RURAL DWELLERS IN 9 LGAS
Job Creation
Moves to create over 130,000 jobs were made by the progressive governors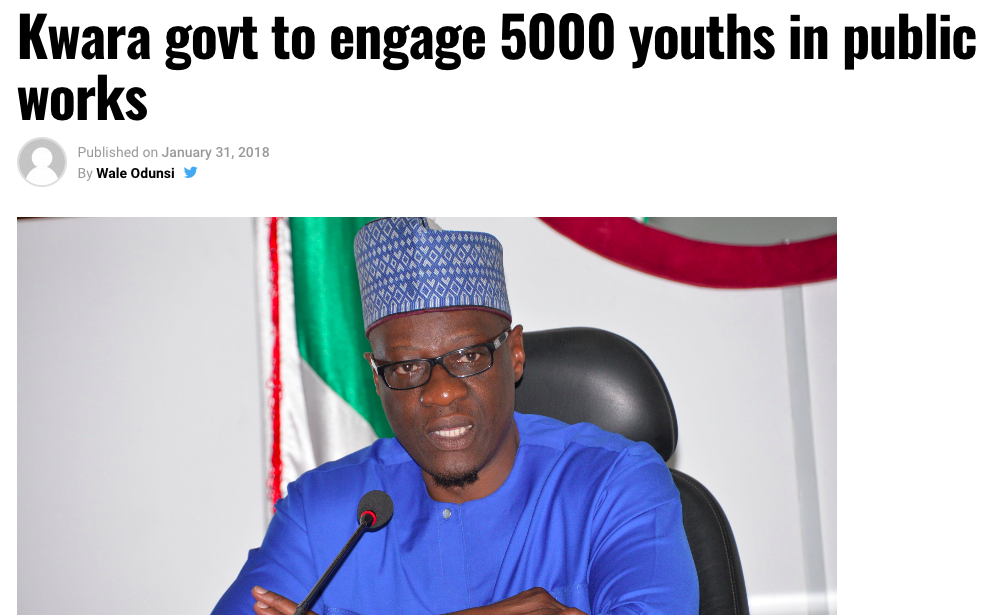 ADAMAWA GOVT TARGETS 100,000 UNEMPLOYED YOUTHS
KWARA GOVT TO ENGAGE 5000 YOUTHS IN PUBLIC WORKS
GOVERNOR AMBODE OKAYS N30,000 MONTHLY STIPENDS FOR 1,000 READY.SET.WORK INTERNS
25,000 ADDITIONAL JOBS IN ONDO STATE 
COMING AS CBN INAUGURATES EGG POWDER FACTORY IN ONDO
ONDO, FIRM REVIVE CATTLE RANCH, EMPLOY 500 YOUTHS
PLATEAU GOVT ANNOUNCES RECRUITMENT OF TEACHERS
Health
The health sector was impacted as more health workers were recruited, health insurance was implemented, immunization exercises were carried out, and malnutrition was tackled.
ADAMAWA COMMENCES IMPLEMENTATION OF HEALTH INSURANCE
UNICEF COMMENDS GOVERNOR MOHAMMED ABUBAKAR
ORTOM FLAGS OFF MEASLES VACCINATION CAMPAIGN IN BENUE
YELLOW FEVER: 1.2M IDPS RECEIVE VACCINATION IN BORNO
IMO STATE GOVT. COMMITTED TO CHILD HEALTH CARE MANAGEMENT – OKOROCHA
JIGAWA GOVT PARTNERS UNICEF TO ERADICATE MALNUTRITION IN CHILDREN
GOVERNMENT APPROVES N344M FOR POLIO IMMUNISATION
GATES, DANGOTE, GAIDAM REVIEW POLIO IMMUNIZATION IN YOBE
Infrastructure
The Progressive Governors carried out infrastructure projects in their states – including construction of classrooms, water resources,  hospitals, airports, etc.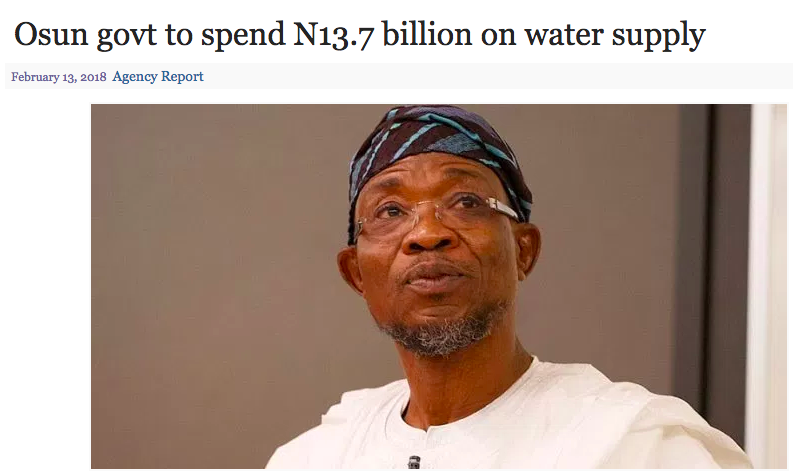 BORNO GOVT. SPENDS N8 BILLION ON POST-INSURGENCY HEALTHCARE PROJECTS
GOVERNMENT BEGINS CONSTRUCTION OF 594 CLASSROOMS
KANO SPENDS 132 MILLION NAIRA ON TIGA GENERAL HOSPITAL
KANO UNVEILS 5-YEAR WATER PLAN
KATSINA SIGNS $1 MILLION BILATERAL AGREEMENT WITH UN FOR DEVELOPMENTAL PROJECTS
KEBBI SPENDS N2B ON WATER SUPPLY IN 2017
LAGOS COMMUNITIES TO EXECUTE 250 PROJECTS
OSUN GOVT TO SPEND N13.7 BILLION ON WATER SUPPLY
OYO GOVT PROVIDES 15 MOTORISED BOREHOLES FOR MAJOR MARKETS
PLATEAU ASSEMBLY APPROVES N1 BILLION LOAN FOR COMPLETION OF STADIUM
YOBE SPENDS N728M ON HEALTH, AIRPORT
ZAMFARA AWARDS N1.8 BILLION CONTRACT FOR RENOVATION OF HOSPITALS
Welfare and Rehabilitation
This is the sector that received the most impact in February. The scope of activities was also wide as the needs of the people are diverse.
ADAMAWA COMMENCES IMPLEMENTATION OF HEALTH INSURANCE
BAUCHI GOV VISITS SURVIVORS OF MISAU ACCIDENT VICTIMS
BORNO GOVT, EU OPEN CARE FACILITY FOR RAPE VICTIMS
EDO STATE GOVERNMENT RELEASES N100 MILLION FOR LASSA FEVER
EDO GOVT LAUNCHES PRIORITY PLAN TO CHECK VIOLENCE AGAINST CHILDREN
KADUNA ASSEMBLY PASSES CHILD PROTECTION LAW
KANO REGISTERED 50 VISUALLY IMPAIRED FOR 2018 UTME
FLOOD VICTIMS: KANO TO SPEND N200M ON CONSTRUCTION OF 100 HOUSES
KEBBI FIRST LADY DONATED BREAST CANCER SCREENING KITS TO 500 WOMEN
KEBBI DISTRIBUTES DRUGS WORTH N5M TO 838 EPILEPTICS
GOV. AHMED APPROVES FREE BUS RIDE FOR SCHOOL CHILDREN, PREGNANT WOMEN
INTENSIFIES CAMPAIGN ON LIFE JACKETS, DISTRIBUTES 1500 TO BOAT OPERATORS, PASSENGERS
LASG DONATES MOBILE CANCER CENTRE, A COMMITMENT TO FIGHTING CANCER
NIGER GOVT. VACCINATES 112,000 LIVESTOCK
OGUN COMPLETES REPAIRS OF ABEOKUTA/LAGOS, ILARO ROADS
OSUN RECEIVES 13 INDIGENES EVACUATED FROM LIBYA
OSUN LEADS AGAIN IN SOCIAL PROTECTION POLICY
OYO EVACUATES 12 DESTITUTE, REUNITES 3 WITH FAMILY MEMBERS
SOKOTO GETS WATER TREATMENT CHEMICALS
10,000 BENEFITS FROM FREE EYE TREATMENT IN ZAMFARA
KILLINGS: ZAMFARA GOVT DISBURSES OVER N200 MILLION TO DECEASED FAMILIES
Agriculture
From investment in Agric education to mechanization, fertilizer supply and forays in Online Agric Marketing, see what the Progressive Governors did in February.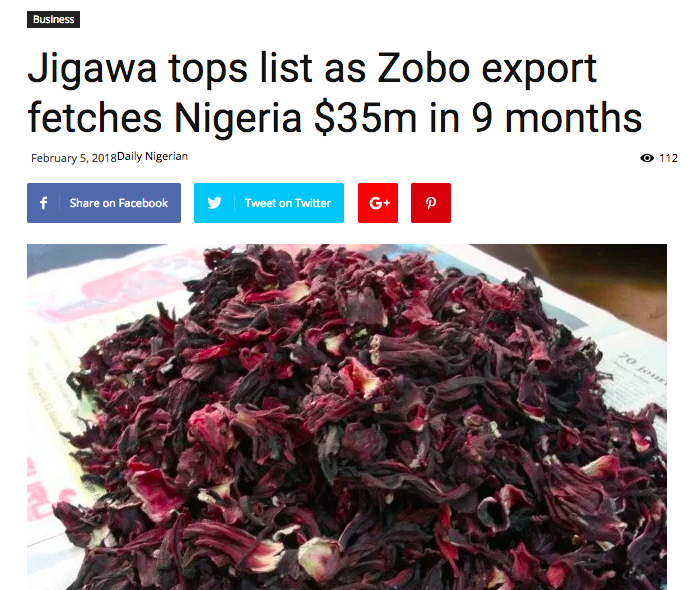 ADAMAWA GOVT ACQUIRES 140 TRACTORS TO BOOST AGRICULTURAL MECHANIZATION
BORNO GOVT SPENT OVER N40BN ON FARM MECHANIZATION IN 7 YEARS – COMMISSIONER
BORNO FARMERS TO UNVEIL RICE PYRAMID
EDO MERGES COLLEGES OF AGRICULTURE, ENGAGES OUT-GROWERS FOR 2,000 HECTARES LEVENTIS FARM
JIGAWA TOPS LIST AS ZOBO EXPORT FETCHES NIGERIA $35M IN 9 MONTHS
KANO TO CREATE GRAZING RESERVE FOR 5M COWS
KOGI GOVT LAUNCHES ONLINE AGRIC MARKET
NIGER GOVT BEGINS FERTILISER SUPPLY TO FARMERS IN MARCH
OYO OFFERS SUBSIDY FOR 12,000 TONNES OF FERTILISER
SOKOTO SPENDS N3BN ON REGIONAL CATTLE PROJECT
SOKOTO FARMERS GET N1.4 BILLION FERTILIZER SUBSIDY
Capacity Building and Development
Thousands have and will benefit from the capacity building and development projects the Progressive Governors embarked on in February.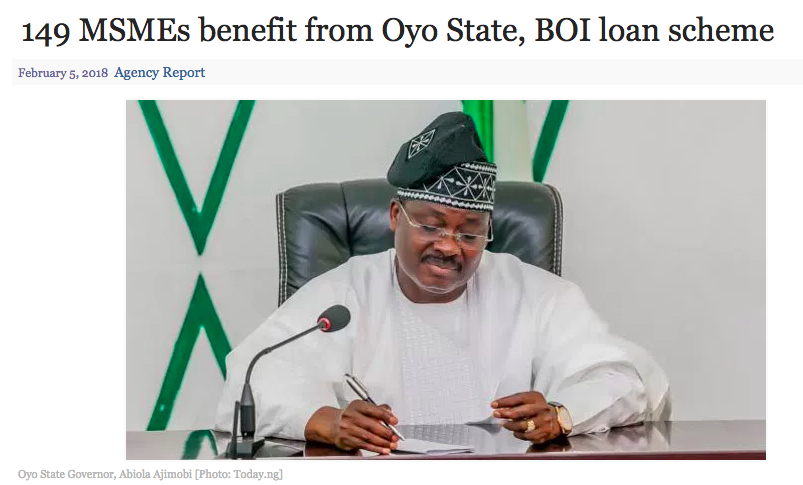 302 LIBYA RETURNEES GRADUATE FROM EDO GOVT CAPACITY BUILDING PROGRAMME
KADUNA DISTRIBUTES 15,000 COMPUTERS TO SECONDARY SCHOOL STUDENTS
KADUNA GOVT TRAINS LG OFFICIALS TO BRIDGE URBAN, RURAL DEVELOPMENT GAP
KATSINA GOVT TO RECRUIT 54 MEDICAL CONSULTANTS, 600 OTHERS – MASARI
400 FRENCH TEACHERS UNDERGO TRAINING IN LAGOS
ONDO GOVT. DISTRIBUTES 362 ICT TABLETS
OSUN TRAINING 800 GRADE II TEACHERS
OSUN TO GIVE N821M LOAN TO TRADERS, ARTISANS AND BUSINESS OWNERS
149 MSMES BENEFIT FROM OYO STATE, BOI LOAN SCHEME
OYO ORGANISES ROBOTIC TRAINING FOR STUDENTS
SOKOTO STATE, BOI TO DISBURSE N2BN LOAN TO SMALL SCALE ENTREPRENEURS
YOBE APPROVES N247M FOR PURCHASE OF LABORATORY EQUIPMENT
YOBE GOVERNOR APPROVES RECRUITMENT OF 63 STAFF INTO MEDICAL COLLEGE
Transportation
From buses to access and key roads, the Progressive Governors impacted the transportation sector.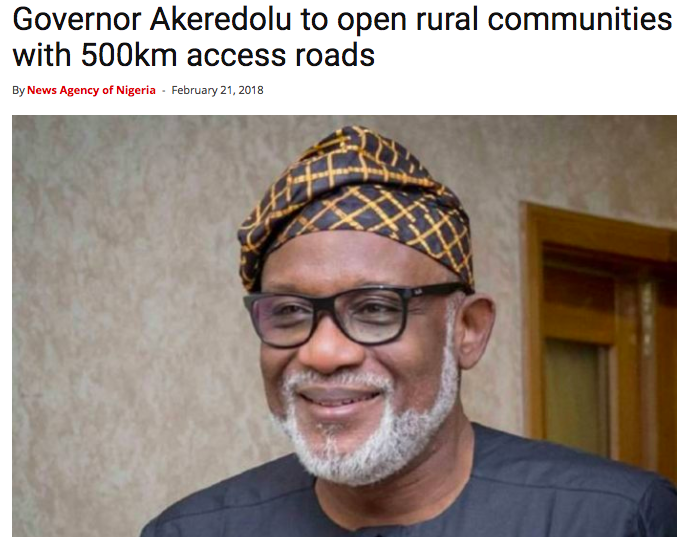 60 BUSES FOR BAUCHI TRANSPORT COMPANY
EDO GOVT TO CONSTRUCT 25 NEW ROADS
KEBBI GOVT CONSTRUCTS ROADS TO BOOST INTERNATIONAL TRADE
GOVERNOR AKEREDOLU TO OPEN RURAL COMMUNITIES WITH 500KM ACCESS ROADS
OYO APPROVES N7B FOR IBADAN-ISEYIN ROAD, OTHERS
SOKOTO GOVT PARTNERS WORLD BANK ON EXECUTION OF 500KM RURAL ROADS
Security
Security remained priority for many of the Progressive Governors. See some links.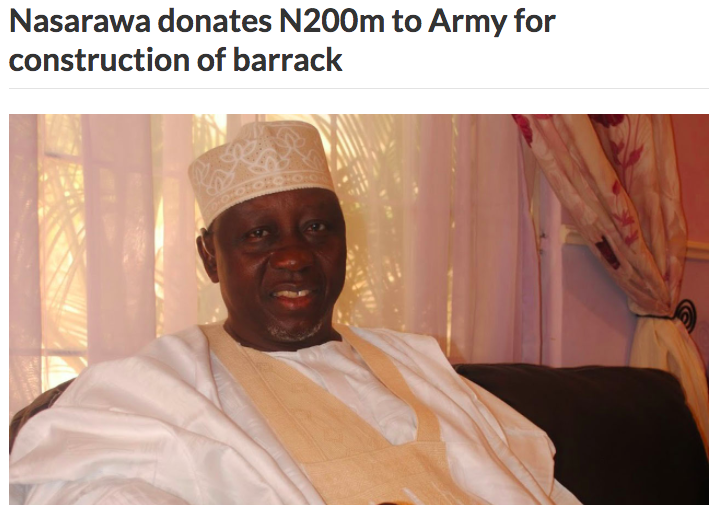 BOKO HARAM: ADAMAWA SUPPORTS 500 VIGILANTES IN MADAGALI
32 ARRESTED FOR VIOLATING BENUE OPEN GRAZING PROHIBITION LAW–CP
LAGOS TO ESTABLISH FOUR ADDITIONAL EMERGENCY RESPONSE UNITS, FIRE STATION
GOVERNMENT TO DONATE 50 VEHICLES TO SECURITY AGENCIES
NASARAWA DONATES N200M TO ARMY FOR CONSTRUCTION OF BARRACK
Economy
Economic activities continued in Progressive states as governors embarked on projects to drive that sector.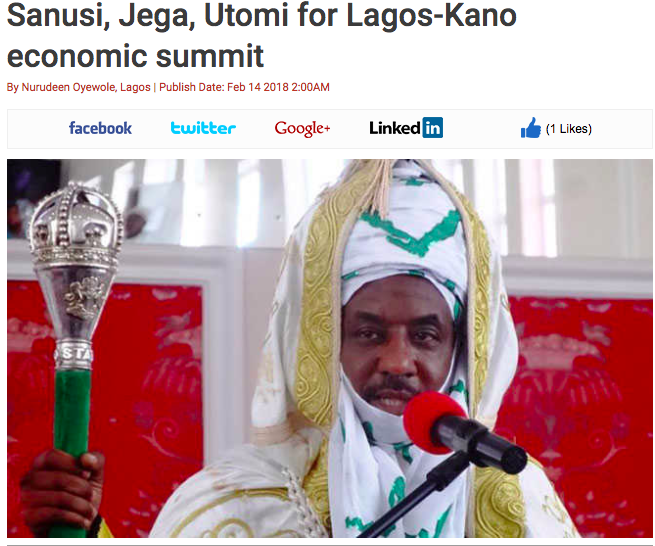 SANUSI, JEGA, UTOMI FOR LAGOS-KANO ECONOMIC SUMMIT
GANDUJE RESHUFFLES KANO DURBAR TO ATTRACT FOREIGN INVESTMENT
NNPC, KOGI TO SIGN BIOFUEL PRODUCTION MOU TUESDAY
KOGI TARGETS $350M INVESTMENT IN AGRICULTURE, INFRASTRUCTURE
PLATEAU GOVT. TO GENERATE N14M YEARLY FROM PARK & PAY PROJECT
BUHARI, JEGA, SANUSI, UTOMI TO LEAD DISCUSSIONS AT LAGOS-KANO ECONOMIC SUMMIT
Power
Activities to improve general power supply continued.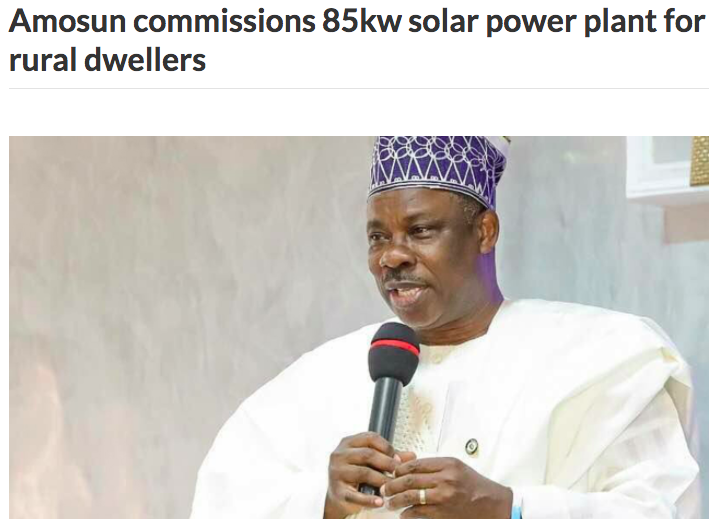 KWARA TO POWER STREETLIGHTS, PUBLIC FACILITIES WITH SOLAR FARM TUNNELS
NASARAWA GOVT ESTABLISHES ELECTRICITY POWER AGENCY
AMOSUN COMMISSIONS 85KW SOLAR POWER PLANT FOR RURAL DWELLERS
MORE YOBE COMMUNITIES FOR ELECTRIFICATION
Editor's Note
As 2019 and a new election cycle approaches, we are curating a series on governance. This is – amongst other things – to keep voters informed and level the playing field (as much as we can).
All candidates seeking election are invited to share content/information about themselves on our platform. Those seeking re-election – who should run on their achievements – are invited to share what they have done for the people who elected them. Content created in LISTICLE format will be prioritized. We will investigate, verify and share periodically.
All media aides, campaign coordinators, candidate supporters should take note. Email us at editor@lists.ng