Last night, a photo of a child sleeping by the roadside, with bunches of plantain beside him was posted online and it quickly went viral. Popular Social Media personality – Williams Uchemba asked that people in Lagos help find the kid and in no time they did. The boy – Joseph, a 10-year-old boy from Akwa Ibom – says he was made to hawk by his 'aunt' who brought him to Lagos on the guise of sending him to school. He had not eaten in 3 days and wanted to return home to his parents, and go to school. Long story short, although Williams has taken it upon himself to get the child off the streets, fact remains that Joseph is only one of millions of Nigerian children who are victims of child labour – a menace that if not checked will endanger the future of this country.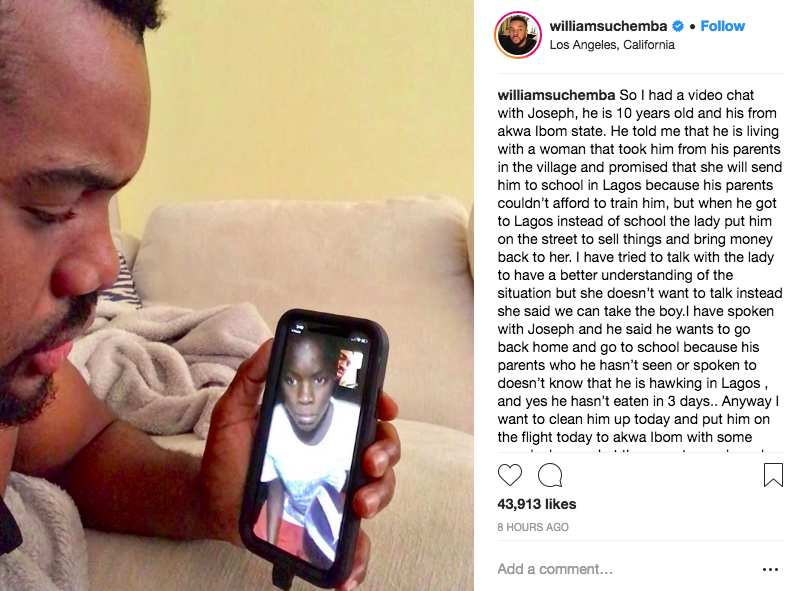 A lot of us do not know a lot about Child Labour in Nigeria. We have therefore curated 6 things you should know about the menace, and how it can be ended or reduced drastically. Share to save the future.
What is Child Labour?
According to the United Nations International Children's Education Fund (UNICEF), Child Labour is work that is mentally, physically, socially or morally dangerous and harmful to children and deprives them of opportunities for schooling and development. This sad phenomenon has always been a problem in Nigeria, and it is not relenting as more and more children are being made to work and earn a living for (mostly) their guardians.
15 million children
According to the International Labour Organization (ILO), the number of working children under the age of 14 in Nigeria is estimated at 15 million. These jobs include being street and roadside hawkers, beggars, car washers, etc. Others work as apprentice mechanics, hairdressers, tailors, bus conductors, etc.
Major causes
Major causes of child labour are widespread poverty, illiteracy, rapid urbanization, school drop out rates, death of parents/guardians or illnesses beyond their control, and most importantly, lack of enforcement of legal instruments meant to protect children.
In Nigeria the people that are most affected by child labour are girls
Long term effects
Because of lack of adequate education, most of the children currently engaged in child labour end up doing odd jobs with no stable income. Many of the girls end up as prostitutes or teenage mothers due to the exposure that they experience everyday, while the boys end up as street urchins, armed robbers, militants and terrorists.
In the end, child labour does not only affect the child, it affects the society in general. When a huge percentage of a nation's future has no future, the future is indeed bleak. Life is already not rosy for those who are educated, imagine how bad it will be for those who are not.
What the law says
The Child Right Act (CRA) was established in 2003. It considers a child as a person below the age of 18 years. It states that buying, selling, hiring or otherwise dealing in children for purposes of begging, hawking, prostitution or for unlawful immoral purposes are punishable by long terms of imprisonment. Other offences considered grave include sexual abuse, general exploitation which is prejudicial to the welfare of the child, recruitment into the armed forces and the importation/exposure of children to harmful publications. It further preserves the continued application of all criminal law provisions securing the protection of the child whether born or unborn.
The Act mandates parents, guardians, institutions and authorities in whose care children are placed, to provide the necessary guidance, education and training to enable the children live up to these responsibilities.
How do we end it?
The first step to putting an end to child labour is for us to realize that we are ALL RESPONSIBLE. Change begins with you, so do not encourage child labour by employing children, patronizing child hawkers, etc. While we are encouraged to mind our business – because of how the society is set up, report incidents of child labour when you can.
Law enforcement – Those tasked with enforcing the Child Right Act need to step up. As seen in number 5, the laws exist, but compliance is poor because enforcement is poor. When people begin to face the full wrath of the law, compliance will increase.
Sensitization – A lot of people do not even know child labour is a legal and moral offense. They do not even know what it is in the first place, so via all available means, people should be sensitized on what constitutes child labour, so there would be no "I was ignorant" excuse when they are charged to court.
Other measures for eradicating child labour in Nigeria include family planning, improving the quality of education, preventing violence in homes and schools, addressing poverty and inequality and changing the cultural acceptance of child labour in communities so that all children can enjoy the kind of childhood parents everywhere aspire to provide.
In conclusion, the National Agency For Prohibition Of Trafficking In Persons (NAPTIP) was established in 2003 to amongst other things, tackle child labour. Their email is info@naptip.gov.ng, numbers are +234703000203, 08002255627847, and their Headquarters is No 2028, Dalaba Street, Wuse Zone 5, FCT Abuja.