The women's March on Washington that held yesterday became one of the largest stages in the world for women to express (amongst other things) their unified grievances against the newly sworn in President of the United States of America.
Here are 5 things you should know about the March.
Purpose
The women's March was mainly set up to protest for equality, promotion of civil rights amongst humans of every gender, race, sexual orientation, disability and religion. It was put in place in hopes that a positive message is sent to the present administration so that changes can be made in the already crooked system. It was also an avenue to connect various organizations and make activism accessible to anybody that is interested in helping in the development of communities.
'Hope Not Fear'
Indeed.
And what a beautiful piece by Louisa Cannell. #womensmarch ???????✨ pic.twitter.com/7h3Bzx79nB

— Hillary Clinton (@HillaryClinton) January 21, 2017
Locations
Though the march was supposed to take place primarily in Washington DC, protests also took place in Los Angeles, New York, Chicago and in other American states. Demonstrations also took place in Australia, UK, Germany, Japan, France and others as solidarity for the cause stood strong. Even some African countries were also part of the event as protests held in Nairobi's Karura Forest in Kenya, Durban in South Africa, and in Jos, in Nigeria.
#WomensMarch Jos, Nigeria. Crowd not as big as DC or London but it's still a crowd. pic.twitter.com/bDFo48TTWR

— Williams Ibekwe (@Will_Ibekwe) January 21, 2017
Attendance
The attendance which was projected to be hundreds of thousands exceeded expectations as the protests had over a million participants around the US alone, while thousands participated in other nations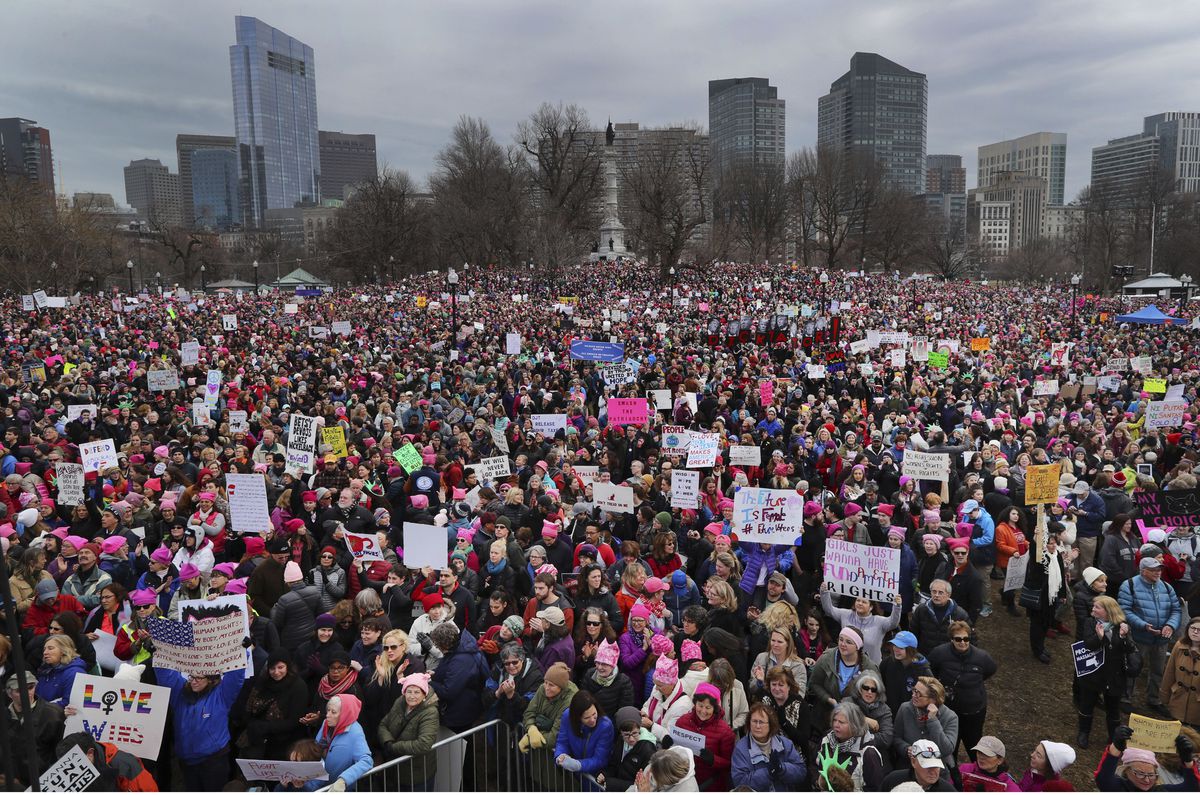 Celebrity Appearances
A host of celebrities showed their solidarity to the protest on social media claiming they would be in attendance ad many of them kept to their words. Zendaya, Lena Dunham, Chloe and Halle, Amy Schumer, Alicia Keys were among the celebrities sighted in the march. Scarlett Johansson, America Ferrera, Madonna and More took to the stage before the march began and gave powerful speeches calling on President Donald Trump to support the equality of women and issues such as women's reproductive rights.
Women's March Signs
The most compelling part of the march were the signs carried by the participants; ranging from hard core protests to shady comments on the different issues highlighted by the protest. The most popular sign was the 'Pussy grabs back' sign which is a response to President Donald Trump's nasty comments about women before he was elected as president. Other signs like 'Women rights are human rights', 'respect women of color', 'girl power' and a host of others were also showcased by the protesters.
See some of our favorites (with help from @DuchessKK)