Have you ever walked by a group of people seating in front of a TV or a projector in an open space, yelling at the top of their voices and wondered to yourself how it made any sense why people will leave the comfort of your houses to sit in such a place to watch football. Well…you will never know until you experience it.
Viewing centre is a place where every true football fan visits once in a while, and for the die-hards, every single match day. Simply because the experience is different, and for some its like watching the game live at the stadium.
Anyway for those who don't understand and are yet to experience it, here are 5 reasons why we love viewing centres.
Community
Viewing Centres are a place for all, a place where people from all walks of life come to enjoy the beautiful game of football irrespective of the clubs they support. For men, woman, boys or girls, the viewing center has become a community where genuine relationships are built solely on the shared love for football.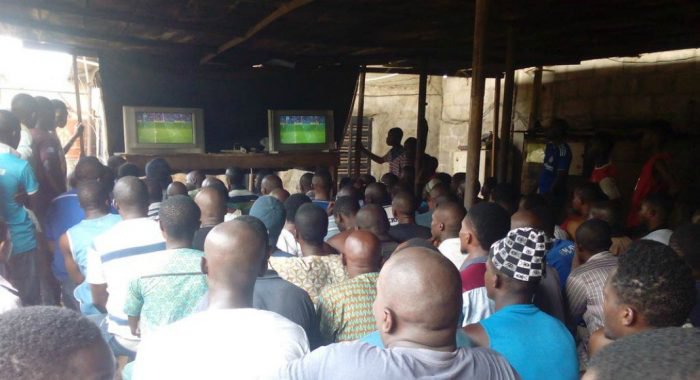 Freedom of expression
One time I was watching a game between Barcelona and Atletico Madrid at a viewing centre. The room was already buzzing with excitement and everybody was waiting for the next goal—boom the ball is in the net, Messi scores for Barcelona, the room erupts, I look to my front and a middle aged man is standing on top of the bench shouting at the top of his voice. He turns around unhooks his belt, pulls his trousers down and flashes his butt to the whole room. Ordinarily this was supposed to be disturbing, especially from a grown man, but we found it amusing, we laughed, and moments later we continued watching the game. That's the freedom you get watching the game you love in a place you love. You express yourself the way you want and won't be judged by anybody.
Takes away stress
Viewing centres are therapeutic, they serve their purpose as places where you can go, and for those fun filled 90 minutes, your body, mind and soul is completely focused on the game and away from the day's stress and worry. The viewing centre is a place that helps you "forget about your sorrows" albeit momentarily.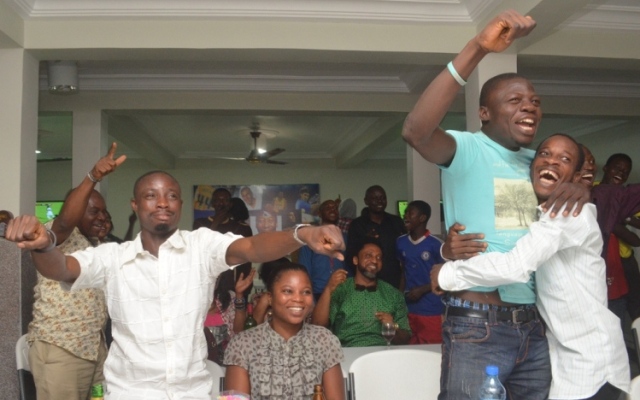 A happy place
Irrespective of the club you support or whether or not you win or lose, you never actually leave the viewing centre sad. The happiness and positivity that the viewing centre exudes is contagious. Even when you lose, you know there's a next week when you'll be back for payback.
Simply the best place to watch a football game
Arguments, banter, wild celebrations, these are what make a football match memorable. You can't do all that watching the game at home. You want to see the the oldies lamenting how football has changed since their time and telling you how much football knowledge they have and how little yours is. You want to see a young boy staring down an adult, giving him facts after facts over an argument on who the best player in the world is. You want to see crazy celebrations like the butt flashing guy, and scream at the the top of your voice as you cheer your team.
These are why we love viewing centres