Finding the right name is one of the most important decisions every business has to make. Your company or business name is your main identity, and it is important to get it right.
Having established the importance of a name, you'd be surprised how many household brands have changed their names over the course of their existence. From Yahoo to Nike, these global brands have either changed their names either to avoid conflict or because their previous names were just too long.
See the list below.
---
1. Backrub — Google
When Larry Page and Serge Brin created the world's number one search engine, they named it "BackRub." They eventually decided to rename it" Google" in 1998. Google is "a play on the word 'googol,' a mathematical term for the number represented by the numeral 1 followed by 100 zeros. The name is in tune with the company's mission to order what seems like an infinite amount of information on the internet.
2. AuctionWeb — eBay
The AuctionWeb was founded in California on September 3, 1995, by French-born Iranian-American computer programmer Pierre Omidyar as part of a larger personal site under his consulting firm, Echo Bay Technology Group. It soon became the first online auction site allowing person-to-person transactions, which led to a mass volume of online transactions. ActionWeb experienced immense growth and the company's name was officially changed to eBay in September 1997.
3. Marufuku Company — Nintendo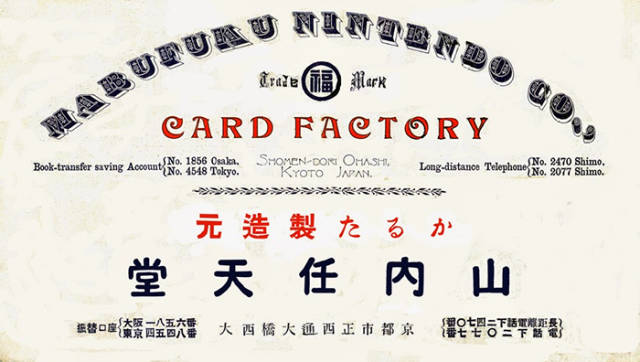 Fusajiro Yamauchi who had been manufacturing Japanese playing cards in Kyoto since 1889 established a distribution company called Marufuku Co in 1947. The company was eventually renamed to Nintendo Playing Card Co. Ltd. in 1951 and then to Nintendo Co., Ltd. in 1963.
4. Confinity — Paypal
The online payments system was established in December 1998 and subsequently named Confinity. This was a merge of the words confidence and infinity. The name was eventually changed to Paypal in 2001.
5. Research in Motion — BlackBerry
Research is Motion is known as the former developer of the BlackBerry brand of smartphones. At the height of its popularity, during the BlackBerry 10 launch event, the company announced it would change its public brand from Research In Motion to BlackBerry. The name change was made to "put the BlackBerry brand at the centre" of the company's diverse brands.
6. Blue Ribbon Sports — Nike
The company was founded on January 25, 1964, as Blue Ribbon Sports, by Bill Bowerman and Phil Knight, and officially became Nike, Inc. on May 30, 1971. The name is based on "Nike', the Greek goddess of victory and the famous swoosh symbolizes the wing of the goddess.
7. Jerry's Guide to the World Wide Web — Yahoo
Yahoo as we know it was initially named  "Jerry and David's guide to the World Wide Web". This was obviously too long, so inn March 1994, the website was renamed "Yahoo!" which stood for "Yet Another Hierarchical Officious Oracle" The "yahoo.com" domain was created on January 18, 1995.
8. Tokyo Tsushin Kogyo — Sony
After establishing the company, founders Masaru Ibuka and Akio Morita were looking for a romanized name to use to market themselves. After several trial and errors, they eventually settled on "Sony". The name was chosen for the brand as a mix of two words: one was the Latin word "sonus", which is the root of sonic and sound, and the other was "sonny", a common slang term used in 1950s America to call a young boy.
 9. Firebird — Firefox
The company came to find that the name Firebird was also in use by another open source project so it changed its name to Firefox, according to the company, "It's similar to Firebird. It's easy to remember. It sounds good. It's unique. We like it,"
10. Brad's Drink — Pepsi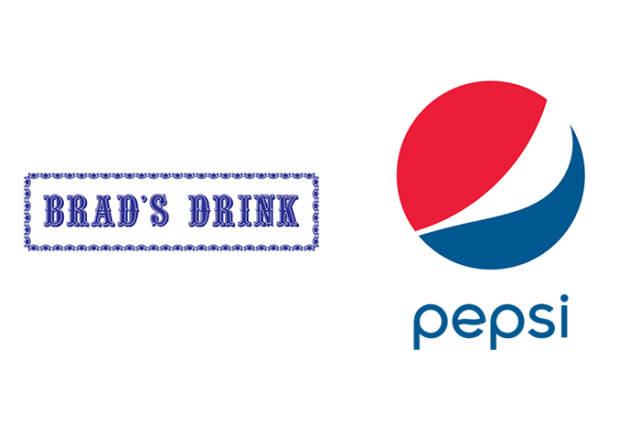 Pepsi was invented by pharmacist, Caleb Bradham in 1893, and named it after his surname. However, five years later in 1898, he changed it to Pepsi-Cola. The company bore that name until it simply became Pepsi in 1961.
11. Pictaboo — Snapchat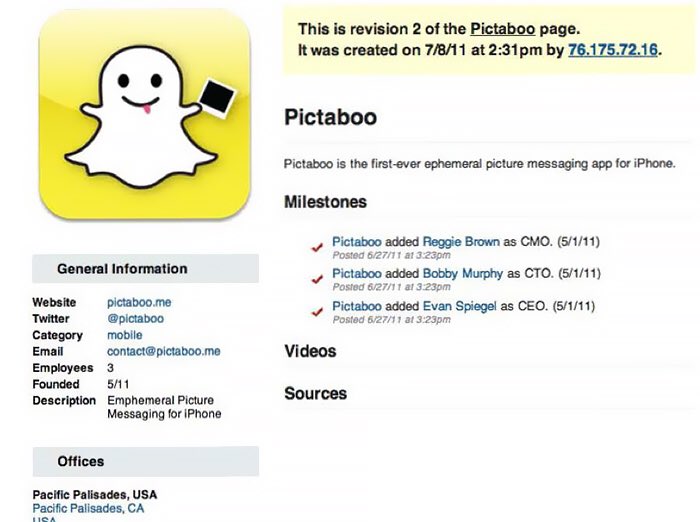 The multimedia messaging app was original as Pictaboo but its creators received a letter from a photography book company with the same name. This prompted a name change to Snapchat which honestly sounds better.
12. Stag Party — Playboy
Hugh Hefner had wanted to call his magazine Stag Party but plans changed at the last minute when he received a letter from Stag magazine saying that the name was an infringement on their title. He eventually decided to change the name to the iconic Playboy.