The following are the highest-grossing Nigerian films of all time in Nigerian cinemas. Revenues from special screenings, DVD sales, online streaming and theatrical screenings outside Nigeria are excluded from this gross total. This records are just from within Nigerian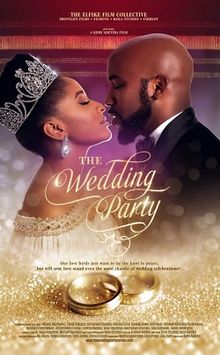 The Wedding Party is a 2016 Nigerian romantic comedy drama film, directed by Kemi Adetiba that premiered on 8 September 2016 at the Toronto International Film Festival in Canada and on 26 November 2016 at Eko Hotel and Suites in Lagos. The film was released worldwide on 16 December 2016, with a domestic gross of NGN453,050,000 directed by Niyi Akinmolayan and became the highest grossing Nigerian film; a record which was broken in 2017 by its sequel The Wedding Party 2 with a domestic gross of NGN500,000,000 directed by Kemi Adetiba.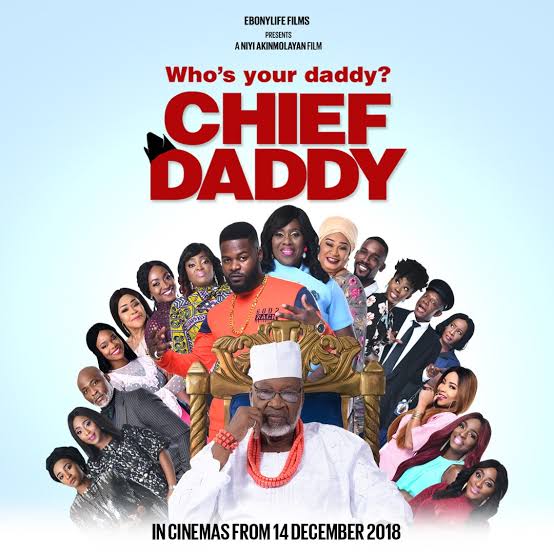 "Chief Daddy" tells the story of billionaire industrialist Chief Beecroft, a flamboyant benefactor to a large extended family of relatives, household staff and assorted mistresses.
Chief lives large, like there's no tomorrow, until the day he dies suddenly and the 'bullion van' stops. The Ebony life movie had a gross earning of NGN301,125,735 and directed by Niyi Akinmolayan.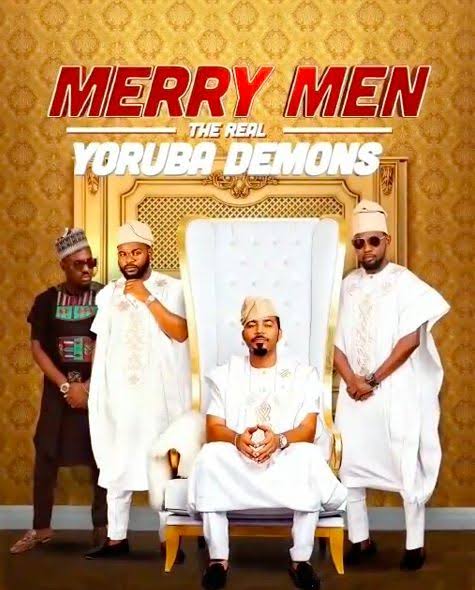 Merry Men – The Real Yoruba Demons
Remi Martins (Falz the Bad Guy), Amaju Abioritsegbemi (AY the comedian), Ayo Alesinloye (Ramsey Nouah) and Naz Okigbo (Jim Iyke) are Abuja's most eligible bachelors. And its most notorious. They have thriving businesses, palatial homes, fast cars and the attention of women in no short supply. They are known as THE MERRY MEN … but the ladies call them THE REAL YORUBA DEMONS. The movie was directed by Toka Mcbaror and had a domestic gross of NGN230,000,000.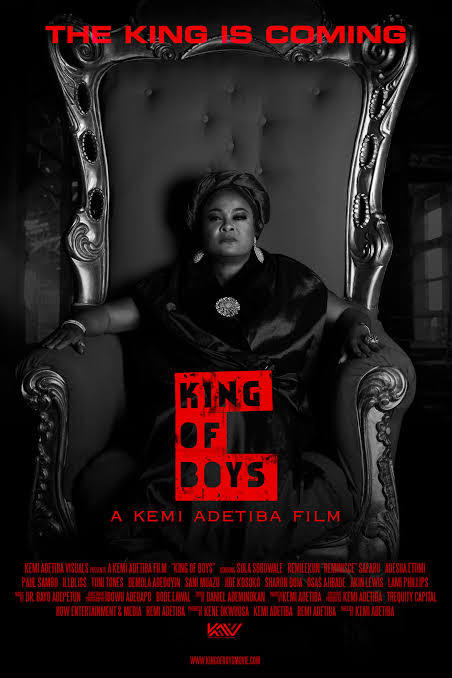 King of Boys follows the story of Alhaja Eniola Salami, a businesswoman and philanthropist with a checkered past and a promising political future. She is a pillar of society — loved by many, feared by most, and truly known by a select few. As her political ambitions see her outgrowing the underworld connections responsible for her considerable wealth, she's drawn into a power struggle that threatens everything she holds dear. To come out of this on top, she will need every ounce of the cunning, ruthlessness, and strategy that took her to the top, as well as the loyalty of those closest to her. The Kemi Adetiba film made a domestic gross earnings of NGN222,953,253.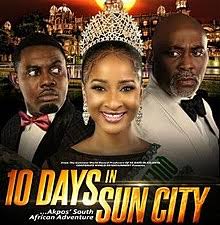 10 days in Sun City is a 2017 Nigerian film that premiered on 17 June 2017. It is owned by a renowned Nigerian comedian Ayodeji Richard Mayokun popularly known as AY who is the producer and lead character. It was directed by Adze Ugha, written by Kehinde Ogunlola and produced by Ayo Mayokun, Darlington Abuda, Kristy Galliard in conjunction with Corporate World. Entertainment. The film is said to be a part of his Akpos adventure series centered on adventure, comedy and romance. Movie scenes were shot both in Lagos and Sun city, Johannesburg, South Africa. The movie has a domestic gross of NGN177,000,000.
The Ghost and the Tout: NGN80,000,000
Moms at War: NGN60,000,000
Isoken: NGN55,000,000
Up North: 50,518,018