Social Media has been abuzz with news and stories of President Muhammadu Buhari's return to Nigeria, after 49 days in the UK. We all thought it would remain that way until someone commended superstar Nigerian artiste, Asa, on her 'GTBank' song – A Place to Be. The artiste responded with: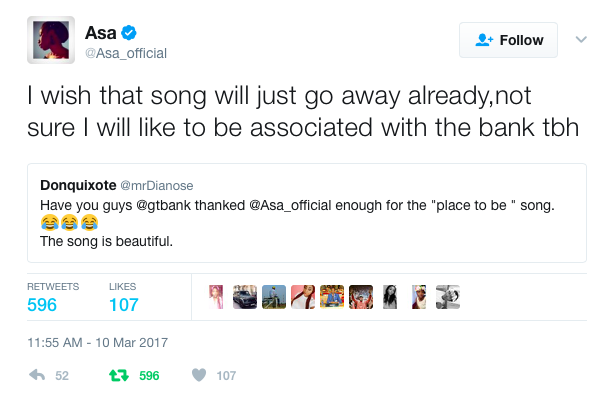 After the big shock, we decided to find out why the usually quiet Asa blasted the bank like this. And our findings revealed these 3 reasons.
PS: They are all speculative.
Breach of contract
In 2009, our eardrums were blessed with 'The Place to Be', an Asa classic, which was used by GTBank as their theme song. Every GTBank you entered then had the beautiful song wafting through their speakers, inspiring everyone to love the orange bank. We cannot confirm or deny that we know the full details of the agreement she had with GTBank, but according to our 'sauces' who pled anonymity, the Bank did more with the partnership than the agreement stated.
They used Asa on billboard ads, promotional materials, etc, when the agreement was allegedly for just the song. Asa wrote the bank several times and asked them to stop using her song, but they refused. She refused to make it public, because, well, classic Asa, but I guess she just had to let her frustrations out today.
Negative Brand Association
Just do a random search of GTB and you will most likely see a barrage of negative news about the bank. Despite the fact that it is one of the biggest and most profitable banks in Nigeria, customers are always complaining about the various inexplicable charges, poor customer service and so on. We're guessing that Asa – who has been scandal free since forever and has a 100% positive brand image – is wary of being associated with the bank and wants it all to go away.
Song maintenance fee
LOL. In their usual fashion, GTBank charged her 'Song Maintenance fee', and we all know how those maintenance fees can pepper body. LOL. Jokes, but we just had to include it.
***
These are the possible reasons we believe made her lash out at GTB today. We would update story as it develops.
Stay tuned.