The smartphone market is a very competitive one with several companies fighting tooth and nail to be the number one device maker. This means every year we are bombarded with "revolutionary" innovations and features, aimed at wowing us and giving unique smartphone experience. While some of these innovations such as fingerprint scanning, and facial recognition have indeed become revolutionary, others, despite their initial promise, never really held sway, rather becoming disasters.
Below are 9 smartphone innovations that failed
1. Nokia N-Gage
The N-Gage was a smartphone combining features of a mobile phone, media player and a handheld game system developed by Nokia. The revolutionary device was announced on 4 November 2002 and released on 7 October 2003. Two factors led to the introduction of this device, firstly, Nintendo with its portable gaming console had witnessed a lot of success and secondly, Nokia was still riding high as one of the most successful cell phone makers in the world. However, those two reasons were not enough to make the N-Gage a hit. For starters, Nokia did little or no product and market research before launching the N-Gage, they simply assumed that there was a market for it and put it out there. The second problem had to do with the device itself, both hardware and software, It had an awkward shape and controls and short battery life. It also did not thrive where it aimed to succeed with poor selection of games and bad functionality. The N-Gage may have been revolutionary with a lot of potential, but its shortcomings exceeded its upsides, hence its failure.
2. Amazon Fire Phone
The Fire Phone was Amazon's first foray into the smartphone business, but unlike the success of their Kindle eBook readers and Fire tablets, the fire phone was a failure. The 3D-enabled smartphone was packed with unique features such as five front facing cameras to enable dynamic perspective and parallax effects, as well as a They also tried a unique way to navigate the system using flicks and tilt scrolling. However these features became their undoing as they lacked practicability. Eventually, the price of the fire phone was dropped to $200 just to clear stock.
3. LG Doubleplay
The LG Doubleplay was a feature packed mid range android smartphone released in 2011. It had two screens and split qwerty keyboard design among its many features. But sometimes feature packed doesn't necessarily breed success and the LG Doubleplay was a little too strange for many. It was also a hefty and bulky handset, weighing 192 grams, about 50 grams heavier than the Galaxy Nexus and had poor battery life. The phone simply fell short of the Samsung Google Nexus and Apple iPhone 4S which are more traditional phones.
4. BlackBerry Storm
The BlackBerry Storm was a touchscreen smartphone developed by Research In Motion as part of the BlackBerry 9500 series of phones. Blackberry Storm was RIM's first touchscreen device, and its first without a physical keyboard. The device initially sold well thanks to the strength of the BlackBerry brand and a major marketing push from Verizon, however, once people actually started using the phone, its failures began to show. The device had problems most notably the slow to respond touch screen and "virtually every one of the 1 million Storm phones shipped in 2008 needed replacing". These problems gave way to the name shit storm.
5. HTC First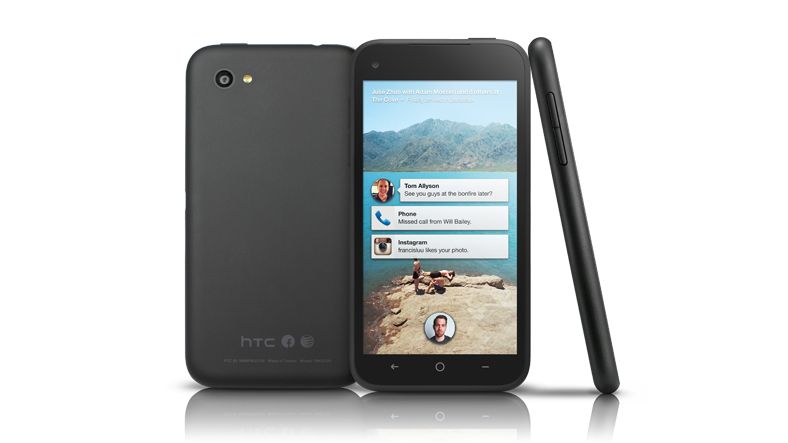 The HTC First is an Android smartphone released by HTC on April 12, 2013 in collaboration with Facebook. It was unveiled on April 4, 2013, as part of a press event held by Facebook. Serving as a successor to a pair of Facebook-oriented devices HTC released in 2011, it was the first and only Android device to be pre-loaded with Facebook's own user interface layer, Facebook Home, rather than HTC's own Sense. The smartphone was initially considered exciting and compelling due to its display quality and its optional use of stock Android beneath the default Facebook Home overlay. However, it soon began to receive a lot of stick for its poor camera and lack of removable storage, and people were simply underwhelmed by the Facebook Home software. AT&T, the exclusive U.S. carrier of the First, only reportedly sold over 15,000 units of the device and more reports claimed that the phone's price had been reduced from $99.99 to $0.99. Both ReadWrite and Time named it among the biggest failures in the technology industry for 2013.
6. Samsung Galaxy Beam
The Samsung Galaxy Beam i8530 (also known as the Galaxy Beam) was a projector-enabled smartphone produced by Samsung. Its main feature is a built-in DLP nHD projector at up to 50 inches. Samsung no doubt had good intentions with this device but there wasn't really much thought put into its practicability. The truth is people were actually content watching videos or movies on their smartphone screens, so who exactly needed it. More so, how often do you find yourself in a dark room with plain backgrounds and the need to quickly project a movie on the wall. Despite the poor performance of the original, Samsung went on to release a second version in 2014 which wasn't any better.
7. Motorola Flipout
The Motorola Flipout was directed towards the younger generation who were interested in texting. It's square-shaped body had two parts that rotate near the bottom-right corner to reveal a five-row QWERTY keyboard below the screen. but their small hands might find the form factor tricky to cope with at times. The Fliout had a couple of upsides such as a quirky design and a connected music player. On the other hand, the square shaped screen and its thickness made it a very awkward experience to use especially for young ones with small hands. The screen was also low resolution, it had a poor camera, web browsing was terrible and the software was already outdated by the time the Flipout was released.
8. HTC Evo 3D
The HTC Evo 3D is a 3D-enabled Android smartphone developed by HTC, which could be used to take photos or video in stereographic 3D,and viewed on its autostereoscopic display without the need for 3D glasses. The HTC Evo 3D definitely meant well as they tried to jump on the 3D frenzy at that time.The device made it possible for users to be able to share 3D media back and forth. However fascinating that looked, it presented a difficult problem because those 3D images could not be shared to outsiders, and it was always going to be difficult to get into the hands of everyone. Furthermore, the Evo 2D suffered for lack of content, there weren't enough apps to give users the full 3D experience.
9. Microsoft Kin
Microsoft Kin was a short-lived mobile phone line from Microsoft designed for users of social networking and aimed at men and women between ages 15 and 30. Unfortunately for Microsoft, Kin suffered from poor sales Microsoft with reports claiming only 500 units were sold. After only forty-eight days on the market, Microsoft discontinued the Kin line on June 30, 2010. Microsoft were however determined to make it work and updated its unsold Kin inventory with firmware that removed their social and web-based features. In December 2010 they offered these re-purposed units through Verizon stores as limited feature phones, the Kin ONEm and the TWOm. Unfortunately, the Kin could not be saved and in January 2011, Microsoft shut down the kin.com website, which controlled most of the earlier phones' features. The Kin TWOm was discontinued in August 2011