Ponzi and Pyramid schemes have been around for a long time. Ponzi scheme is named after Charles Ponzi, a man who scammed people out of a lot of money in a fraudulent investment scheme in the 1920s.
These schemes are often thought to be the same thing and are used interchangeably but they are slightly different.
What is a Ponzi scheme?

Ponzi schemes focus on creating false investments opportunities that offer high returns with low risk profiles but in reality, investments do not exist, returns are funded by new investor payments. The scammer takes most of the money and crashes the scheme after a while, of course, after lots of investors have put money into the scheme.
A typical example is MMM, which was popular in Nigeria between 2015 and 2016. MMM Nigeria crashed in December 2016, one month after celebrating its first anniversary. Many Nigerians lost their 'investments'. Some Nigerians lost millions and even attempted suicide.

MMM was a Russian company that perpetrated one of the world's largest schemes of all time, in the 1990's. By different estimates about 5 to 10 million people lost their savings. In November 2015 MMM launched a website targeting the Nigerian audience. They also claimed a 30% per month return including other acquirable bonuses.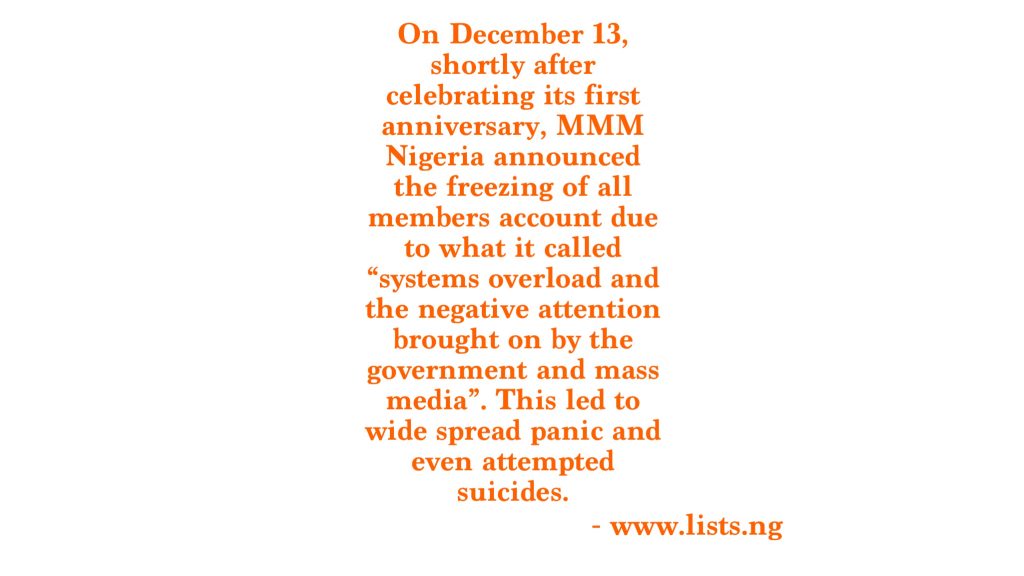 What is a Pyramid scheme?

Pyramid schemes are often mistaken for Ponzi schemes but they are slightly different. Both schemes involve victims investing money with the expectations of receiving large sums in return.

For Pyramid schemes, victims are told to invest a fixed amount of money and in return receive a much larger sum. The victim must also invite other people into the scheme, so that larger sum can be earned. An example is iCharity Nigeria.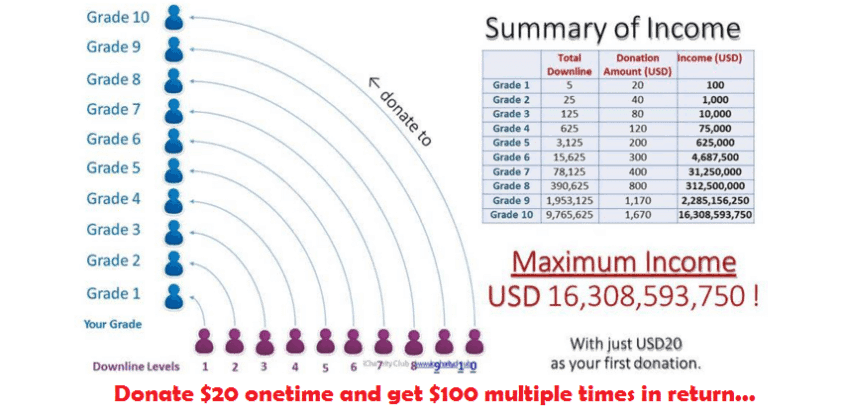 iCharity started in Nigeria in 2016. Victims were expected to pay $20 (N6,000 at the time) and recruit 5 other people into the scheme so that they can upgrade and increase their earnings (typically N30,000).
Why You Should Avoid Pyramid/Ponzi Schemes

THESE SCHEMES CAN SOUND TEMPTING BUT THEY ARE SCAMS AND ILLEGAL.
There is no way every person who participates can access the promised reward/bonuses.
The amounts of people that lose money are always greater than those who make money. You are not certain what category you'll fall in.
If a scheme is paying out more than is being earned, it will run out of money. RUN!
Schemes like these constantly need new members to sustain payments to existing members and the reality is that they will ultimately run out of investors.
BONUS
You are probably thinking about that new scheme called Loom. You are thinking it's still early so you can make your money before it crashes. I'll tell you for free. There is always uncertainty about when the collapse will happen. You may never recoup even your initial capital, let alone a return on your investment. Chances are, you'll die of a heart attack.